CYCLONE RETWISTED
Completely re-engineered and re-imagined, CYCLONE RETWISTED is the next generation of Sample Logic's CYCLONE. Now equipped with Sample Logic's proprietary Step and FX Animator technology along with a new dual-voice additive synthesizer, CYCLONE RETWISTED is truly a one-stop shop for astounding, inspiring electronic sounds, and the ultimate sample synth solution for Kontakt. This powerhouse virtual instrument contains over 475 brand new instruments and multis ranging from multi-layer motion pads and cinematic harmonic instruments to dubstep inspired basses, electronic hybrid leads, and experimental drum kits.
CYCLONE RETWISTED also includes the original award-winning CYCLONE 1.0 in its entirety, as well as the Glow Multi expansion pack, providing a grand total of 850+ instruments and multis. So whether you're on a tight deadline, in need of inspirational presets and production tools, or looking to dig deep and create your own twisted instruments, CYCLONE RETWISTED delivers amazing multi presets and instruments that are production ready and can be quickly customized for instant transformation.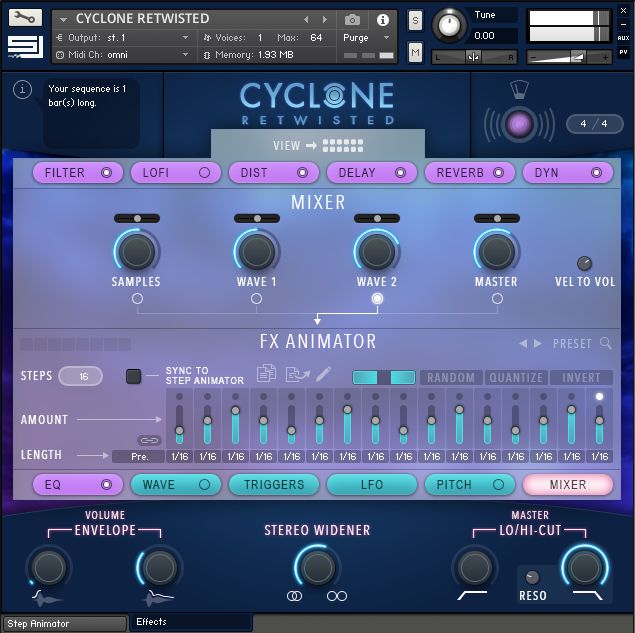 How It's Organized
CYCLONE RETWISTED is intuitively organized and divided into specific useful categories:
INSTRUMENTS
Arpeggiated

Basses

Harmonic Soundscapes

Kits

Leads

Pads

Wave Synths

MULTIS
Construction Kits

Instrument Stacks

One Note Glory

THE INTERFACE
Sickly Retwisted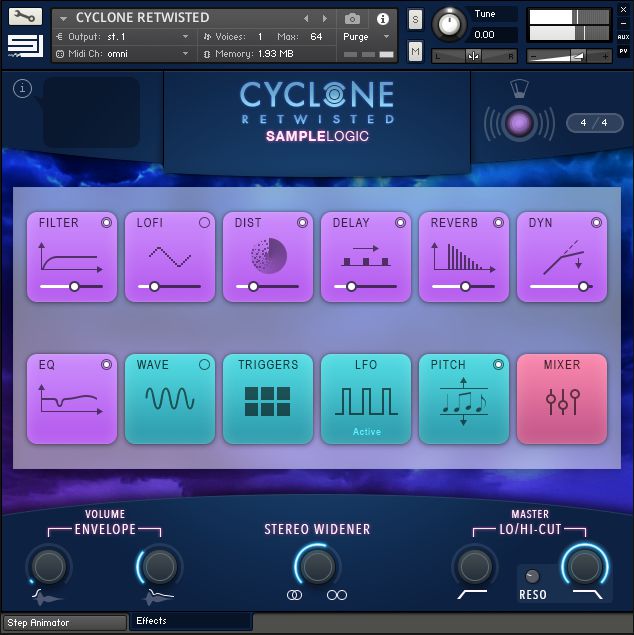 Sample Logic has reinvented the user interface from the ground up! The core of CYCLONE RETWISTED is focused around the user interface and experience, providing the freedom to infinitely transform samples into awesome twisted evolving synths with enormous power. The interface still includes Sample Logic's signature Triggers, Wave, and LFOs, and now rises to new heights with several added features such as:
An expanded, dual-voice additive synthesis engine called "Wave"

An easy to modulate and sequence multi-voice "Pitch" section

A "Dual Filter Oscillator" for unprecedented rhythmic effects

Sample Logic's proprietary Step Animator and FX Animator sequencers

DOUBLE THE FUN
CYCLONE 1.0 introduced Sample Logic's additive synthesis engine, "Wave," and now CYCLONE RETWISTED takes it to the next level with 41 wave shapes to choose from, and a dual-voice engine with independently-controllable volume envelopes, hi-cut filters, and FX animator engines. With this newly expanded, transposable wave section, waveforms can be added to the instrument's overall sound, leading to endless customization and massive synths.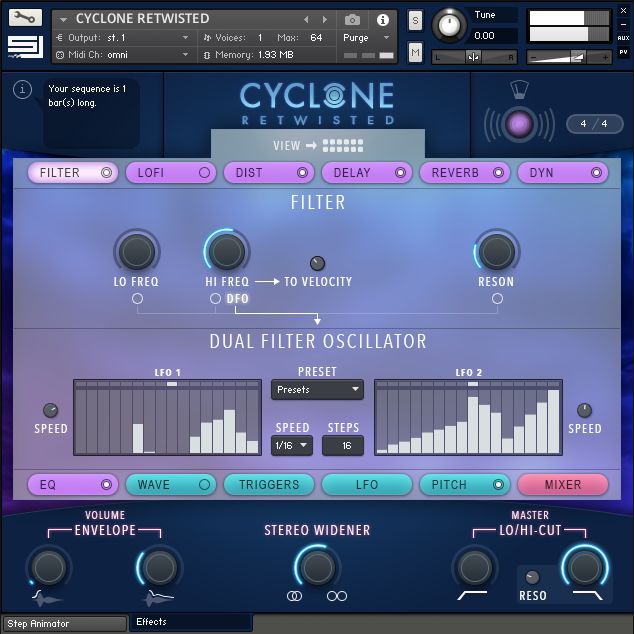 In addition, each waveform volume can be sequenced via a Animators. Wave can be used in many ways, here are just a few examples:
Add a sine wave transposed down a few octaves to add sub and thicken up a bass

Animate a wavetable volume to add a motion layer on top of a static pad

Transpose a wave up a few octaves to add harmonics and make the overall instrument brighter

Transpose a wave down a 5th to create harmonic instruments

MULTI-SCRIPT MACROS
One of the most powerful features in CYCLONE RETWISTED are the powerful "Multi Script Macros", first introduced in Cinematic Guitars 2. Now more twisted than ever, Multi Script Macros can be automated by using the new macro knob step sequencers, resulting in real-time macro sequencing and instrument parameter control. On top of that, each of the 6 macro knobs can be assigned to any combination of instrument parameters within a multi. Multi script macros are completely customizable and can be easily created and saved. By design, any combination of instrument interface parameters can be assigned to a single macro. Whether performing live or automating a multi in a DAW, Multi Script Macros are the perfect production solution.
Tech Specs
CYCLONE Retwisted includes over 850 instruments & multis including CYCLONE Retwisted, CYCLONE 1.0, and the Glow Multi Pack, and a 2.89 GB compressed sample library using Kontakt's lossless sample storage compression. All samples are delivered at 44.1kHz/24-bit.
System Requirements
Requires Kontakt 5 Player (Free) or Retail version (sold separately) Version 5.4.1 or higher

Mac OS X 10.7, 10.8, or 10.9 (latest update), Intel Core Duo, 2 GB RAM (4GB recommended)

Windows 7/8 (latest Service Pack, 32/64 Bit), Intel Core 2 Duo or AMD Athlon 64 X2, 2 GB RAM (4GB recommended)

3.3 GB free disk space for CYCLONE Retwisted sample content

1 GB free disk space for Kontakt 5 Player

Compatibility
Stand-alone

VST

Audio Units

RTAS (Pro Tools 9 + 10); 64-bit AAX plugins (Pro Tools 11)

AAX Native (Pro Tools 10 or higher)

CoreAudio

ASIO

WASPI

Kontakt is continuously being updated. For the latest system compatibilities visit the Native Instruments website.
http://www.native-instruments.com/en/products/komplete/samplers/kontakt-5-player/
MSRP: $349.99
Upgrade for original CYCLONE customers: $49.99
For more info visit: