Most of us call it Cyber Monday, some are giving it a colorful twist by referring to today's sale of the year day as Cyborg Monday. Whatever you decide to call it, there are sales aplenty whether you're eyeing up an audio plug-in or two, some tasty new hardware or online video training to help you take the next step in your music production journey!
Important: many of the deals from Black Friday carry through to today (and some of them generously well beyond), so please check these 16 Black Friday deals first to make sure your wallet / credit card thanks you for some sweet deals:
Black Friday Deals for Musicians 2014
Once you've perused those discounts, continue here to see our highlights of this year's Cyber/Cyborg Monday deals:
1. AskVideo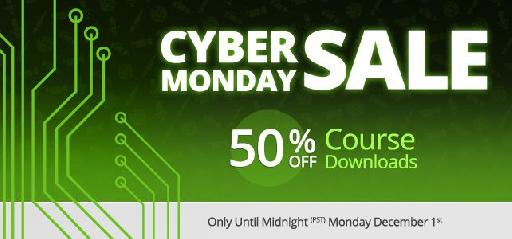 Cyber Monday is here! Take advantage of the BIGGEST sale of the year at leading online video training site, AskVideo.com ... they're offering a 50% discount on all Downloadable Courses until midnight (PST) / 8am UTC this Monday, December 2nd. Only 24 Hours remain in this sale event, so act fast and lock in savings for your music education!
Recent releases include video courses on Logic Pro's Sculpture, Advanced Audio Editing, Audiofile Engineering's Loop Editor 2, FMOD Studio, Reason 8's Mixing Lab, WaveDNA's Liquid Rhythm and TILT's Falling Again Deconstructed.
Web: http://www.askvideo.com/cart/coupon/14CM50
2. Waves Audio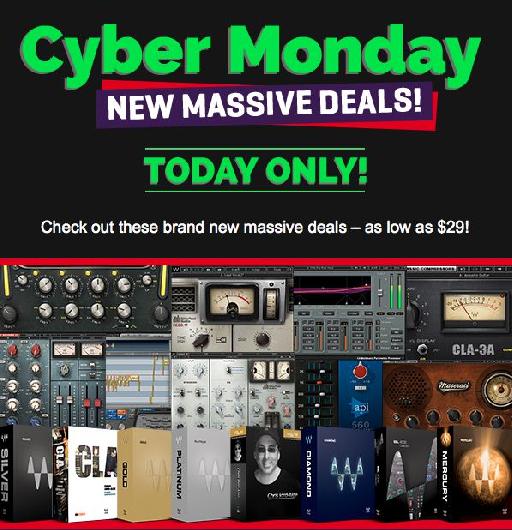 With another awesome sale, Waves are offering all their plug-ins at bargain basement prices, starting from as little as $29 USD!! For example, you can pick up Renaissance Reverb for $29 (normally $150), API 560 for $49 (normally $200)an the Abbey Road Collection for just $399 (normally $750).
Web: http://www.waves.com/specials

3. UVI Sounds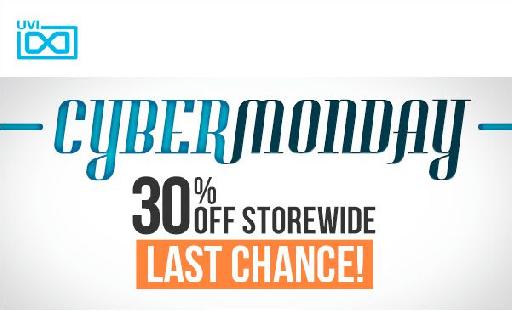 Offering at least a cool 30% off everything storewide, UVI's deals include Complete Toy Museum at 58% off, Vintage Vault at $349, Sparkverb for just $139 (normally $199) and UVX-10P for $69 (down from $99).
Web: http://www.uvi.net/en/store
4. Livid Instruments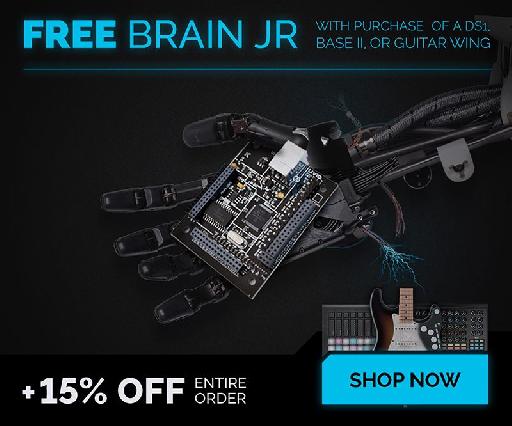 Have you ever met a cyborg you didn't trust? ...Exactly.
Livid Instruments want to get more Brain Jr's into the world and create more incredible machines that make sweet sweet music. Purchase a Guitar Wing, the DS1, or Base II, and they'll give you a Brain Jr for FREE to help further the cause and please the new robot overlords.

Use coupon "cyborgmonday" for 15% off. A simple human will add Brain Jr into your box during shipping.

01110000 01101100 01100101 01100001 01110011 01100101 00100000 01101000 01100101 01101100 01110000 00100000 01110101 01110011 00001010

Web: https://shop.lividinstruments.com/
5. SonoKinetic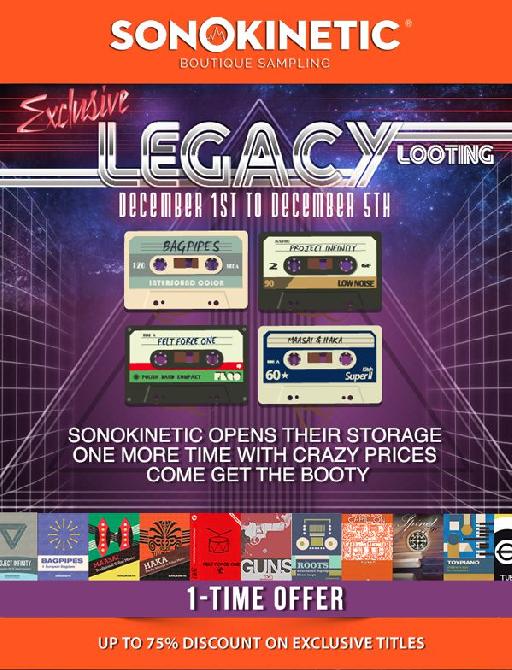 No 24 hour pressure here at Sonokinetic. Amongst our favorite Boutique sampling companies,you'll find some crazy good sales on instruments from now until 5th December. With instruments starting from just €5 EUR (normally €19,99) up to €25, there's something here which won't push your bank balance too far into the red and still make you feel good.
Web: http://www.sonokinetic.net/sale
6. Ableton

For a limited time only, the good folks at Ableton are offering 20% off all their packs, including the latest Time & Timbre (review coming soon).
Web: https://www.ableton.com/en/packs/
7. Bitwig

if you've been tempted by Bitwig Studio, then you've got from now until the 15th January to pick it up for just $299 USD / €259 EUR / £199 GBP.
Web: http://www.bitwig.com/en/shop/shop.html
8. IK Multimedia
With 50% off its apps, including: AmpliTube, AmpliTube Fender, AmpliTube Slash, AmpliTube Jimi Hendrix, AmpliTube Orange, UltraTuner, VocaLive, SampleTank, iGrand Piano, iLectric Piano, DJ Rig, iRig Recorder and GrooveMaker 2, IK Multimedia are going to make a killing. Hurry though as it ends today.
Web: http://www.ikmultimedia.com/news/?item_id=5052
9. Moog Music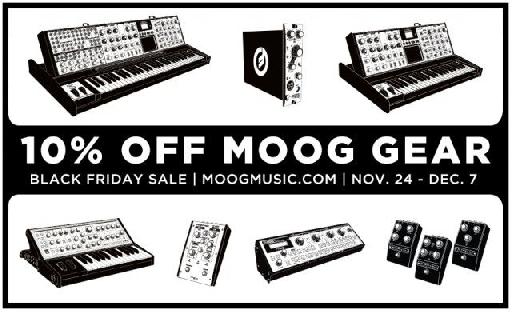 If hardware synths are your thing, then Moog need no introduction. Their holiday sale offers 10% off all Moog Gear from now through to December 7th.
Web: http://www.moogmusic.com/news/moog-music-holiday-sale

10. Teenage Engineering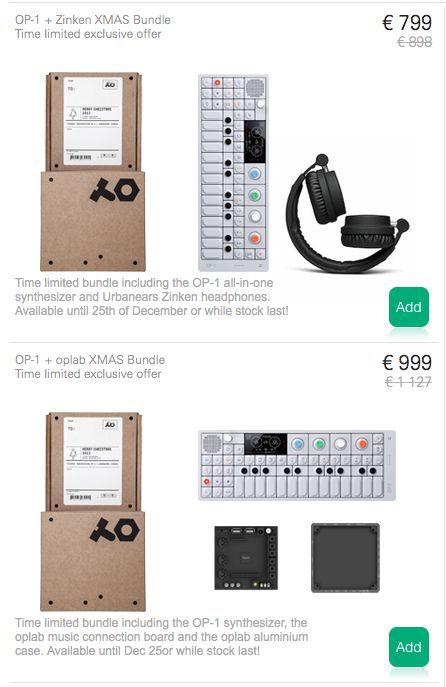 If don't already own an OP-1 and it's not on your wish list, well'¦ it should be! We've calculated a nice saving of around 12% on the Zinken and oplab XMAS bundles.
Web: http://www.teenageengineering.com/store

11. Twisted Tools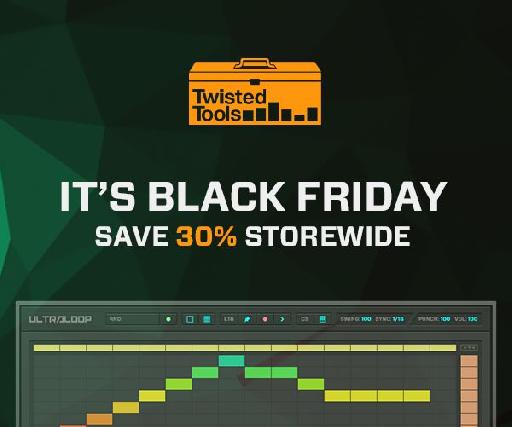 Continuing on from their Black Friday sale, Cyber Monday finds the Twisted folk still offering 30% off their fine tools until end of today.
They tell us it is your last chance to save 30% OFF at Twisted Tools as part of their Thanksgiving sale. Yep, that means Totally Twisted is also now an additional 30% off the already discounted 50%, for a savings value over $660!

Just head over to Twisted Tools and start shopping. You'll see the discounts applied automatically in your cart as you shop.

12. iZotope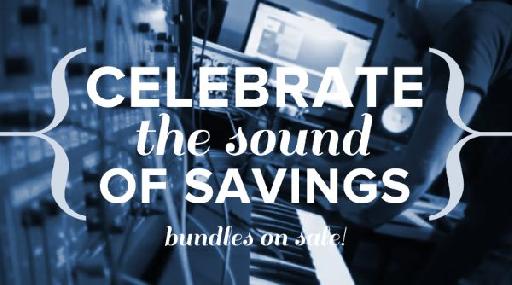 Now's the perfect time to complete your studio setup, iZotope tell us they're offering the biggest bundle savings of the year but only through December 31!
Studio Bundle: Save $150
Polish your sound and sweeten vocals. Bring character and life to every element of your mix with Alloy 2. Elevate a good-sounding mix to a professional-sounding master with Ozone 6. And treat your voice to professional results with Nectar 2.
Studio & Repair Bundle: Save $300
Arm your studio for success. Includes everything in the Studio Bundle plus RX 4, our award-winning repair and enhancement tooolkit. Fix troubled sound with unprecedented power, transforming previously unusable audio into pristine material.
Web: https://www.izotope.com/en/products/bundles/
13. BONUS: Native Instruments in Seventh Heaven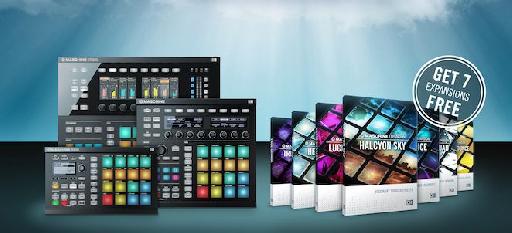 Berlin, December 1, 2014 '" Native Instruments today launched the Seventh Heaven sales special. For a limited time, customers buying MASCHINE STUDIO, MASCHINE or MASCHINE MIKRO will receive a bundle of seven MASCHINE Expansions for free. The Seventh Heaven sales special runs until December 31 at participating retailers and at the NI Online Shop.

During the special, customers who buy MASCHINE STUDIO, MASCHINE or MASCHINE MIKRO get a special bundle of seven MASCHINE Expansions reflecting a diverse range of production styles. The expansions in the bundle are TRUE SCHOOL, PLATINUM BOUNCE, DROP SQUAD, HELIOS RAY, LAZER DICE, HALCYON SKY, and LUCID MISSION. The expansions cover urban pop, dubstep, broken beat, future bass, and contemporary ambient electronica styles '" perfect for producers looking for instant, production-ready sounds without having to spend time on detailed sound design.

Until December 31, customers purchasing a MASCHINE STUDIO, MASCHINE, or MASCHINE MIKRO groove production studio automatically qualify for the special offer. Upon successful registration of the MASCHINE 2 software, users will receive download codes for all seven MASCHINE Expansion via email.

The Seventh Heaven special offer is valid from December 1, 2014 until December 31, 2014, at the NI Online Shop and participating retailers, while stocks last.

The seven free MASCHINE Expansions represent a saving of almost $350 / almost 350 € / almost ¥ 38,000 / over £300 / over AU$550
MASCHINE STUDIO is available for $999 / 999 € / ¥ 83,800 / £849 / AU$1399

MASCHINE is available for $599 / 599 € / ¥ 62,800 / £499 / AU$849

MASCHINE MIKRO is available for $349 / 349 € / ¥ 36,800 / £299 / AU$499

Additional information on this offer is available at: