ROLI are pleased to announce worldwide availability of the ROLI Songmaker Kit after a successful limited release on ROLI.com. Over 30 retailers in the US, Europe and Asia have begun selling this system that consists of three music-making devices in one. Snap together the award-winning Seaboard Block, Lightpad Block, and Loop Block to create a powerful, integrated instrument that lets you make music anywhere. Customised hardware-software integrations help you make the most of the touch-responsive musical surfaces. Have fun building up — and breaking down —each part of your song with Songmaker Kit.
The ROLI Songmaker Kit Includes:
Seaboard Block
Create astonishingly expressive music on a next-generation keyboard. Seaboard Block replaces a traditional keyboard with a soft, pressure-responsive surface that lets you touch and shape your sound.
Seaboard Block comes with a huge library of sounds from string sections to glitched-out synths. Access your sounds on either mobile or desktop through included software, and add to your collection by purchasing soundpacks from renowned artists like Steve Aoki, RZA, and WondaGurl.
The smallest, more portable, most versatile, and most accessibly priced Seaboard ever made, Seaboard Block is the latest evolution of ROLI's multi-award-winning Seaboard technology.
Lightpad M
Lightpad M is the updated version of ROLI's award-winning Lightpad Block. Its redesigned interface allows for even more precise and expressive playing. Dimpled with 225 micro-keywaves, the new Lightpad Block enhances the extraordinary tactile feedback of the original for an altogether more responsive playing experience. Designed to control any sound from drums to cinematic atmospheres, Lightpad M comes with an expanded suite of software including Equator Player and the Tracktion Waveform and Ableton Live Lite digital audio workstations.
Loop Block
The controls help you set your tempo, record loops, and quantise your loops so they snap in time with the tempo.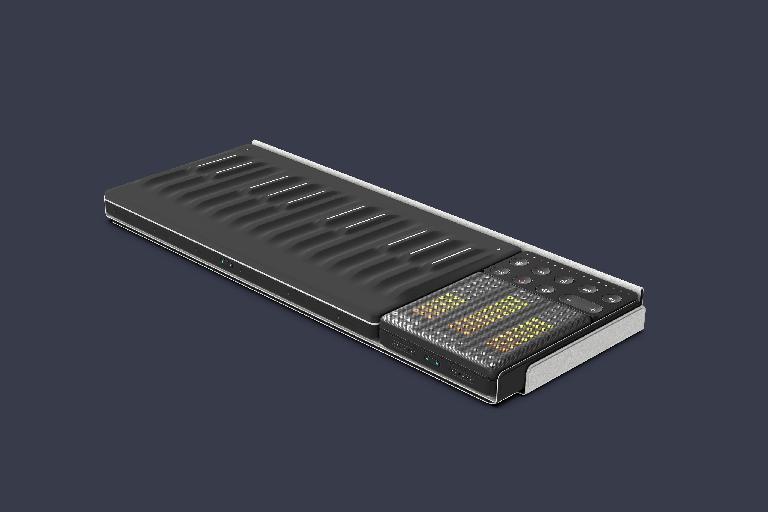 The ROLI Songmaker Kit software bundle includes:
Equator
ROLI's flagship software synthesiser and sound engine is custom-made for controlling and editing sound with Five Dimensions of Touch. Choose from hundreds of included sounds and a range of modulation functions.
Strobe 2 Player
A desktop sound player version of the acclaimed polysynth from FXpansion with 50 presets and 3 macros to play with.
Tracktion Waveform
A cutting-edge digital audio workstation from Tracktion. Waveform seamlessly integrates the Seaboard and Lightpad's multidimensional expression data and helps you visualise and edit your projects with a range of features that are approachable to learners while also powerful for professionals.
Ableton Live Lite
Turn the Lightpad M into a portable controller for Ableton Live, the renowned digital audio workstation (DAW). Through a customised integration you can play instruments and create tracks within Ableton Live — on the surface of one or multiple Lightpad Ms.
BLOCKS Dashboard
Control music software programs outside the NOISE and Equator environment. Songmaker Kit becomes a versatile controller for Ableton Live, Logic Pro X, and other plug-ins and programs.
NOISE
Start making music with NOISE, a free app that includes hundreds of sounds. It pairs wirelessly with Songmaker Kit, so you can play anywhere you have a connected device. iOS and Google Pixel only.
Max MSP
Push the limits of musical creativity with Max MSP, an open-ended environment for plug-in development. Three month free trial with Songmaker Kit
The ROLI Songmaker Kit also includes a Protective Snapcase accessory to protect and transport your Songmaker Kit.
Pricing and Availability
The ROLI Songmaker Kit will be available worldwide from April 2018 priced at £549.95 RRP inc VAT / $649.95 / €599.95
ROLI is exclusively distributed in the UK and ROI by Sound Technology Ltd. For more information please call 01462 480000 or visit www.soundtech.co.uk/music-retail/roli
For worldwide distributor information check out https://roli.com/stores/list