ROLI launches LUMI On Kickstarter, Smart Platform For Music-Makers Of All Levels
Launching today on Kickstarter, the illuminated keyboard and content-rich app are music tech pioneer ROLI's first product for a broader audience. Here's what you need to know about them.
ROLI, pioneer of tactile music technology including the Seaboard and Blocks hardware, has unveiled a brand new platform aimed at music-makers of all levels from beginner through to skilled keyboard players. A modular combination of hardware and software, it leverages the company's DNA connectors and stable of apps to open up new worlds of creative possibility. It ships October 2019 but is available to pre-order now. Here's what they have to say about it.
LUMI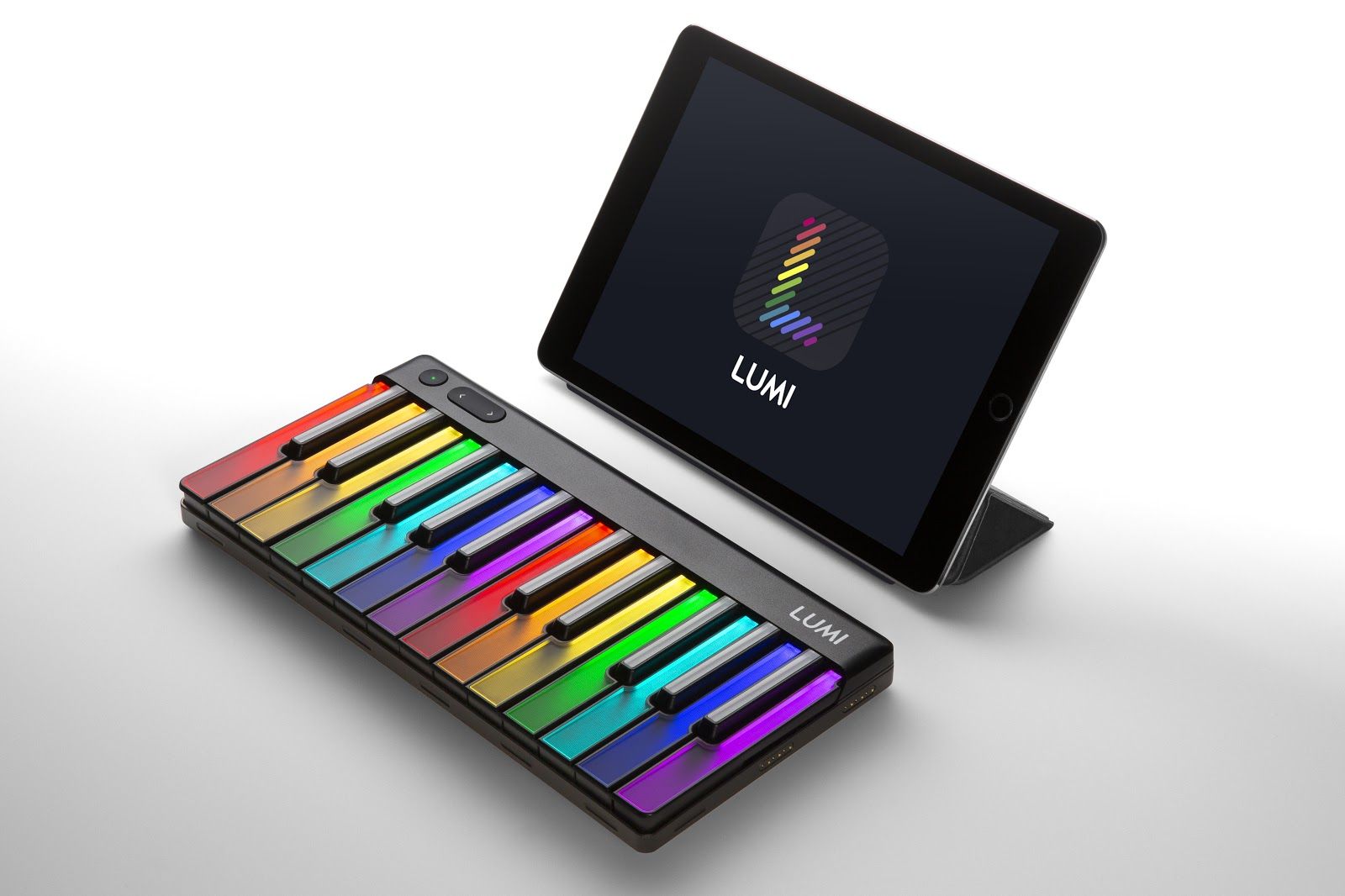 LUMI combines LUMI Keys, a fully illuminated keyboard, and the LUMI app that features a curated library of hundreds of hit songs — all in one colorful, interactive experience. Players choose a song in the app, follow the lights on LUMI Keys, and start playing immediately, learning music as they go.

The first fully modular portable keyboard, LUMI Keys can double or triple in size just by magnetically snapping multiple keyboards together. Powered by ROLI's Brightkey technology, LUMI Keys features the brightest RGB illuminated keys ever made. It fits in a backpack and can travel anywhere, because it's compact and weighs less than an iPad Pro.

The integration of the LUMI app with LUMI Keys creates a fun learning platform that is the very first of its kind. With keyboard and app working seamlessly, players can:
Pick a song: Hundreds of songs from pop hits to classical pieces are available to choose.
Play along: The keys light up, one by one, with the notes of the song.
Jam: The notes and chords in the song's scale light up on LUMI Keys, so players can improvise in real time just like they're in the band.
Choose a view: Whether it's colorful shapes or sheet music, there's a way for everyone to read the song. LUMI helps players progress from simple to advanced ways of reading music.
Learn as they play: Most learning happens naturally, simply by playing. There are also fun in-app lessons that cover scales, chords, playing techniques, and other music basics.
Roland Lamb, founder and CEO of ROLI, reinvented the keyboard once before with the Seaboard. He and the ROLI team have done it again with LUMI, this time to enable everyone to experience the joy of music making.

"Many people would love to play an instrument but worry that they don't have the talent. Through our research, design, and innovation at ROLI, we've come to believe that the problem is not a lack of talent. Rather, instruments themselves are not smart enough. What excites me most is that the intelligence of LUMI means that there's something in it for everyone. On one hand my own kids now prefer LUMI time to movie time, and on the other hand several of the world's leading keyboard players can't wait to use LUMI in the studio and on the stage."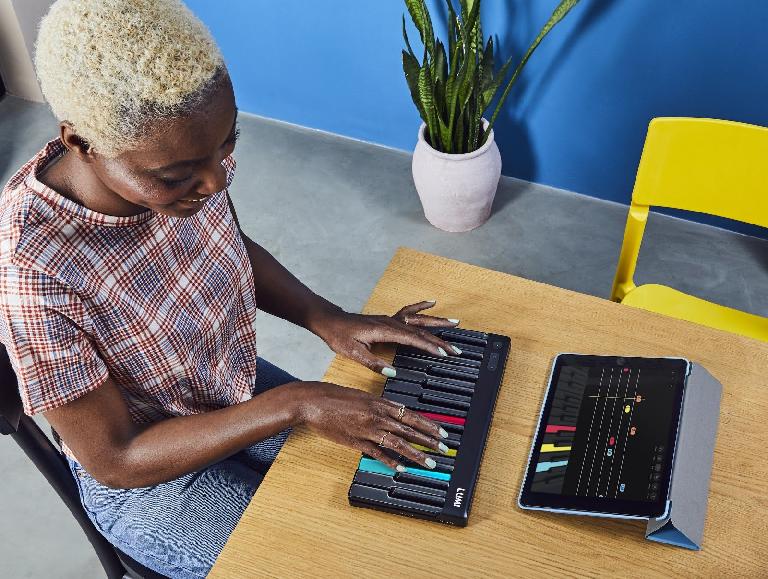 Standalone MIDI Controller
In addition to working with the LUMI app, LUMI Keys works standalone as an advanced MIDI controller compatible with all major DAWS and plugins. Over 100 premium desktop sounds from the Cypher2 and Strobe2 synths are included. LUMI Keys also connects to the Seaboard Block, Lightpad Block, and other Blocks in ROLI's modular system, offering entirely new possibilities for a customized setup. It is one of very few MIDI controllers that offers polyphonic aftertouch.

LUMI is now available for pre-order on Kickstarter from June 18 to July 17. It ships in October 2019. Visit the Kickstarter page to learn more and be one of the first people to own LUMI.
Key Features For Skilled Keyboardists
LUMI Keys works for everyone, including skilled keyboardists. It is an advanced MIDI controller that is more expandable, adaptable, compact, and expressive than any other keyboard controller. For studio producers or stage performers, LUMI Keys:

Connects to additional LUMI Keys and all ROLI BLOCKS
Building on ROLI's research and development of modular instruments, LUMI Keys is the world's first fully modular keyboard controller. With its patented DNA connectors, multiple LUMI keyboards snap together magnetically to create a 48, 72, or even 96-key keyboard. It also connects to ROLI's Seaboard Block, Lightpad Block, and other Blocks — offering open-ended possibilities for a customized setup.

Speeds up composition and production
LUMI Keys and ROLI Studio Player work together to speed up your composition and production. The Smart Chords feature lights up root notes in a chord, helping you build chord sequences faster. The Arpeggiator feature shows you each note in an arp sequence. Even skilled keyboardists benefit from these shortcuts, which save time and spark new ideas.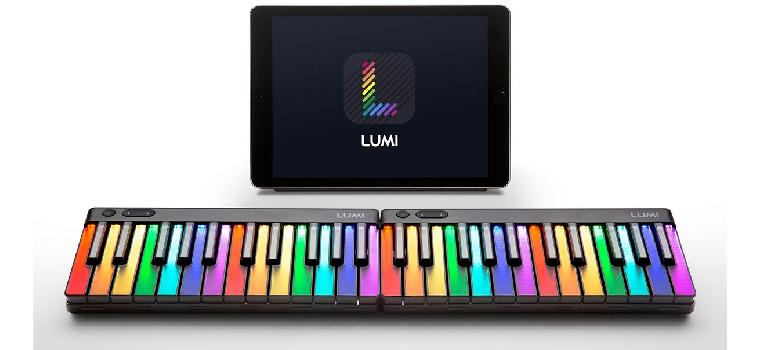 Introduces the brightest keyboard controller ever made
LUMI Keys is the brightest and most saturated RGB-illuminated keyboard controller ever made. It features ROLI's Brightkey technology, which enables LUMI Keys to glows in day or night with 10,800 millicandelas of light distributed throughout the keys in a Fresnel Lens inspired design.

Is comfortably playable but compact
LUMI's keys are a custom size of DS 5.5 that is optimised for the average human hand. With 92% of the plunge distance of a grand piano key, LUMI's keys feel almost identical to playing the piano. Yet their unique profile allows for a 24-key keyboard that is more compact than any other keyboard its size.

Has colored keys that you can customize
Using ROLI Dashboard, you can customize the color and radiance of LUMI's fully illuminated keys. Create a custom color palette and literally light up your performances. Or designate certain notes or chords in a color scheme that works for you.

Puts polyphonic aftertouch at your fingertips
LUMI Keys is one of very few MIDI controllers with polyphonic aftertouch. The pressure responsiveness of each key — similar to a ROLI Seaboard — lets you modulate sound with more expressiveness than any standard keyboard controller.

Works with all DAWs and plugins
As a MIDI keyboard, LUMI Keys works with all major DAWs and plugins including GarageBand, Logic Pro, Ableton Live, Cubase, Kontakt, Omnisphere, and more. So you can integrate it immediately into your setup. Comes with free sounds from Cypher2 and Strobe2.