The Lineage
Unleashed upon an unsuspecting world in the 1980's, the TR-808 and TR-909 produce arguably the most influential drum sounds in modern music. Not only have they appeared on thousands of dance tracks over the course of three decades, but they have helped define the sound of entire musical genres.
From Rap and House to Techno and Trance – these two drum machines have left an indelible mark on the art and culture of music.
Roll the drums.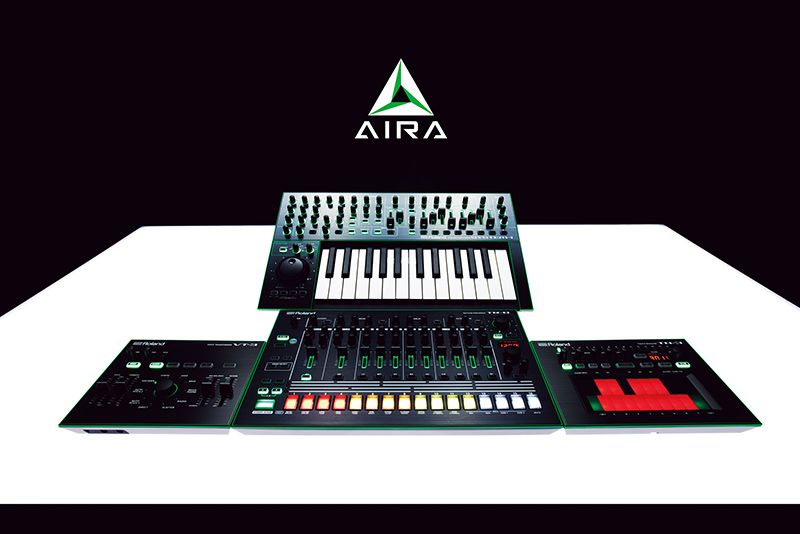 Feast your eyes on this combination of new, old-skool gear: the complete AIRA range featuring: TB-3, TR-8, System-1 and VT-3.
Watch this great hands-on overview from our friends at SonicState:
The Sound
With the TR-8, we have obsessively analysed and faithfully re-created every detail and nuance of the analogue circuitry of these legendary rhythm machines. The boom and snap of the 808. The thud of the 909. The robotic click of an 808 rim shot or a classic 909 snare roll. It's all here.
Not content with mere recreations however, we have enhanced these classic instruments with capabilities far beyond the original units.
Tune and Decay knobs are now present on every instrument and the Bass and Snare drum modules have dedicated "Attack" and "Comp" knobs allowing for a great variety of tones – from subtle ambient percussion to pounding dance grooves. Per-step effects and the massively addictive "Scatter" function take things into entirely new territory.
With the authentic tone and character of the original units and with new sound tweaking capabilities inspired by legions of users, the TR-8 breathes new life into the sounds we all know and love.
Just like the original:
Full reproduction of the original TR-808 and TR-909 rhythm machines based on original design spec sheets and detailed analogue circuit analysis of various specimens including Roland's own pristine units
Newly developed Analogue Circuit Behaviour (ACB) technology allows part-by-part analyses and faithful recreation of tonality and behaviour including the smooth variations of tone that occur when you work the controls of each instrument
Obsessive attention to detail - like reproducing the original TR's unique variations in tone that occur when multiple instruments are entered in accented steps
TR Evolved:
Build dream kits made up of different instruments from the TR-808 and TR-909.

16 stunning kits made up of 11 instrument types.

Control the intensity of the Accent function with a dedicated knob.

Per-step Gate Reverb and Delay effects with dedicated, real-time knobs.

Mix sources connected to the external inputs

Built-in Side Chain function creates rhythmic ducking effects on external Inputs with per-step control.

Two assignable analogue outputs and full parallel outputs via USB for total mixing flexibility.

The Feel
Make no mistake - the TR-8 is an instrument, carefully designed from the ground-up, to be played. Every control has a solid, predictable feel with each drum instrument having robust, "playable" faders. Numerous lighted knobs and RGB-lit buttons give real-time performance feedback and a striking appearance on stage.
Pattern creation is creative and intuitive using an evolved version of the TR-REC method which originated in the TR-808 and eventually became the standard for electronic rhythm programing. Based on detailed analysis of the original TR-808, the TR-REC behaviour has been faithfully modeled in the TR-8. But the TR-8 goes well beyond the original, allowing you to seamlessly switch between programming and performance modes and to introduce lots of groovy rhythmic variations – from subtle snare fills to total glitch meltdowns.
Just like the original:
Faithful TR-REC behaviour for pattern creation

Large tempo control knob and a Fine adjustment knob for total tempo control.

16-step sequencer allows you to switch between variations [A] and [B] as well as continuous playback

Play drum instruments and record to steps in real-time

TR Evolved:
Scatter lets you freak and tweak your grooves with real-time control and perfect sync

16 per-step pads with bold, full-colour LEDs clearly show the current status

Real-time pattern creation up to 32 steps

Change the pattern step count seamlessly and on the fly

Rec/Play modes have been eliminated enabling seamless pattern making and performance

Seamless switch between step input and playing pads in real-time to create patterns

Real-time play of 4 different types of rolls to suit your beat

Quickly Mute/Unmute individual instruments during performance or production

Shuffle function from original TR-909 now has a knob for continuous real-time control

Pattern randomising function induces creativity and brings spontaneity to live performance

7 segment, 4 character LED display shows the current tempo and has Tap function

Pattern copy makes it easy to create pattern variations

What is Scatter?

Scatter is a unique performance function that gives you detailed real-time control over variations in your patterns and any incoming external input signal.

Scatter can reverse, glitch, gate, truncate, stutter and perform all manner of rhythmic variations - from subtle to extreme - and all in perfect sync.

Pick from 10 different types of Scatter and smoothly adjust the intensity or "Scatter Depth" with the large comfortable dial.

Seamlessly switch between Scatter patterns and quickly turn Scatter on and off for cool variations when and where you want them.

Try it. You'll like it.
A few more things
You can connect the TR-8 to your computer via its USB jack to send and receive Audio and MIDI data.

The TR-8 can receive MIDI clock information to sync with external devices including other AIRA series units.

The TR-8 is designed to work seamlessly and look great with other products in the AIRA series.