Roland TR8S/TR6S firmware update brings new FM drums, new FX and more!
It's great to see that Roland is still dedicated to the TR-8S (first released in 2018). Roland just released a new 2.5 firmware update for it, as well a 1.5 update for the newer TR-6S.
TR-8S v2.5 and TR-6S v1.5 update load your Rhythm Performer with a stack of exciting new features.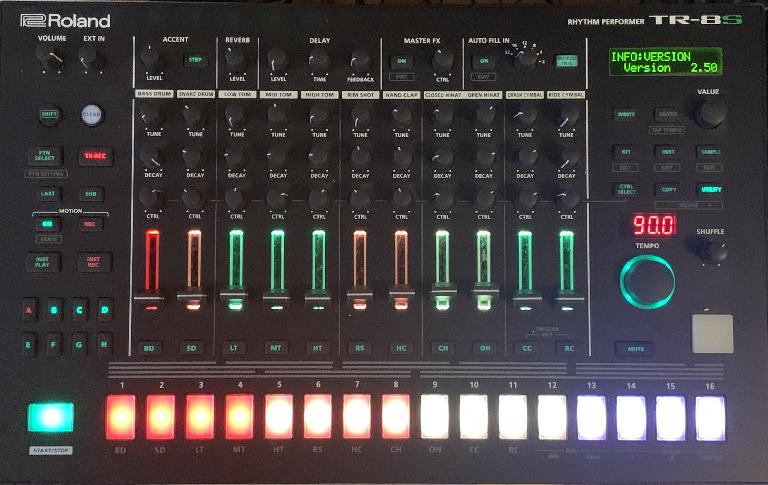 FM Drums
Both TRs add six FM-based drum models—kick, snare, tom, clap, percussion, and cymbal. These models include new editable FM parameters which can be controlled from both the TR hardware and TR-EDITOR software for creating intricate, evolving sounds.
Probability
Rhythm tracks get a dose of unpredictability with a fresh sequencer update that adds probability, sub step probability, and master probability. Probability can bring your drum programming to life by setting percentage values to individual steps that dictate the chance of that step playing.
To change the probability of a step for an instrument, hold down the step and press the Utility button 4 times to get to the "Prob" parameter, and use the Value knob to set the probability percentage. The higher the percentage, the more chance that note will be played. This feature is great for making lots of variations just within a single pattern.
There is also a "Sub Prob" parameter that lets you set the chance that a step will be played back as a sub step. Great to add random stutter or fast roll effects to hi-hats and other instruments. To access the "Sub Prob" parameter, hold a step and navigate through the different parameters using the Copy and Utility buttons.
Random Kits and Instruments
Quickly assign new sounds to your pattern with random kit and random instrument. Create spontaneous sonic changes in patterns and then easily restore back to the original kit.
How do you assign a random kit? It's easy! Just hold Sample and press the Inst button. This will assign a brand new sound in the correct category to each of your different instruments. To go back to the orignal kit, hust hold down Sample and Utility and press the Inst button.
If you want to randomize an individual track instrument, hold Sample and press the instrument select button (BD, SD, LT, etc.). To revert to the original sound, hold down Sample and Utility and press the instrument select button of your choice.
New FX
Then run sounds through four new MFX options—Tone Fattener, Vinyl Simulator, Pitch Shifter Delay, and Ha-Dou Reverb.
TR-EDITOR
Plus, upgrade the TR-EDITOR software to version 1.5 for deeper control of the new FM, probability editing, and more.
About the TR-8S + TR-6S Rhythm Performers
The TR-8S and TR-6S are made to play live. These comprehensive drum machines combine legendary Roland heritage with modern features for the ultimate hands-on creative experience. The units are filled with authentic recreations of legendary TR drum machine sounds—like the 808, 606, and 909. And with cosmic FM sounds, samples, and stacks of onboard FX, you'll have nearly limitless beatmaking possibilities.
About the TR-EDITOR
The TR-EDITOR download is available free through Roland Cloud Manager, the software interface for Roland Cloud content. Plus, you can discover Sample Packs, kits and patterns, and tons of virtual instruments to level up any TR experience.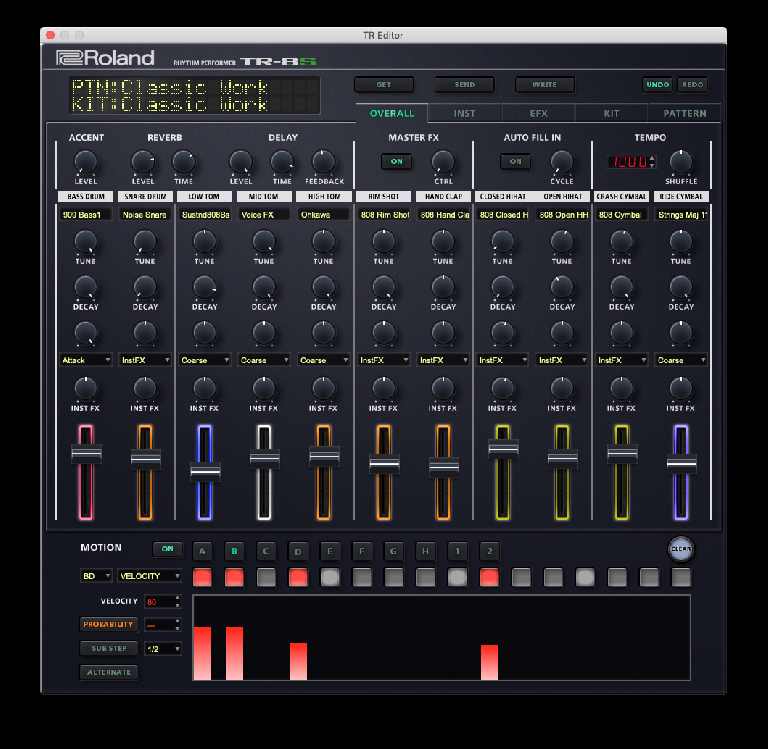 Download Roland Cloud Manager: