Even if you can't picture a Roland Tr-09, the chances are that you've listened to a song in which one was used. The sound of the 909 has plagued House and Techno music since the '80s, and with Roland's re-release of their famous drum machine in a smaller factor form factor we're seeing it sneak itself into many new producers' studios. Here are a few tips and tricks to get you started using your TR-09 in a more hands on way for live performance.
Track Lock
Upon powering the unit and pressing Start you will see a number on the screen progress in chronological order, which means you're in Track mode. The number you see identifies the current track. Tracks continue to play back to back until locked. To lock a track press SHIFT then press the button under Track Play which belongs to that track. The button will begin to blink, letting you know that the track has been locked. To unlock the track simply press the button again and it will turn into a non-blinking LED and continue to play consecutively from the current track.
Track Jump
A neat trick to use during live performance is one I like to call "Track Jump". It involves jumping from track to track. When you have an unlocked track playing, begin to tweak parameters on your instrument; while you're tweaking, go back a track or two by moving the TEMPO knob. This will result in something like a chain between two or more tracks. You can also use the TEMPO knob to jump between tracks that aren't adjacent to each other, and tweaking the parameters leads to nice build ups between tracks.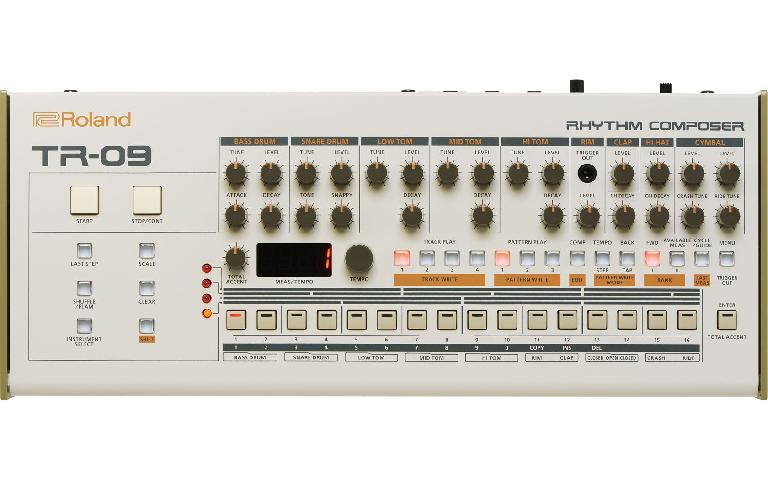 Last Step
Most of us know the concept of using Last Step, but sometimes I find it hard to make a smooth transition when using it. A trick that I enjoy doing when using Last Step is immediately after Pressing Last Step + 3 I turn the Level on my bass drum all the way down and begin to tweak my cymbal ride from left to right, affecting its pitch. As I begin to retrogress to the first Step I slowly begin to bring up the Level on my bass drum, resulting in a pleasant drop.
Compression
If you're feeling your Kick isn't giving you that classic thumping 909 sound, you might want to adjust your compression settings. To access your Compression press COMP located under the RIM and begin to move the TEMPO knob clockwise. As you advance you will notice the density in sound increase.
Hidden Actions
With its smaller chassis compared to the TR-8, you would think some features would be missing at first glance, like RIM Tune or instrument Gain. But fear not because with just a few button combinations you can easily access these configurations.
The Roland TR-909 was crafted by Ikutaro Kakehashi, a pioneer of many electronic instruments who has left a tremendous mark on the industry like no other. Ikutaro is no longer with us, but through musicians his legacy lives on.