Quick on the heels of the 4.1 and 4.0 updates for their Cloud plugin subscription service, Roland have unleashed more vintage synth sound goodies. Anthology 1990, as its name suggests, will propel you back into the fuzzy warmth of deeply sampled synth sounds from a couple of decades ago.
Here's what Roland tell us about Anthology 1990:
Welcome to Roland Cloud's early Spring release, or our 4.2 "April Update." This time, we're ecstatic to deliver to you the sounds from one of our favorite synths from the last century via the latest addition to our Anthology series. After downloading and using the aptly named "Anthology 1990," we're sure that you'll see why we're excited.
One of primary drivers behind why we love this synthesizer is the warmth and presence found in each and every patch. Contained herein you'll find breathy flutes, luscious layered voices and big, beefy basses. From the expressive "Grandioso" piano to the immediately recognizable from 90's ambient music "Shak-Filt", these 64 deep sampled patches deep sampled from the original 64 patches are sure to delight.
As with all instruments in the Anthology series, you'll find an intuitive and inviting experience in Anthology 1990. Simply launch your DAW, load the instrument and immediately start creating. Whether it's in your home studio or on a laptop on stage from the beach in Ibiza, all Anthology instruments carry the Anthology promise: ready to go with low system overhead and high quality.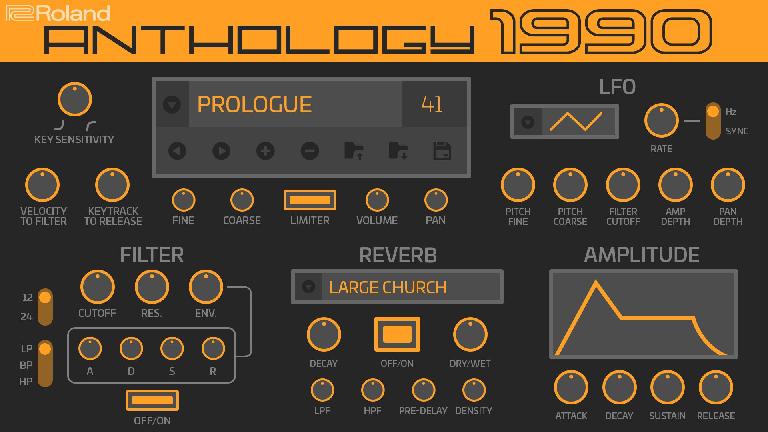 Roland Anthology 1990 Features
Ultra-Deep Sampled replica of its legendary counterpart from 1990
64 patches
4 velocity layers per note
ADSR resonant filter for lush sustains and harmonic decays
Multiple instruments supported per plug in instance
Advanced multi-threaded loading and streaming for fast and smooth workflow
Multiple instruments supported on separate MIDI channels
VST and AU compatible
Don't forget, this is but the latest addition to our ever-expanding catalog. There are many more to come. There are also quite a few already available, including the AIRA, LEGENDARY, FLAVR and TERA Series. If this is your first time at Roland Cloud, we encourage you take a look. We also encourage you to download and play our current catalog, including Anthology 1990 for free for a month by becoming a member using the button below.
Read our review of Roland Cloud 4.0 here.
Price: $19.95 BETA