The September update to Roland Cloud introduces a veritable feast for orchestral buffs. Roland tells us it's time to get symphonic with one of the most iconic and recognizable Orchestral libraries ever to grace the world's music racks and studios; now available for your DAW!
Here's the official info about Anthology Orchestra available only in Roland Cloud:
"Anthology Orchestra faithfully captures and puts at your fingertips a vast variety of realistic sounds for classical orchestration originally released by Roland. Originally described over 25 years ago as "a sophisticated assortment of string, woodwind and brass sounds as well as professional percussion techniques such as rolls and flams" the orchestral sounds contained in Anthology Orchestra have withstood the test of time; so much so that we've been asked by several Roland Cloud members to recreate them with an addition to the Anthology series. We agree, we did, and here you go!
"With Anthology Orchestra we've captured many of the subtleties, characteristics and personality of the original instrument and recreated a uniqueness that could only be found in the original... Until now."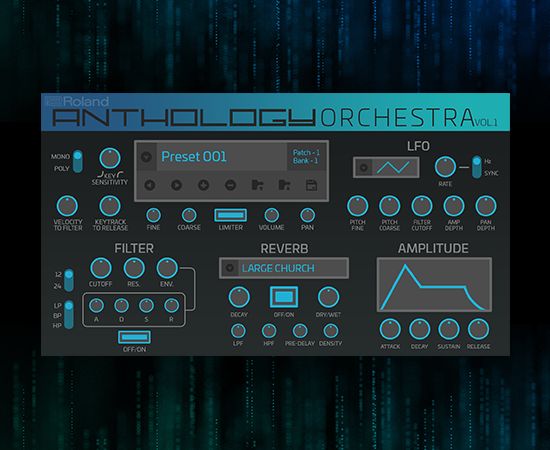 Roland Cloud Anthology Orchestra Features
Ultra-Deep Sampled replica of its legendary counterpart, Including strings, woodwinds and brass sounds, plus orchestral percussion
255 patches that faithfully represent the original instrument
4 velocity layers per note
ADSR resonant filter for lush sustains and harmonic decays
Multiple instruments supported per plug in instance via separate MIDI channels
Advanced multi-threaded loading and streaming for fast and smooth work flow
VST and AU compatible
48khz stereo .ogg format (VBR)
Adjustable key sensitivity
Fine and course tuning controls, both manually or via midi control for coarse tuning
Convolution Reverb with 8 impulse responses, decay and wet/dry mix controls
Per instrument limiter toggle
VST parameter automation