Snohomish, WA, March 3, 2019 — Roland Cloud is pleased to announce the addition of the Roland TB-303 to its suite of software instruments. Utilizing the same ACB (Analog Circuit Behavior) modeling as the Roland JUNO-106, JUPITER-8, and others from Roland Cloud's Legendary series, the virtual TB-303 captures the hypnotic tone of the original hardware and forms the perfect complement to the TR-909 and other instruments in Roland Cloud.
When Roland released the TB-303 Bass Line in 1981, it was marketed as a computerized bass machine to simulate traditional bass guitar. Inventive electronic musicians found a world of uses for the little silver box with the liquidlike low end. And like the Roland TR-808 and its influence on hip-hop, the TB-303 played an essential role in the development of late '80s-early '90s rave culture.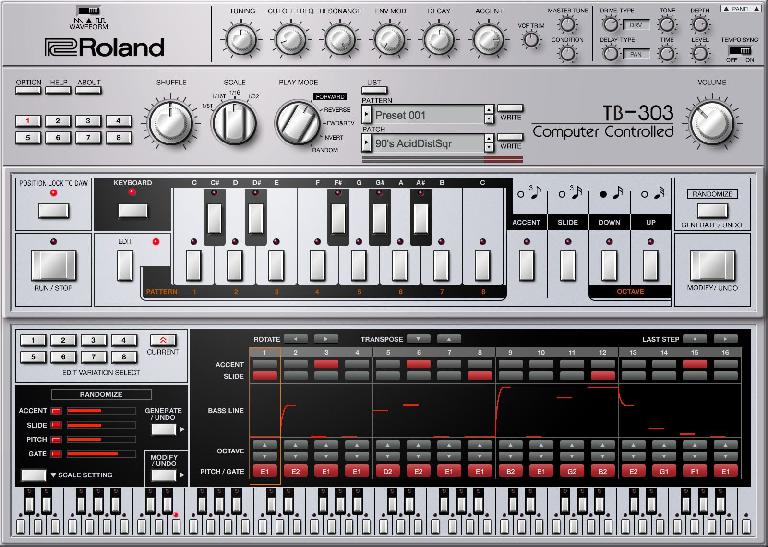 For the first time, the TB-303 can hold up to 64 patterns and 64 patches per bank. The eight variations of a pattern are still accessible on the faceplate. Plus, with 32 preset patterns and 48 unique sounds, the 303 arrives prepared with sonic templates ready to explore.
A hidden panel on the far-right corner of the 303 unlocks a variety of new tone-coloring features. Users can explore the expanded circuit modification via the new VCF trim, Vintage Condition, and Master Tune knobs. The onboard effects, including distortion and delay with tempo-sync, are ideal for inspiring fresh ideas.
Roland Cloud's TB-303 provides the means to emulate the past or pave brave new pathways. It is an instrument with a proud history of shaking up the status quo and defying expectations. Use the TB-303 to leave an imprint on tomorrow's sounds and become part of a lasting legacy.
ALL-NEW KEY FEATURES
64 patterns per bank
64 patches per bank
8 variations per pattern
48 preset patches and 32 preset patterns included
New graphic edit window for step input, pattern edit and pattern creation
Circuit modification via the new VCF Trim, Vintage Condition, and Master Tune knobs
Condition knob adjusts the age and condition of the virtual hardware
Tone knobs for tuning, cutoff frequency, filter resonance, filter envelope, envelope decay, and accent
Effects control for overdrive and delay with tempo sync
Pattern drag and drop of MIDI/audio data to DAW
5 play modes: Forward, Reverse, Fwd & Rev, Invert, and Random
6-octave spread (C0 to C6)
Position locking to DAW