Roland Announces AX Edge, Performance Synth Keytar
Is the music world ready for a new type of keytar? Roland think so and have unveiled the AX Edge keytar to prove it. A powerful performance synthesizer you can wear on stage. Bring it on.
Roland have just announced their new synth/keytar, AX Edge. Here's the details we found about it from their website:
The AX-Edge builds on decades of refinement and learning from artists the world over about what makes the ultimate performance synthesizer. The AX-Edge has a sleek, modern design with a customizable look via interchangeable Edge Blades, 49 full-sized keys, and a sound set crafted specifically for keytarists. And throughout the AX-Edge, you'll find thoughtful design features that give you the freedom and confidence to truly express yourself on stage.
AX EDGE Features
49 full-sized keys with velocity and channel aftertouch
4 parts + vocoder with mic Input
320 programs and over 500 preset tones for keytarists
79 types of part multi-effects and part EQ, 79 types of program multi-effects, chorus, reverb, master compressor, and master EQ
Tone Remain function switches sounds seamlessly without unnatural sound cutoff
Ribbon controller, modulation bar, and assignable controls for expressive performance
Up to 4 hours of battery-powered* operation; can also be powered via AC adaptor
*Rechargeable Ni-MH batteries only.
Bluetooth MIDI and editor app for wireless sound customization
Weighs just 9 lb. 5 oz./4.2 kg (without batteries)
Available in black and white models with removable Edge Blade for custom look
One extra Edge Blade included to complement your AX-Edge model
Audio file playback via external USB memory
Master MIDI controller functionality for remote operation of sound modules, plug-ins, and more
Dual display system optimized for live performance
Optional ST-AX2 stand provides stable support when the instrument is not in use

It's available in black or white, and each color has individual design elements that make it stand out, like the "none-more-black" keys and removable Edge Blades. The AX-Edge comes with an extra Edge Blade in the box (a silver Edge Blade for the black model and a gold Edge Blade for the white) and you can even create your own original designs. Create a look that complements your band's style or swap out Edge Blades to keep things fresh.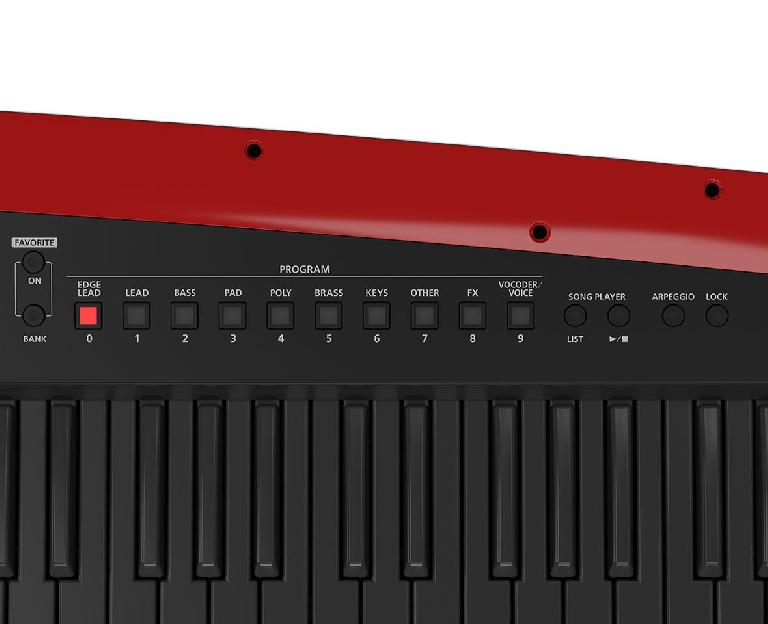 The onboard sounds are optimized for stage performance to produce sounds that cut through, even in a loud band. Dedicated buttons for favorite sounds give you instant access to edgy leads, big fat basses, and all manner of keyboard sounds perfect for the performing keytarist, whether it's taking a solo or sharing the limelight with your bandmates. If you like to customize your sounds, you can connect to the AX-Edge editor app with Bluetooth MIDI and tweak your sounds wirelessly. Splits and layers let you take full advantage of the expansive, full-sized keyboard. And a wealth of stunning new effects, including a master compressor and EQ, give you polished, studio-quality tone in any venue. And thanks to the Tone Remain function, you can switch sounds seamlessly on stage without notes or effect tails being cut off prematurely.
Price: TBA
Available: TBA