MIDI 2.0-Ready A88MKII MIDI Keyboard Controller
The A-88MKII is a powerful new 88-note MIDI keyboard controller for studio and stage. The latest in a long line of professional MIDI controllers from Roland, the A-88MKII is supremely playable, with modern creative tools for today's musicians and producers. Slim and ergonomically designed, the A-88MKII comes equipped with an acclaimed, weighted-action keyboard, plus cutting-edge features like USB-C connectivity, RGB-lit controls, and more. It's also MIDI 2.0 ready, making it the first Roland instrument to support the new MIDI standard.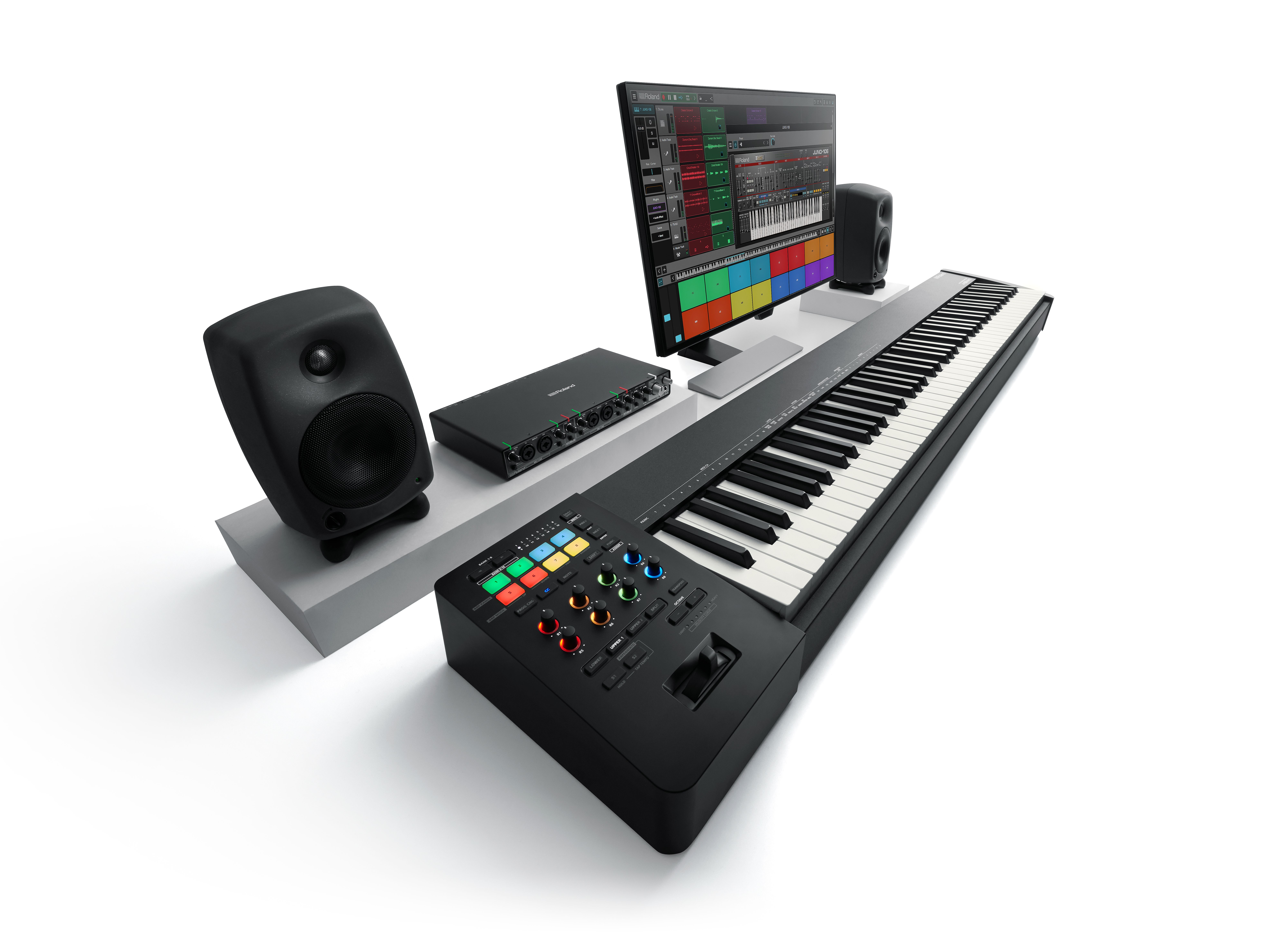 When it comes to MIDI controllers, playability often seems like an afterthought. The A-88MKII breaks that mold with rigid, wooden construction and the 88-note Ivory Feel PHA-4 keyboard found in acclaimed Roland instruments. With high-resolution sensing and lightning-fast response, the PHA-4 accurately translates the subtlest playing nuances, and users can personalize the sensitivity for their own unique touch.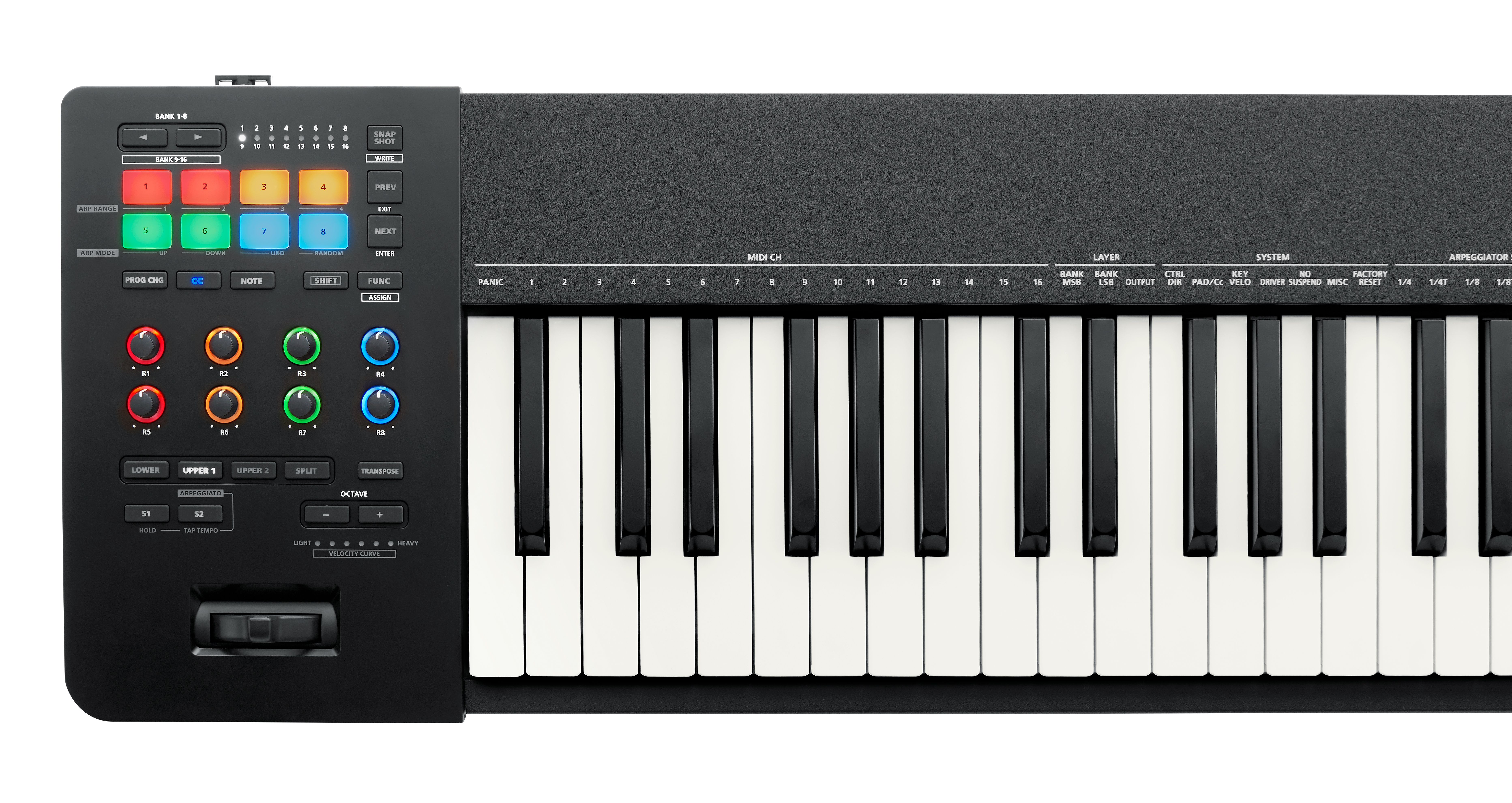 Equipped with a host of real-time performance features, the A-88MKII is equally at home in the studio and on stage. With three user-definable zones, players can layer and split the keyboard with different sounds or instruments. Advanced arpeggiator and sophisticated split and layer functions are also on board, providing direct access to performance tools normally only found in standalone synths and workstations.

Roland's famous pitch/mod lever and an array of RGB-lit knobs offer expressive, hands-on control of sounds. Eight assignable pads are available to control DAW functions, trigger sounds and clips, and more, and pad bank setups can be stored for quick recall. There's also a dedicated sustain pedal input, plus two assignable control inputs that support expression pedals or footswitches.

The A-88MKII is ready for the future with modern USB and MIDI protocols. USB-C offers single-cable connectivity and eliminates the need for an external power adaptor. And the A-88MKII is ready for the high-resolution control and extended capabilities of MIDI 2.0.
The Roland A-88MKII will be available in March 2020 for $999.99 U.S. Street.
GO:LIVECAST
GO:LIVECAST Live Streaming Studio for Smartphones allows streamers to enhance and manage live content on online platforms while remaining engaged with their audience. GO:LIVECAST functions like an instantly-accessible, mini broadcast studio to make online live video production for programs from music, to beauty, to cooking, easier, more accessible, and more fun for everyone. Roland continues its mission to provide innovative tools for modern creative outlets and uses, like livestreaming, so inspiration can take shape in the form of music or media.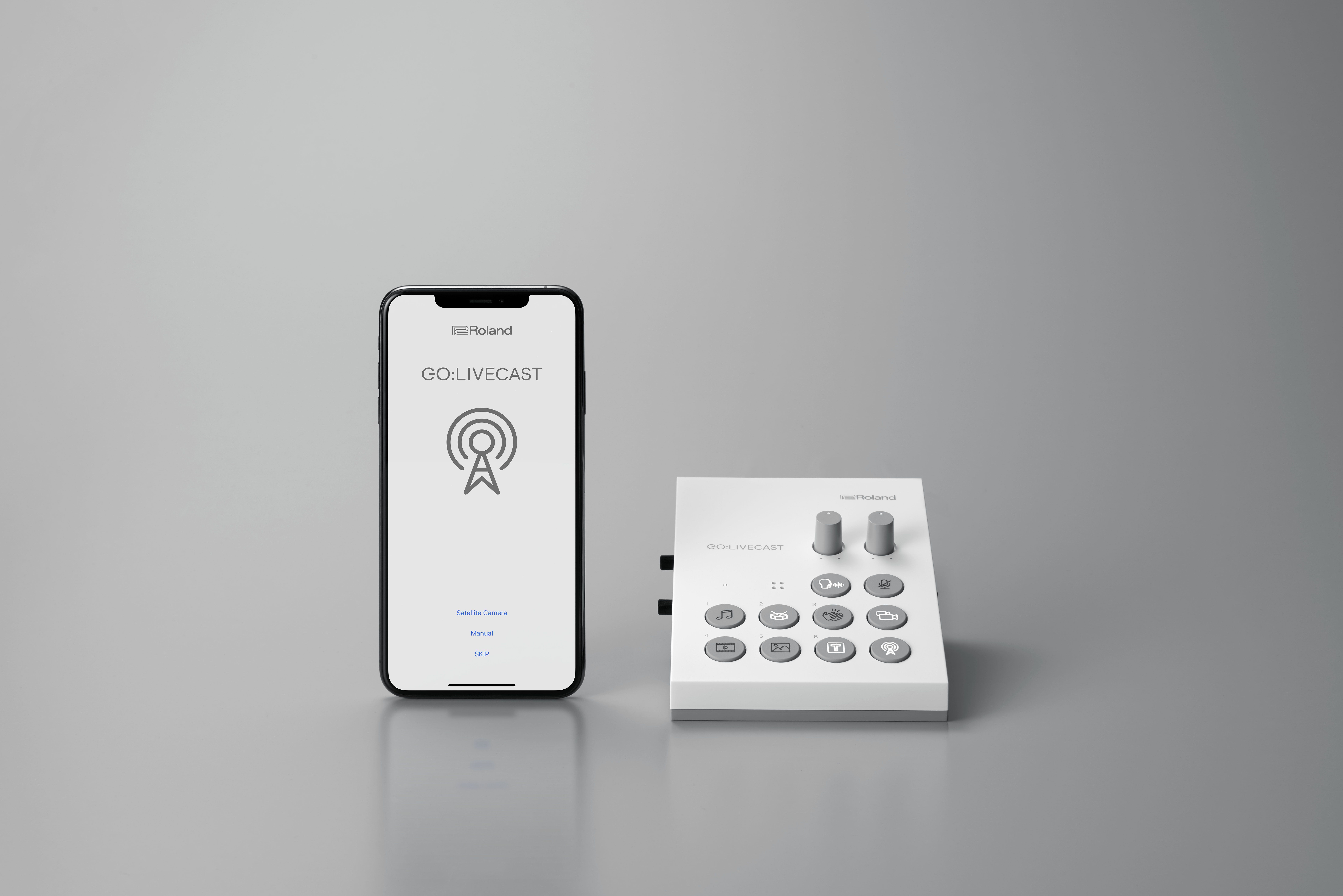 The Roland GO:LIVECAST is quick and easy to use with plug-and-play setup. Simply connect a smartphone and headphones for sound monitoring and start streaming. GO:LIVECAST improves average built-in microphone smartphone audio by giving content creators the ability to connect to other sound sources—from microphones to electronic instruments. Effortlessly insert pre-recorded audio and video clips into livestreams with the push of a button via six customizable controls. Quickly adjust the volume of your microphone or media clip through knobs and mute buttons to keep audio at a comfortable level and omit unwanted sounds.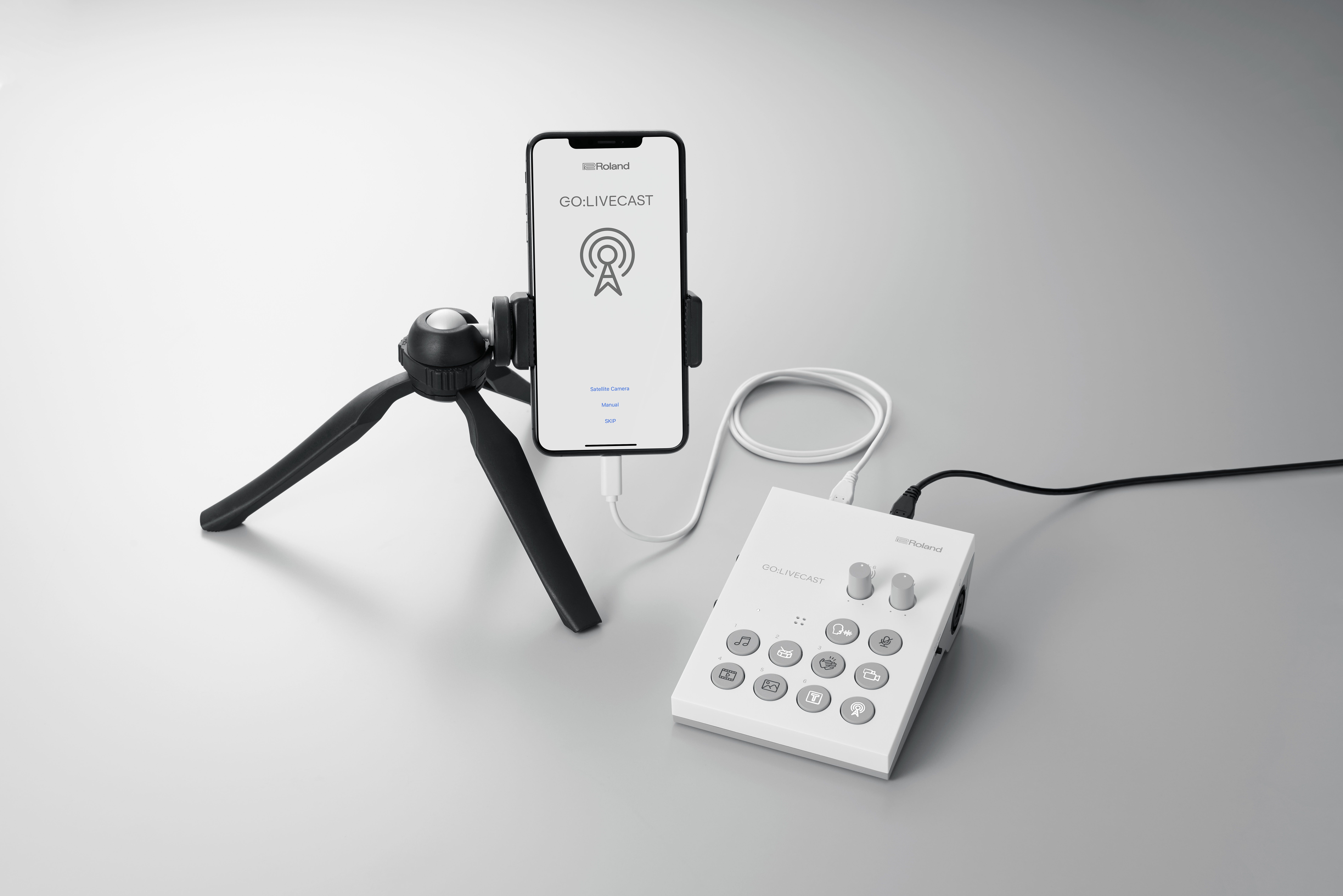 Through the companion app, users can access a variety of video features. Even content-creators without production experience can introduce new and exciting elements to their broadcasts to elevate content. The GO:LIVECAST app allows streamers to log-in and connect to their preferred platforms and start broadcasting directly, eliminating the need for other third-party streaming software. Streamers can also simultaneously monitor comments from their viewers directly in the app while managing their stream.

Roland GO:LIVECAST keeps you and your stream looking its best. Portrait and landscape mode are automatically detected by the smartphone's position, while users can select their smartphone's front or rear camera via the app and even apply a filter for a polished, softened look. Introduce multiple angles and split-screen views through the app by simply connecting a second smartphone or tablet camera via wi-fi.

Roland is making in-the-moment content creation easier than ever before by providing a platform to increase professional production value for everyone from novice vloggers to professional streamers on-the-go.
The Roland GO:LIVECAST Live Streaming Studio for Smartphones is available January 2020 for $249.99.
Roland GPX-F1 Facet Grand Piano
Based on the winning entry from the Roland Digital Piano Design Awards in 2015, this futuristic concept model is fully functional and visually unique, pairing a sleek "floating" design and crystal-inspired polyhedron styling with the latest piano sound engine, unique speaker layout, internet connectivity, and dynamic audio-visual effects.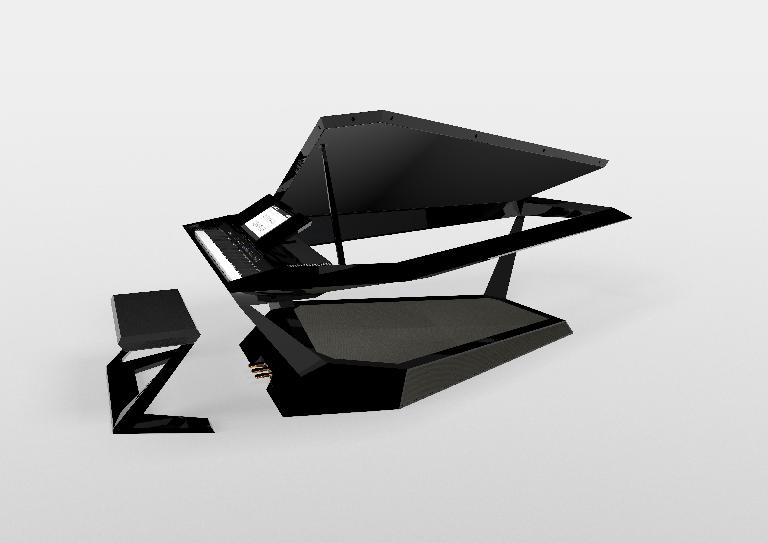 As world-leading digital piano innovators since 1973, the Digital Piano Design Awards reflected Roland's long-time commitment to advance the form and function of this timeless instrument. Challenging the world's most imaginative designers under the guiding theme of "concert grand piano," Roland ultimately awarded the Grand Prize to Jong Chan Kim's "Facet" design, a head-turning, forward-thinking creation with bold angles and attitude.

In 2019, inspired by the themes of design, connectivity and evolution, Roland assembled a small design team in Hamamatsu, Japan, to turn Kim's blueprint into a playable concept piano—complete with next-generation sound technology to match the striking aesthetic. While there are currently no plans to release the GPX-F1 Facet as a production model, Roland expects its design language and technologies to influence the development of digital pianos to come.

Striking and stylish, the Facet's cabinet and frame appear to float above the base unit, catching the eye with the complex polyhedron shapes that inspired the name. Meanwhile, every angle is meticulously conceived for optimum sound projection, delivered by the latest generation of Roland's PureAcoustic Piano Modeling sounds and the Acoustic Projection System that distributes an array of speakers and resonators around the piano for truly immersive sound.

Fusing multiple cutting-edge technologies, the Roland GPX-F1 Facet redefines what it means to play piano. The large Android™-powered screen is built into the music stand to access apps including digital music scores and online-lessons. Players can compose and arrange using the Roland Zenbeats music creation app and enjoy hands-free control with Alexa, Amazon's cloud-based voice service. The Facet's unique visual function also inspires head-turning performance, with the base unit's onboard video projector beaming images onto the piano's top board—in perfect synchronization with the music from the keys.

Following its world debut at CES 2020, the Roland GPX-F1 Facet will appear at the NAMM trade show in Anaheim, California, as well as various industry events throughout the year.