Roland has added two new instruments to its Roland Cloud suite, the ever-expanding online library of instruments and sounds that users can subscribe to, rather than buying instruments individually. Drum Studio - Acoustic One and SRX World Synths are available now.
Drum Studio - Acoustic One
Drum Studio includes 6 kicks, 5 snares, 9 toms, and 7 cymbals all sampled with varied articulation and multiple microphone placements and played with sticks, brushes, and hot rods. Included in the collection are a 1926 snare, a 1960 14x24 bass drum, and dozens of other sounds designed to bring an authentic vibe to your music.
HRES (High-Resolution Extended Samples)
Drum Studio uses high-resolution extended samples. During the sampling process, we exceed the normal 127 velocity steps by recording volumes that are a fraction of single velocity amplitude. We capture up to 300 samples to create these fractional velocities and multiple samples fall within a single value. For example, a velocity of 95 has multiple associated samples, each with its own minor variances.
RRS (Round Robin Sound) Sample Randomization
To take advantage of the HRES samples, Drum Studio utilizes a 'round robin' randomization feature or RRS Sample Randomization. Play the same velocity and the RRS will randomize the samples that have been assigned to that single value. Strike velocity 95 repeatedly and RRS will trigger different samples to avoid "machine gun" playback. You then have settings which can modify the behavior to suit your preference. This creates a more realistic, dynamic, and nuanced performance.
Effects
The effects panel below Drum Studio applies different effects to the entire instrument. Add delay or distortion to the entire drum kit and tweak the knobs to your liking. The combinations are endless.
Mics
A wide range of microphone perspectives controls the volume balance between the different mics used in the original recording. These options include dynamic, condenser, overhead, shotgun and others. Balance the mics to achieve your perfect room sound.
Mix, Compressor, and Reverb Tab Views
Drum Studio also has three separate tab views built into its structure. The "Mix" tab allows a range of control for each individual track. The "Compressor" tab allows you to take advantage of Concerto's onboard compressor or a third-party compressor of your choice, utilizing the "Bus Combo" option. Looking to add spaciousness to your drum mix? The "Reverb" tab enables 4 different reverb sends to selected instruments with individualized parameters.
SRX-World
Throughout the early 2000s, Roland's SRX expansion board series provided innovative tools to sprinkle fresh flavors into your synth setup. Installed directly into Roland hardware, each board contained a specialized musical world all its own. These genre-centric collections ranged from a dancefloor library like SRX DANCE TRAX to SRX ORCHESTRA with its patches of subtle strings and woodwinds. Taken as a whole, the SRX series widened players' pallets, inspiring musicians to diversify their tracks.

"World Collection," the ninth entry in the SRX-series, gave users the chance to travel the globe with an array of musical treasures. The original hardware boasted a collection of international instruments drawn from the SR-JV80 "World," "Asia," and "Latin" collections. Throw in a little bit of country for good measure, and the hardware was, literally, a worldwide affair.

Roland Cloud is proud to add SRX WORLD to our expanding collection. Created in the spirit of Roland's seminal hardware board, SRX WORLD is packed with sounds from around the world to enhance your compositions. From didgeridoo to tabla, berimbau to sitar, SRX WORLD brings your creative project into focus with cinematic scope. Whether your musical base of operation is Hong Kong, Finland, Kenya, or somewhere else on the map, SRX WORLD puts global sounds at your fingertips.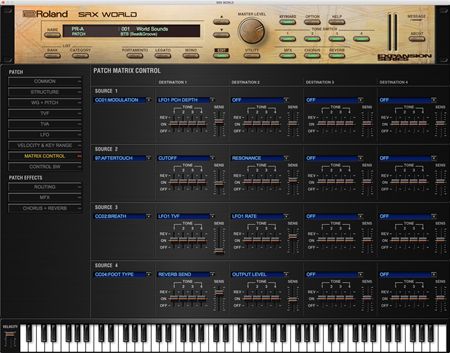 Roland Cloud's SRX WORLD collection arrives bursting with 407 unique patches, 10 rhythm sets, and 867 waveforms. In this collection are crisp percussion, exotic woodwinds and hypnotic grooves to enrich your project with sounds from all around this big blue marble we call home. Download SRX WORLD as part of Roland Cloud's suite of virtual instruments and embark on a journey from the comfort of your home studio.
KEY FEATURES
407 patches, 10 rhythm sets, and 867 waveforms
Ultra-flexible patch parameters
Manages 128 memories as one bank
Multi-effects with 78 different kinds of effects including Delay, Chorus, Reverb, Auto Wah, Tape Echo, and dozens more