Rodriguez Jr. Talks Inspiration & Production Techniques Employed On New Album, Blisss
Award-winning electronic music producer, synthesist and live performer Olivier Mateu, aka Rodriguez Jr., reveals the process and tech behind the new album, Blisss.
AskAudio: Hi Olivier, fantastic to be interviewing you again after your 2017 Synth Stories feature. Tell us about the sounds and artists that inspired you to make electronic music.
Hello! It's great to talk with you again. For those who don't know me, the origin of my sound comes from the 80's with pioneer artists such as Kraftwerk, Jean-Michel Jarre, Tangerine Dream, and at some point I got into the dance music scene in the early 90's when I began listening to artists such as Inner City & Lil' Louis in the U.S. but also the emerging dance scene in Europe. I was very much into anything released via the WARP label for example such as LFO, Aphex Twin, Boards of Canada & so on…
BLISSS is an eclectic, emotional and uplifting album with one of the most addictive beats in an opening track we've heard in a while in, Haussmann. Tell us a little about how this track was born.
Haussmann is basically the avenue where I live, in the heart of Paris. It is named after the architect who essentially gave Paris the aesthetic it has today; its grand avenues, the bone white buildings with their round corners, the graceful curves. Nothing else looks like Paris because of Haussmann. I heard this particular groove as I was walking down the street, there is a unique energy in between classicism and modernity and the balance of these two opposing forces generally speaks to me, this time in music.
As many musicians would admit, being isolated in a studio is all part of the job description.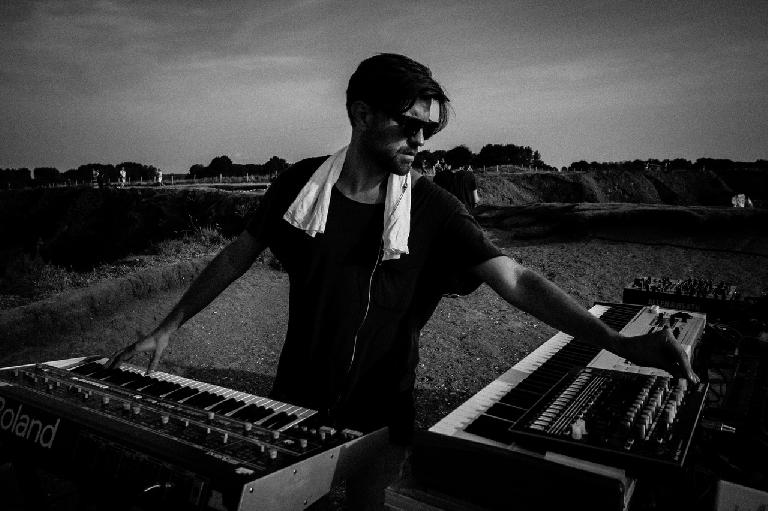 Great to hear more from Liset Alea featured on this album. Really loving the delicate and subtle production on both tracks.
Thank you! ( Liset also thanks you, she's in the room).
The tracks featuring Liset Alea, What is Real and Here to Forget You are beautiful and perhaps more fully realised and confident as songs than tracks on Baobab. How has your approach to composing and producing lyric based tracks differed on this album?
There is a probably a reason for this, in Baobab the vocal tracks were really meant to be placed in a dance music frame, and in this effort, we actually removed as much as possible in order to leave room for the emotion and the voice and this proved to be a more effective & powerful use of the vocals.
The approach to creating these two tracks are extremely different."Here to Forget You" has a very interesting story in fact! We wrote that song in 2006!! I had approached Liset for the first time for vocals for my project The Youngsters and she sent me this song. We later tried to adapt it to another project and it was very much altered from the original…flash forward to 2020…I unearthed the original of this song and decided it was time to bring it out as it was originally intended. It still felt fresh and relevant.
I used the Moog Subsequent 37 as it is often easier to blend in with the other textures without taking up too much space.
Regarding " What is Real" it's classic songwriting. Liset wrote the melody & lyrics on a simple grid. She was writing about the disconnection we are living with nowadays with technology and alternate online realities and the necessity to find the essence behind it all.
Tell us about the hardware synths used on BLISSS. I'm fully expecting your beloved Moog Voyager made more than one appearance…?
I used the Moog Voyager quite a lot indeed, but also the Moog Subsequent 37 as it is often easier to blend in with the other textures without it taking up too much space.
The other main instruments I used on this project are the ARP 2600 (an original model from 1971 which sounds absolutely incredible without requiring any further processing), ELKA Synthex, Roland Jupiter 6 & SH 101 & the DSI OB6.

And what about the software side of things? DAW / plugins / other goodies…?
I use both Ableton Live 10 & Logic Pro X, Lots of plug-ins from SoundToys, Universal Audio & even some hardware goodies such as the Strymon El Capistan guitar pedal which I used on a synth.
Lots of sounds have also been directly processed at the source via the Eventide DSP 4000 and an old Ensoniq DP4+. I realized that the more the sounds were treated at the source, the less work required during the mix to get the sounds to where I wanted them. In painting it would be like blending the right color before bringing it to the canvas and then going with the choice you've made.
In the end, there is a major difference between Baobab & Blisss; Baobab was mixed on an SSL X-Desk (out of the box) and Blisss was mixed on a CHANDLER Mini Rack Mixer.
Production is there only to bring an idea to light and better serve the emotion behind what I want to encapsulate
There's a real sense of playfulness throughout the album. Each track takes the listener on its own journey. It sounds like you've used different creative production methods.
I really just wanted to have fun in the studio with this one and utilize the palette of production methods that I've collected over the years. The core of a track is often an idea or an impression that I collect while on the road or in a particular location, afterwards the production is there only to bring this idea to light and to better serve the emotion behind what I want to encapsulate.
For Haussmann & Nairobi this was achieved by playing with break beat samples in order to get something urgent and urban. On "What Is Real" it was more about the play between the piano and voice in an empty desert atmosphere etc… On other tracks it's basically all about a fat beat over a TB 303 bass line.
There's a lot of space and a rooted, sometimes meditative narrative that travels throughout the album. What was your approach mixing this album?
As I mentioned before I wanted to bring in some of the grandiosity of the empty spaces I had traveled into recently. We've done some road trips out west in the USA as well as in Africa and I wanted to incorporate this light, this emptiness and which informed this feeling of Blisss.
Elements on BLISSS seem to reflect a sense of being at peace with yourself. What is your personal process for transferring what's happening inside you into your productions in the studio?
It's very difficult to quantize this, there's no magic trick, it's like a beautiful relationship, it just happens. I think I've never been as confident in who I am and as unafraid of what I want to hear, so I follow this sound with more clarity & freedom than before. I also believe that the balance and the peace that I have in my private life has also removed a sort of veil that was in front of my eyes.

The balance and peace I have in my private life has removed a sort of veil that was in front of my eyes
As lovely as it would be to take all your hardware synths on the road with you, what does your live setup look like these days?
I've experimented a lot in the past few months in order to find a configuration that would allow me bring this album onstage in the best possible way. Obviously Ableton Live is still at the core of the setup. I added a bunch of controllers, Moog, Roland TR8s & Roland SH01 synths. My main concern is to add more freedom in order to improvise more and be able to propose something completely unique with every show, something that feeds off of the moment more than ever. In order to accomplish this, I profoundly re-structured my way of using Ableton Live.
We live in strange times with the Coronavirus affecting the world in an unprecedented way. How is the lockdown and isolation affecting you. Are you able to find a creative outlet during these times?
As many musicians would admit, being isolated in a studio is all part of the job description and I don't know how the situation is presenting itself as far as quarantine in the UK at the moment, but in Paris you basically cannot leave your home so I am very happy to have my full studio in my apartment which means I am preparing another album! This situation is bringing us to face ourselves more than ever and to answer the imminent question of who we are as artists and what exactly is our role in this world, what can we provide and how can we affect the world positively. Even if I can't be onstage at the moment, I ask myself how I can continue to interact & give people something of value and tell stories that entertain & distract the mind.
What tips would you give to young, upcoming producers and DJs?
We live in extraordinary times when we have all the necessary resources available to us on the internet and I thank you guys for providing knowledge & tools in the Ask.Audio Academy. Generally I think the most important thing to say to up & coming producers & DJ's is to not be afraid to be themselves. Being someone else is a major waste of time, and someone else always does that better.
Thank you Olivier!!
My pleasure. Thank you!