Friday June 20th 2014, Sydney Australia '" Australian pro-audio manufacturer RØDE Microphones has today announced the smartLav+, a broadcast-grade update to the popular smartLav lavalier microphone that connects to Apple and Android mobile devices.

The smartLav was first announced in early 2013 and quickly became one of RØDE's most popular products, combining great value with the convenience of being able to connect to any available mobile device, including phones and tablets based on iOS or Android. Its omnidirectional capsule makes for versatile and user-friendly placement, without the need for expensive and complicated wireless systems.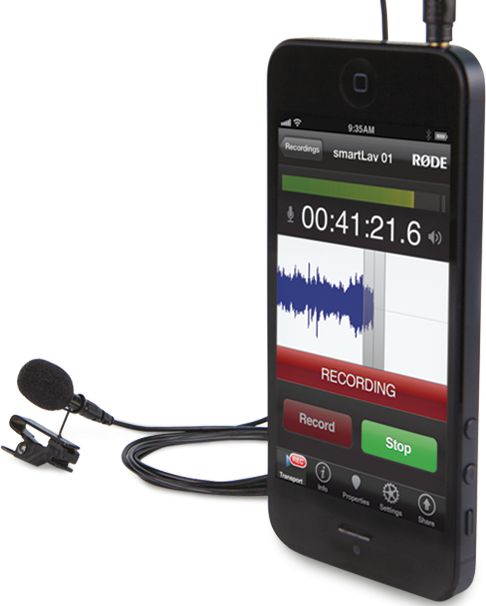 Given the success of the microphone RØDE has decided to increase the audio quality even further with the new smartLav+, achieved by updating the microphone capsule to improve sensitivity and lower self-noise (27dBA). The smartLav+ also adds a Kevlar® reinforced cable to ensure that the user cannot stretch or snap the microphone under normal usage conditions.
A foam windshield and clip with integrated cable management is also supplied, along with a storage pouch that is small enough to slide into any camera bag or audio kit.
For iOS platforms RØDE offers the RØDE Rec field recording app, which allows the user to perform a complete range of professional recording functions including one-touch export to Dropbox and SoundCloud, making it the perfect accompaniment for the smartLav+. An updated release of RØDE Rec has just been added to the iTunes store, which provides a tweaked interface and even greater stability. A free version of the app, RØDE Rec LE, is also available for download.
Finally, RØDE's recently released SC3 adaptor allows the TRRS jack of the smartLav+ to be adapted to suit standard TRS devices, such as a DSLR camera or personal recorder like the Zoom H1.
The smartlav+ replaces the smartLav, and is shipping now for US$79. Visit www.smartlav.com now to learn more and see the complete device compatibility list.