Outubro 2014The empresa de design de guitarra estão pedindo comunidade do Kickstarter de apoiadores para ajudar a apoiar a sua nova tecnologia de guitarra MIDI em uma tentativa de angariar fundos para levar o protótipo funcional para a produção.
O Expressiv MIDI Guitarra sistema é plug and play compatível com qualquer dispositivo virtual de MIDI hardware ou software e permite registro de guitarristas, compor e executar música digital enquanto joga uma guitarra elétrica regular.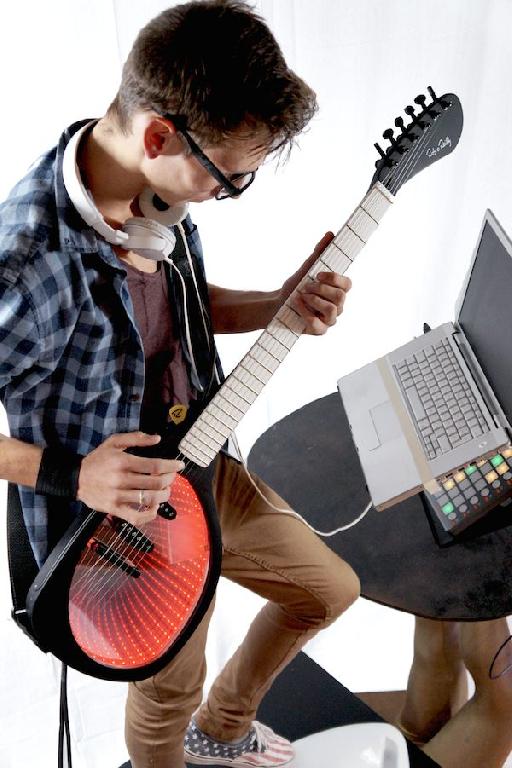 Fundador da RORGuitars, Rob OReilly explica como o conceito surgiu:
"We challenged ourselves to make a guitar that had real MIDI, real guitar playability and real control that would allow guitar players create digitally using the instrument they know best - their guitar."
"After three years of development and testing we have reached the stage where we can say that we have solved this problem and produced a system that we know guitar players at all levels of ability will love to play."
Expressiv: MIDI Guitarra Sistema http://bit.ly/expressiv
Antecedentes:
Rob OReilly é engenheiro eletrônico, designer de guitarra, e fundador da RORGuitars, uma empresa de fabricação de guitarra com sede na Irlanda. Em uma tentativa de ganhar apoio financeiro e publicidade para o desenvolvimento de seus projetos de guitarra, ele venceu o investimento no programa de TV irlandês Dragons Den e fez uma campanha Kick-arranque bem sucedido com IG Guitars. RORGuitars trouxe sua primeira guitarra para o mercado em 2013, e estão trabalhando em outras inovações para ajudar os músicos encontrar novas formas de criar som com a tecnologia.
Web: http://www.rorguitars.com
Kickstarter: http://kck.st/1vJ27c5