Riot Audio today releases BOWED GUITAR CLOUDS, a simple but powerful Kontakt virtual instrument for cinematic morphing pad sounds. BOWED GUITAR CLOUDS, centred on recordings of bowed guitars, is the follow-up to the hugely successful Bowed Glass Clouds and will be available for £29 (regular price £49) until September 11th 2019.
BOWED GUITAR CLOUDS is a simple one-page instrument with a clean, easy to grasp user interface. It allows for control of the following parameters:
Amount and speed of the pre-programmed dynamic morphing between the sublayers
Absolute levels of all three octaves
Crossfade between the main layers A & B
An effects section: tape distortion, bandpass filter frequency, delay and reverb with adjustable times and lengths respectively
Three-band parametric EQ with musical, broad Qs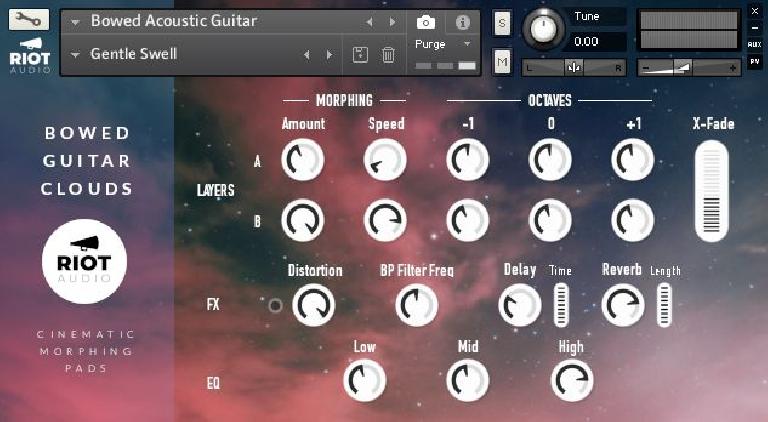 SOUND APPLICATIONS
BOWED GUITAR CLOUDS allows the user to create rich, organic evolving pad sounds for film scores, trailers, ambient and electronic music. Its sonic palette ranges from scratchy, sitar-like drones via quivering pads to heavily saturated, growling free-bowing notes. This makes BOWED GUITAR CLOUDS suitable for a variety of moods and genres – from dreamy electro pop to sci-fi trailer music and horror film scores.
AVAILABILITY
BOWED GUITAR CLOUDS will be available for £29 for a limited period until September 11th 2019 on Riot Audio's website (riotaudio.com). After that it will be available at a regular price of £49.