Rhodes announces V8 & V8 Pro virtual instrument plugins
Rhodes introduces their first official software instrument: the Rhodes V8. You can try this deeply multi-sampled version of the acclaimed MK8 out for 45 days free.
Rhodes is proud to announce the first official music software to carry its name – the Rhodes V8 – and is offering you the chance to get to know this deeply multi-sampled version of the acclaimed MK8 electric piano during a 45-day free trial.
To mark the V8 release, Rhodes has made a new short film entitled 'Missing Keys' featuring James Smith of the Mercury Prize nominated band, Yard Act – and they want YOU to soundtrack it for them, utilising a free trial of the new Rhodes V8 virtual instrument.
Entries are encouraged from all genres and styles; the only rules are that James' voice remains unedited and the Rhodes V8 prominently features in your track. Creativity and experimentation are welcomed, from jazz to indie rock, from grime to drill; let inspiration take you where it will.
It doesn't end there: when the 'Missing Keys' competition draws to a close on 1st March 2023, Rhodes will pass on the five best entries to a panel of celebrity judges featuring two creative titans of modern music: James Blake, and James Smith. The judges will decide upon a winner during a 30-minute conversation broadcast live via the Plugin Boutique YouTube Channel.
The winner will take ownership of a beautiful bespoke Rhodes MK8 piano, and their film score will be the final soundtrack to the 'Missing Keys' film. In addition, nineteen runners-up will receive full versions of the Rhodes V8 plugin for life and an array of other prizes courtesy of partners Plugin Boutique.
Head to rhodesmusic.com/missingkeys to download a free trial of the Rhodes V8 and everything else you will need to enter the competition.
Introducing: The Rhodes V8
The ultimate Rhodes for your digital setup, the V8 is modelled directly from the MK8 and is also available in the comprehensive Pro version.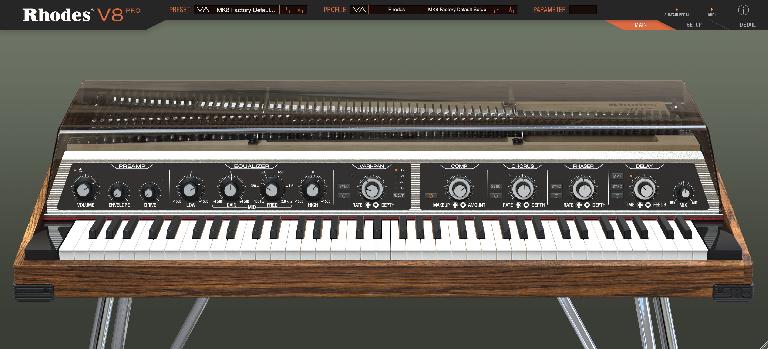 The Rhodes V8
The V8 is a deeply multi-sampled, hyper-realistic version of the Rhodes MK8, capturing all the nuance and character of the flagship electric piano within 30,000 samples across 100 velocity layers. The only official software to carry the Rhodes name, the V8 is the final destination for musicians looking to augment their productions with the timeless beauty of 'The True Rhodes Sound'.
The V8 Pre-amp features Drive, Low/High EQ and a Vari-Pan effect with Rate and Depth controls. A suite of presets and profiles let users access a wide variety of tones from the MK8, as well as some characterful Rhodes models, both real and imagined. The V8 also allows for Tuning adjustment, Mechnical Noise balancing, and the electroacoustic Timbre Shift, among other options.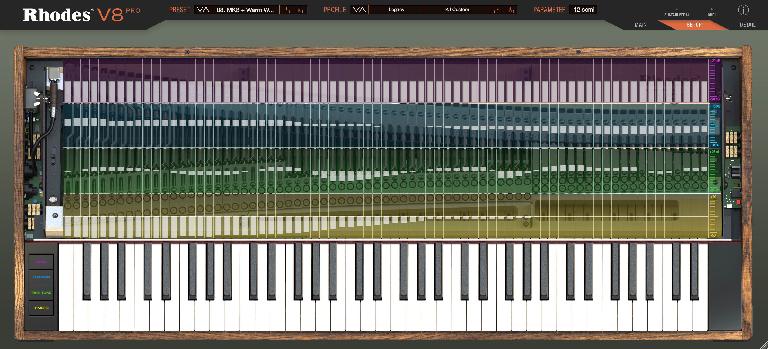 The V8 Pro goes deeper, offering the MK8's Envelope parameter for dialling in envelope-controlled filter effects like auto-wah, and unleashing the Vari-Pan circuit into audio rate modulation. The Compressor, Chorus, Phaser and Delay effects from the MK8 FX are here too. On the Setup page, users will find per-note control over Timbre, Fine Tune, Level and Damper response. A selection of microphones and amplifiers can be found, paying homage to classic studio and stage Rhodes setups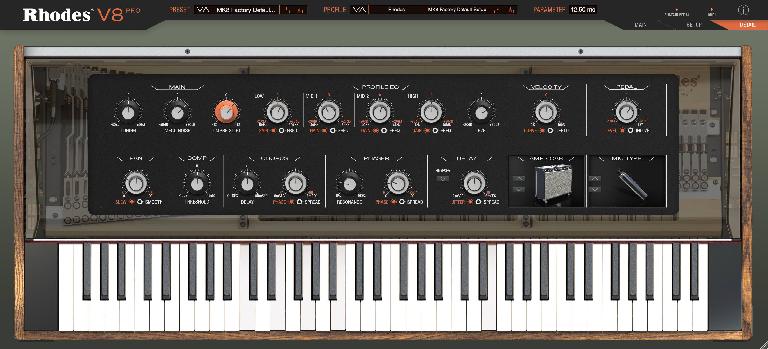 Specifications
• Deeply multi-sampled from the state-of-the-art Rhodes MK8 electric piano, including preamp, equalizer, vari-pan and drive
• VCA-based and bucket brigade delay effects tuned perfectly for the Rhodes sound: Compressor, Chorus, Phaser and Delay
• Profiles and Presets let you access to the sounds of vintage Rhodes pianos, plus famous players' unique setups
• EQ mid band boosts for wah (via expression pedal/CC) and auto-wah (via Envelope dial)
• Vari-Pan with rate, depth, four waveshapes and audio rate options
• Choice of amp and mic effects for the sound of stage and studio
• 'Under-the-lid' per-note setup for timbre, tuning, damper and level
• Change tuning, balance mechanical noise, customise waveshapes
• 'Expression' input to any front panel parameter via MIDI CC
• VST/AU/AAX plugin for Mac and Windows
Logic's Vintage Electric Piano Course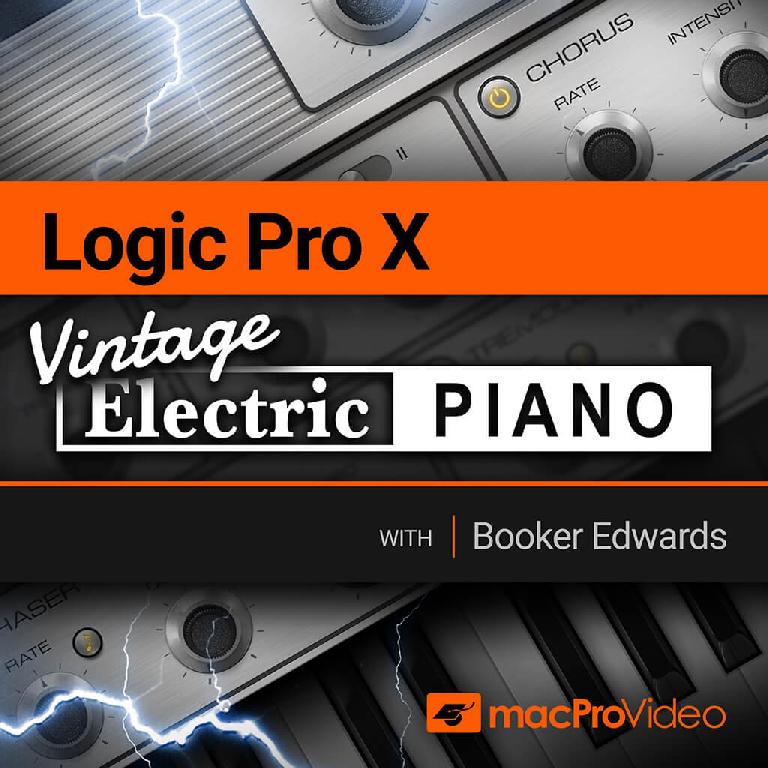 Logic's Vintage Electric Piano, with its enhanced GUI and sonics, is just waiting for you to dive in and design your own piano sounds. Whether you're trying to achieve vintage realism or you're looking to create an expressive new electro-acoustic sound source for your dance music tracks, this course will open your eyes to the possibilities that this instrument brings to the Logic Pro experience. Learn how to roll your own virtual electro-acoustic sounds in this course by Logic expert Booker Edwards.