Embora Pro Tools 10 vem com uma gama de instrumentos virtuais, você pode achar que a instalação padrão tem um alcance bastante limitado, em comparação com outros DAWs como Pro Logic. Uma maneira simples de resolver isso é usar Motivo 6 ligado ao Pro Tools via ReWire, de modo que todos Razões ferramentas de geração de som surpreendentes estão disponíveis para você enquanto trabalhava em sua sessão de Pro Tools.

A beleza do protocolo ReWire é que não só o aplicativo cliente desempenhar suas seqüências em sincronia com o mestre (ou seja, ReWire sincroniza os controles de transporte e da posição de música entre Pro Tools e Reason), mas também MIDI originário do mestre irá desencadear sons no cliente, eo áudio será criado rotear de volta através do misturador Pro Tools.
Estabelecer
Quando a razão está instalado e ativado no seu Mac, é uma tarefa muito simples de configurar como um cliente ReWire de Pro Tools. Ir para as inserções de uma entrada Aux ou faixa Instrumento e escolha a aplicação ReWire, que deve aparecer na lista de Instrumento. Pro Tools vai lançar o ReWire plug-in, e Razão será iniciado automaticamente.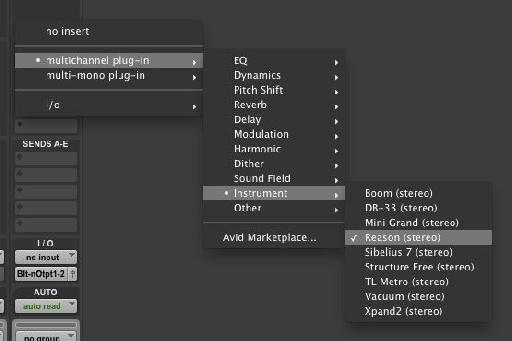 Escolher Razão como uma inserção para uma trilha de Instrumento.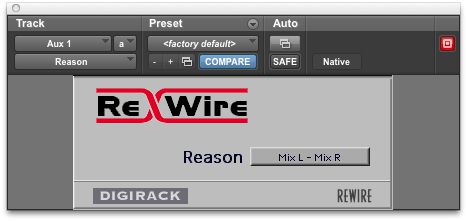 O ReWire plug-in-.
MIDI Controle
Como mencionado acima, você pode inserir o ReWire plug-in em qualquer de uma entrada Aux ou faixa Instrumento, e configurar o Pro Tools para que o cliente recebe MIDI é ligeiramente diferente em cada caso:
On an Aux Input track

Add a new MIDI track (Shift-Command-N)

From the MIDI output selector choose the Reason instrument to which you want to send MIDI data

On an Instrument track

Choose Instrument from the Mix Window view selector, or choose View > Mix Window Views > Instruments

From the MIDI output selector choose the Reason instrument to which you want to send MIDI data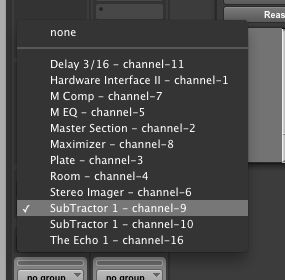 Escolhendo um instrumento Razão com o seletor de saída MIDI.
Para gravar dados MIDI do Reason em Pro Tools
Você pode capturar dados de desempenho criados em razão da automação controlador contínuo em Pro Tools, como segue:
Desde o seletor de entrada MIDI de qualquer uma trilha MIDI ou Instrumento escolher o instrumento Razão a partir do qual você deseja receber dados MIDI: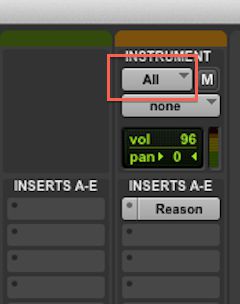 O seletor de entrada MIDI em uma pista de instrumento.
Record enable that track

Enable MIDI Merge on the Transport window if there is already MIDI data (such as notes) on the track

Start to record in Pro Tools

Switch to Reason

Move the control(s) on the selected Reason instrument

Return to Pro Tools and stop recording

Você pode ver e editar os dados de CC em Pro Tools, selecionando a lista de reprodução apropriado, usando o ponto de vista trilha de dados selectorthe CC deve aparecer aqui como uma nova lista de reprodução. Alternativamente, você pode abrir uma pista de automação / novo controlador clicando no Show / Hide Lanes

Automação Pitch Bend visto como uma lista de reprodução pista.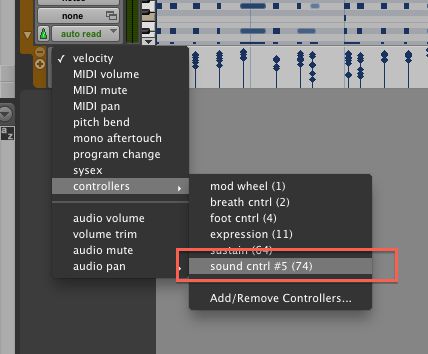 Informações sobre o controlador Gravado é fácil identificá-las na Automação / Controladores ver selector.

Automação visualizada em um controlador de pista Automação / Controller.