Sebbene Pro Tools 10 è dotato di una gamma di strumenti virtuali, è possibile che l'installazione standard ha un range abbastanza limitato, rispetto ad altre DAW come Pro Logic. Un modo semplice per porre rimedio a questa è quella di utilizzare Reason sei collegato a Pro Tools tramite ReWire, in modo che tutti gli strumenti sonori incredibili generazione Motivi sono a vostra disposizione mentre si lavora su la sessione Pro Tools.

La bellezza del protocollo ReWire è che non solo l'applicazione client giocare le sue sequenze in sincronia con il master (che è, ReWire sincronizza i controlli di trasporto e la posizione canzone tra Pro Tools e Reason), ma anche MIDI originario del master si innescherà suoni del cliente, e l'audio creato verrà via del ritorno attraverso il mixer Pro Tools.
Impostare
Quando la ragione è installato e attivato sul vostro Mac, si tratta di un compito molto semplice da impostare come client ReWire da Pro Tools. Vai a degli inserti di un ingresso Aux o traccia di strumento e scegliere l'applicazione ReWire, che dovrebbe apparire nella lista strumento. Pro Tools lancerà il plug-in ReWire, Reason e si avvia automaticamente.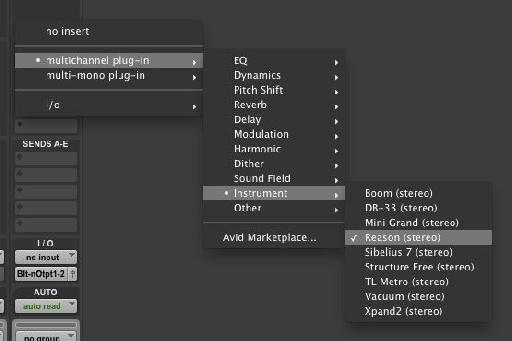 La scelta di ragione come un inserto per una traccia strumentale.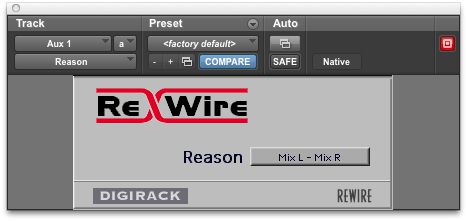 Il plug-in ReWire.
Controllo MIDI
Come accennato in precedenza è possibile inserire il plug-in ReWire su entrambi su un ingresso Aux o traccia di strumento e Configurazione di Pro Tools in modo che il cliente riceve MIDI è leggermente diverso in ogni caso:
On an Aux Input track

Add a new MIDI track (Shift-Command-N)

From the MIDI output selector choose the Reason instrument to which you want to send MIDI data

On an Instrument track

Choose Instrument from the Mix Window view selector, or choose View > Mix Window Views > Instruments

From the MIDI output selector choose the Reason instrument to which you want to send MIDI data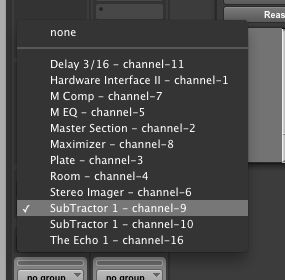 La scelta di uno strumento di Reason con il selettore di uscita MIDI.
Per registrare i dati MIDI di Reason in Pro Tools
È possibile acquisire i dati sulle prestazioni creati nella ragione come automation controller continuo in Pro Tools come segue:
Dal selettore di ingresso MIDI di una una traccia MIDI o Instrument scegliere lo strumento Reason da cui si desidera ricevere dati MIDI: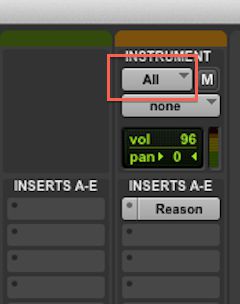 Il selettore di ingresso MIDI su una traccia strumentale.
Record enable that track

Enable MIDI Merge on the Transport window if there is already MIDI data (such as notes) on the track

Start to record in Pro Tools

Switch to Reason

Move the control(s) on the selected Reason instrument

Return to Pro Tools and stop recording

È possibile visualizzare e modificare i dati CC in Pro Tools selezionando l'apposita playlist utilizzando la vista traccia selectorthe dati CC dovrebbe apparire qui come una nuova playlist. In alternativa, è possibile aprire una nuova automazione / controller lane facendo clic su Mostra / Nascondi Lanes

Pitch Bend automazione vista come una playlist traccia.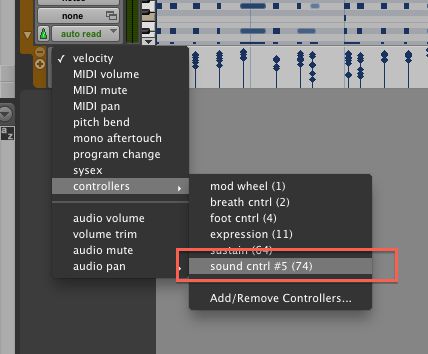 Informazioni sul controller registrato è facile da individuare nella Automation / controller di vista selettore.

Automation controller visualizzato in un Automazione / Controller corsia.