Bien que Pro Tools 10 est livré avec une gamme d'instruments virtuels, vous pouvez constater que l'installation standard dispose d'une gamme assez limitée, comparée à d'autres DAW comme Pro Logic. Une façon simple de remédier à cela est d'utiliser Raison n ° 6 connecté à Pro Tools via ReWire, de sorte que l'ensemble des motifs étonnants outils de génération de sons sont disponibles pour vous tout en travaillant sur votre session Pro Tools.

La beauté du protocole ReWire, c'est que non seulement l'application cliente ne jouent ses séquences en synchronisation avec le maître (qui est, ReWire synchronise les commandes de transport et de la position chanson entre Pro Tools et la raison), mais aussi MIDI originaires du maître déclenchera sons dans le client et l'audio créé sera le chemin de retour par le biais mélangeur de Pro Tools.
Set Up
Une fois que la Raison est installé et activé sur votre Mac, il est une tâche très simple à mettre en place en tant que client ReWire de Pro Tools. Aller aux encarts d'une entrée auxiliaire ou piste d'instrument et de choisir l'application ReWire, qui devrait apparaître dans la liste des instruments. Pro Tools va lancer le plug-in ReWire, et la raison se lance automatiquement.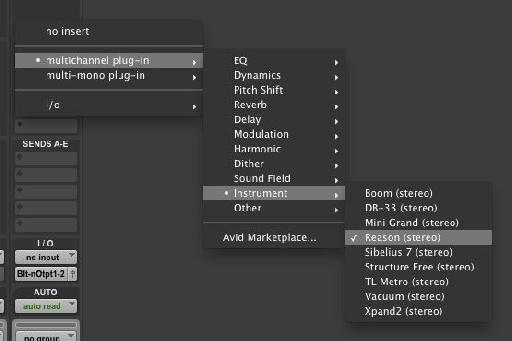 Choisir la Raison comme un insert pour une piste d'instrument.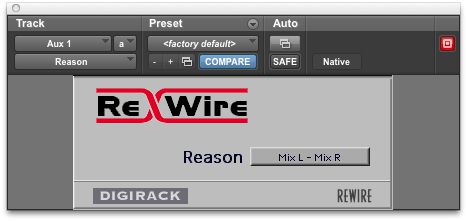 Le plug-in ReWire.
Contrôle MIDI
Comme mentionné ci-dessus vous pouvez insérer le plug-in ReWire sur soit sur une entrée auxiliaire ou piste d'instrument, et la configuration Pro Tools afin que le client reçoit les données MIDI est légèrement différente dans chaque cas:
On an Aux Input track

Add a new MIDI track (Shift-Command-N)

From the MIDI output selector choose the Reason instrument to which you want to send MIDI data

On an Instrument track

Choose Instrument from the Mix Window view selector, or choose View > Mix Window Views > Instruments

From the MIDI output selector choose the Reason instrument to which you want to send MIDI data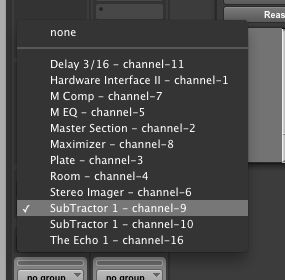 Choisir un instrument Raison avec le sélecteur de sortie MIDI.
Pour enregistrer des données MIDI de Reason dans Pro Tools
Vous pouvez capturer les données de performance créées en raison de l'automatisation de contrôle continu dans Pro Tools comme suit:
Dans le sélecteur d'entrée MIDI soit une piste MIDI ou Instrument de choisir l'instrument Raison partir de laquelle vous souhaitez recevoir des données MIDI: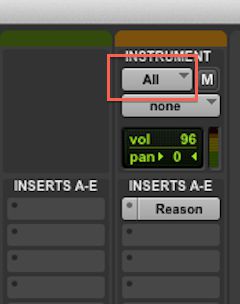 Le sélecteur d'entrée MIDI sur une piste d'instrument.
Record enable that track

Enable MIDI Merge on the Transport window if there is already MIDI data (such as notes) on the track

Start to record in Pro Tools

Switch to Reason

Move the control(s) on the selected Reason instrument

Return to Pro Tools and stop recording

Vous pouvez afficher et modifier les données du CC dans Pro Tools en sélectionnant le playlist en utilisant la vue piste selectorthe données CC devrait apparaître ici comme une nouvelle liste de lecture. Alternativement, vous pouvez ouvrir un nouveau automatisation / contrôleur de voies en cliquant sur ​​Afficher / Masquer Lanes

Automatisation Pitch Bend considérée comme une playlist piste.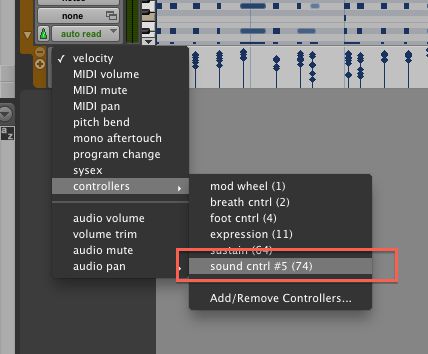 Informations sur le contrôleur enregistrée est facile à repérer dans l'automatisation / Contrôleurs voir sélecteur.

Automatisation contrôleur vu dans une voie d'automatisation / contrôleur.