Although Pro Tools 10 comes with a range of virtual instruments, you may find that the standard installation has a fairly limited range, compared to other DAWs such as Logic Pro. One simple way to remedy this is to use Reason 6 connected to Pro Tools via ReWire, so that all of Reason's amazing sound generation tools are available to you while working on your Pro Tools session.

The beauty of the ReWire protocol is that not only does the client application play its sequences in sync with the master (that is, ReWire synchronizes the transport controls and song position between Pro Tools and Reason), but also MIDI originating in the master will trigger sounds in the client, and the audio created will route back through Pro Tools' mixer.
Set Up
Once Reason is installed and activated on your Mac, it is a very simple task to set up as a ReWire client from Pro Tools. Go to the Inserts of an Aux Input or Instrument track and choose the ReWire application, which should appear in the Instrument list. Pro Tools will launch the ReWire plug-in, and Reason will automatically launch.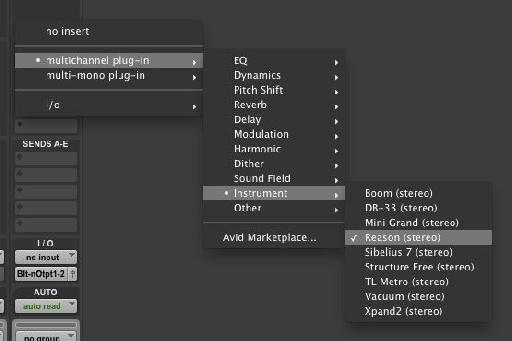 Choosing Reason as an Insert for an Instrument track.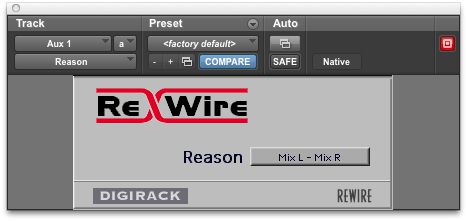 The ReWire plug-in.
MIDI Control
As mentioned above you can insert the ReWire plug-in on either on an Aux Input or Instrument track, and configuring Pro Tools so that the client receives MIDI is slightly different in each case:
On an Aux Input track

Add a new MIDI track (Shift-Command-N)

From the MIDI output selector choose the Reason instrument to which you want to send MIDI data

On an Instrument track

Choose Instrument from the Mix Window view selector, or choose View > Mix Window Views > Instruments

From the MIDI output selector choose the Reason instrument to which you want to send MIDI data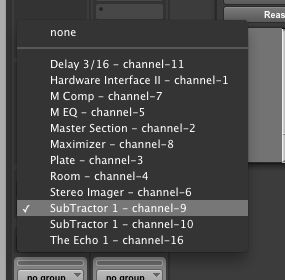 Choosing a Reason instrument with the MIDI Output selector.
To Record MIDI Data from Reason into Pro Tools
You can capture performance data created in Reason as continuous controller automation in Pro Tools as follows:
From the MIDI input selector of either a MIDI or Instrument track choose the Reason instrument from which you want to receive MIDI data: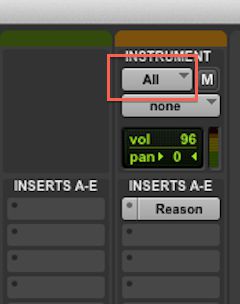 The MIDI Input selector on an Instrument track.
Record enable that track

Enable MIDI Merge on the Transport window if there is already MIDI data (such as notes) on the track

Start to record in Pro Tools

Switch to Reason

Move the control(s) on the selected Reason instrument

Return to Pro Tools and stop recording

You can view and edit the CC data in Pro Tools by selecting the appropriate playlist using the track view selector'"the CC data should show up here as a new playlist. Alternatively, you can open a new automation/controller lane by clicking on the Show/Hide Lanes button and selecting the CC data with the Automation type selector. Pro Tools will list any recorded CC data in either of these locations as a new automation/controller playlist, so if you recorded some it should be fairly easy to find!

Pitch Bend automation viewed as a track playlist.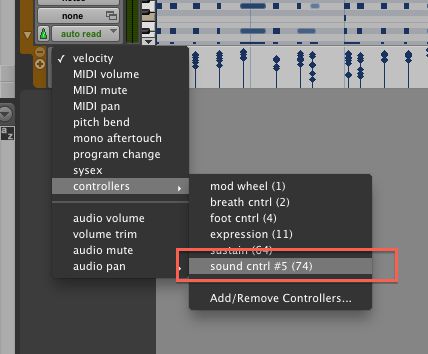 Recorded controller information is easy to spot in the Automation/Controllers view selector.

Controller automation viewed in an Automation/Controller lane.