16 février 2015, d'Epsom, UKSynchro Arts sont heureux d'annoncer la disponibilité immédiate de Revoice Pro 3 , une mise à jour majeure de l'application déjà utilisée dans le monde entier par les plus grands professionnels de l'audio pour l'alignement rapide et plus simple calendrier et pas de voix, instruments et ADR.
Maintenant Revoice Pro 3 propose étonnante nouvelle qualité sonore, de nouveaux outils puissants, et des améliorations de workflow pour les utilisateurs de toutes les stations de travail audionumériques populaires, y compris Logic Pro X, Cubase, Nuendo et Pro Tools.
Revoice Pro 3 arrive avec une foule d'améliorations et de nouvelles fonctionnalités majeures, y compris les fonctions les plus simples et les plus rapides chaîne pour régler manuellement la synchronisation audio et la hauteur, Quoi de plus, les utilisateurs rapportent que Revoice Pro 3 offre le traitement le plus naturel et transparent à consonance disponible.
Au cœur de Revoice Pro est notre transfert de performance automatique processus (APT) unique, qui peut donner un signal le moment, le pitch, le vibrato et les caractéristiques de niveau d'un autre signal, et la fonction de Doubler réaliste.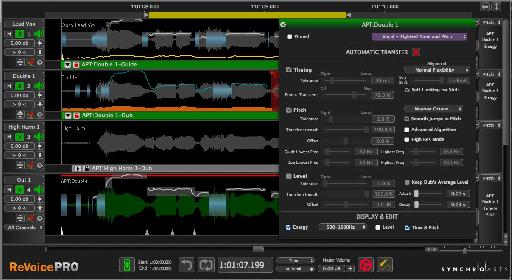 REVOICE Pro 3 écran principal avec commandes APT.
En outre, l'intégration avec la plupart des logiciels audionumériques est maintenant plus rapide et plus facile que jamais, en utilisant les plug-ins Pro Link Revoice simples ou opérations de glisser-déposer ou copier-coller rapides et familières.
Pour ceux qui découvrent REVOICE il Pro est tout simplement rien d'autre qui offre le temps vocale et l'alignement de hauteur, combinant la puissance, facilité d'utilisation et best-in-class que Revoice offres Pro Sound. Dites adieu aux pauvres disposent, difficiles à utiliser et glitchy plug-ins vocales.
Revoice Pro offre pour les applications de musique et de soumettre audience, ce est croire.

Quoi de neuf dans Revoice Pro 3
Pas Manuel et Time Warping audio intuitive, facile à sélectionner et manipuler temps et la hauteur et de maintenir la plus haute qualité.
Fonctions de correction hauteur, sélectionnez modes plus de ne importe quelle gamme, avec enclenchement automatique à la hauteur options de grille.
Paramètres de transfert de hauteur variable dans le temps varient graphiquement terrain étanchéité, offset et transférer de force pour contrôler le traitement des fonctions APT.
Facilement créer et modifier voix serrés empilés - modifier un calendrier ou la hauteur des signaux de guidage, et toutes les pistes de sortie liés suivent les modifications automatiquement.
Amélioration de l'interface - Plus simple, plus propre, plus rapide et plus facile à comprendre et à utiliser.
Superbe traitement de qualité audio peut produire des ajustements de temps et de tangage totalement transparentes.
AU Monitor plug-in - joue sortie Revoice Pros travers insert stéréo UA et lecture des pistes DAW la même façon que Revoice Avantages et RTAS des plug-ins VST3 moniteur.
Doubler Enhanced peut modifier le calendrier de la production et a plus de temps et retarder jusqu'à négative / - 200 ms.
Fonctionne maintenant avec encore plus de DAW voir www.synchroarts.com pour plus de détails.
Des centaines d'améliorations et de correctifs - ajoutés à simplifier et d'accélérer l'apprentissage et l'utilisation.
Vue d'ensemble de Revoice Pro
Revoice Pro est un programme spécialement conçu autonome qui comprend deux, les processus automatisés uniques, un manuel des processus de chaîne, et une intégration étroite avec DAW.
Audio Transfer Performance (APT) processus
Transfère automatiquement sélectionnée moment, le pitch, le vibrato, l'inflexion et / ou les caractéristiques d'intensité sonore d'un bon "Guide" signal audio à un ou plusieurs signaux audio cible (DUB). APT est alimenté par et comprend une version avancée de VocALign.
Processus Doubler
Lorsque les pistes doubles ne ont pas été enregistrés, doubleur de Revoice Pro crée ceux incroyablement son naturel. Et quand vous avez besoin de régler manuellement le calendrier ou pas, vous obtiendrez simple à utiliser des outils et probablement la meilleure qualité sonore dans l'entreprise.
Traitement chaîne
Interface graphique intuitive permet la manipulation rapide et facile du chronométrage et la hauteur avec une qualité audio incroyablement transparente.
Les applications comprennent:
Serrage de la synchronisation, de tangage et de vibrato empilés plomb et choeurs ou des pistes instrumentales.
Création d'une ou plusieurs pistes réalistes doubles d'une piste d'entrée unique.
Dialogue (ADR) et de chant synchronisation labiale par les mêmes ou différents artistes, même quand il ya des pistes de guidage bruyants.
Modification de l'inflexion de dialogue (ADR, voix-off, etc.) avec le motif de guide souhaitée fournies par l'enregistrement de l'administrateur ou éditeur de dialogue.
Revoice Pro accomplit ces tâches automatiquement, avec une rapidité étonnante, la précision et la qualité, heures de montage sauver.
Les réactions des utilisateurs

"Revoice Pro 3 saves an obscene amount of time that used to be spent. I find it an incredibly musical plug-in because it allows you to make stuff tight and in tune with itself but still have variants. So you end up with backing and lead vocals that you can really push forward in a mix and into sounds. Killer to my ears."
Francesco Cameli Ingénieur - Berklee College Of diplômé Musique qui a travaillé avec des artistes tels que la Reine, la Genèse, Eric Clapton, Mariah Carey, Muse et Adele
"I use Revoice Pro to create double vocal parts and harmonies. It saves me lots of time and energy, which can be spent elsewhere."
Val Garay, primé aux Grammy producteur a travaillé avec des artistes tels que Marvin Gaye, Elton John et Dolly Parton et sur de nombreux films, dont Steven Spielberg Little Giants
"The best sounding doubler I have ever heard!"
Chris Garcia - producteur et compositeur a travaillé avec des artistes comme Lana Del Ray, Céline Dion, Katy Perry et Santana
"Revoice Pro has allowed me to reference the pitch and pacing of a piece of recorded dialog on set and using the calculations from such to then impress upon another dialog recording from another take void of troublesome distracting sounds or a clean wild line the timing and pitch."
Jonas Guelzo superviseur son a travaillé avec les goûts de Peter Berg (Directeur de Lone Survivor), Damon Lindeloff (Writer de Lost) et Ryan Gosling (acteur dans Drive, The Place Beyond The Pines et Lost River)
"Revoice Pro saves me and my team hours of work when it comes to vocal pitch and timing correction with doubled vocals and backgrounds. It is amazing how fast the workflow is. Thank you Synchro Arts!"
Tony Maserati Grammy Producteur Lady Gaga, Jason Miraz.
"I've been using are Revoice 3 on everything I work on … for pocket and doubles. It's made it possible to work faster and smarter…. A note had a very heavy reggae style vibrato on it so I didn't think it was going to work. It worked amazingly well. No artifacts just shorter."
Mischke, inc mischkemusic - Grammy Nominee 2011
"I started using Revoice Pro on 'American Hustle' and I was surprised at how quickly and perfectly it matched sync without sonic artifacts. I now use the pitch function to match performances, and it works incredibly well. Because Revoice Pro is so fast and precise, it's now my go to tool."
René Tondelli dialogue et ADR éditeur américain Hustle. Django Unchained
Essais, Téléchargements et Achats
Une licence d'essai gratuite de 14 jours (à base d'iLok) pour Revoice Pro peut être obtenu à partir www.synchroarts.com long
Licences complètes (base-iLok) peuvent être achetés auprès des concessionnaires de Synchro Arts ou en ligne à partir www.synchroarts.com/store .
Prix ​​de vente conseillé
* Les propriétaires actuels devraient visiter http://www.synchroarts.com/store de vérifier leur admissibilité à une mise à niveau à prix réduit ou gratuitement.
Des rabais sont disponibles sur le commerce-ins pour les propriétaires de VocALign actuelles.
(REMARQUE: Les prix des produits, caractéristiques, spécifications, exigences du système, et la disponibilité sont sujets à changement sans préavis.)
Web: