16 de febrero 2015, de Epsom, UKSynchro Artes se complace en anunciar la disponibilidad inmediata de Revoice Pro 3 , una importante actualización de la aplicación ya se utiliza en todo el mundo por los mejores profesionales de audio para el tiempo y la inclinación de alineamiento más rápida y fácil de voces, instrumentos y ADR.
Ahora Revoice Pro 3 ofrece nuevo e impresionante calidad de sonido, nuevas y potentes herramientas y mejoras de flujo de trabajo para los usuarios de todas las aplicaciones musicales más populares, incluyendo Logic Pro X, Cubase, Nuendo y Pro Tools.
Revoice Pro 3 llega con una serie de mejoras y nuevas características importantes, incluyendo las funciones más simples y rápidas Warp para ajustar manualmente el tiempo del audio y el tono, ¿Cuál es más, los usuarios reportan que Revoice Pro 3 ofrece el tratamiento más natural y transparente sonando disponible.
En el corazón de Revoice Pro es nuestro exclusivo proceso de transferencia automática Rendimiento (APT), que puede dar una señal de los tiempos, el tono, vibrato y características de nivel de otra señal, y la función del doblador realista.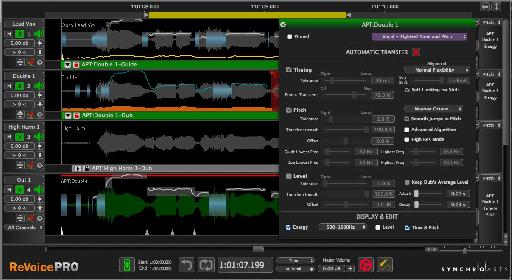 Revoice Pro pantalla principal 3 con los controles de la APT.
Además, la integración con la mayoría de aplicaciones musicales es ahora más rápido y más fácil que nunca, con los sencillos de reconfiguración Pro Enlace plug-ins o las operaciones de arrastrar y soltar o copiar y pegar rápido y familiares.
Para los nuevos en Revoice Pro simplemente no es otra cosa que ofrece un tiempo de vocal y la alineación de paso, que combina la potencia, facilidad de uso y la mejor en su clase de sonido que Pro ofrece de reconfiguración. Diga adiós a la función plug-ins vocales pobres, difíciles de usar y glitchy.
Revoice Pro ofrece tanto para aplicaciones de música y post audiencia está creyendo.

Qué es lo nuevo en Revoice Pro 3
Pitch Manual y Time Warping de audio intuitiva, fácil de seleccionar y manipular el tiempo y el terreno de juego y mantener la más alta calidad.
Funciones de corrección de tono seleccionar los modos a través de cualquier rango, con broche de presión automática para lanzar opciones de cuadrícula.
Parámetros de transferencia de tono variable en el tiempo varían gráficamente opresión tono, compensados ​​y transfieren la fuerza para controlar el procesamiento de funciones APT.
Crea fácilmente y cambiar la voz apretados apilados - cambiar un momento señales de Guía o el tono, y todas las pistas de salida relacionadas siguen los cambios automáticamente.
Mejora de la interfaz - Más simple, más limpio, más rápido y más fácil de entender y usar.
Proceso de la calidad de audio impresionante puede producir ajustes de tiempo y de paso totalmente transparentes.
AU monitor Plug-in - juega salida de reconfiguración Pros través inserción estéreo UA y reproducción de pistas DAW de la misma forma como de reconfiguración Pros RTAS y monitores VST3 plug-ins.
Mejorada del doblador puede modificar el calendario de salida y tiene más tiempo y tiempo negativo retrasar arriba / - 200 ms.
Ahora funciona con aún más DAWs ver www.synchroarts.com para más detalles.
Cientos de mejoras y correcciones - añaden a simplificar y acelerar el aprendizaje y el uso.
Panorámica de Revoice Pro
Revoice Pro es un programa especialmente diseñado independiente que incluye dos procesos únicos automatizados, a los procesos de deformación manuales, y una estrecha integración con aplicaciones musicales.
Proceso de transferencia de Performance Audio (APT)
Transfiere automáticamente seleccionada tiempo, el tono, vibrato, la inflexión y / o características de sonoridad de una buena "Guía" de la señal de audio a una o más señales de audio de destino (DUB). APT está activada por e incluye una versión avanzada de VocALign.
Proceso doblador
Cuando no se han registrado las pistas dobles, doblador de Revoice Pro crea los increíblemente naturales que suenan. Y cuando es necesario ajustar manualmente el tiempo o el tono, obtendrá fácil de usar herramientas y, probablemente, la mejor calidad de sonido en el negocio.
Procesamiento Warp
Interfaz gráfica intuitiva ofrece la manipulación rápida y fácil de sincronización y el tono con una calidad de audio impresionante y transparente.
Las aplicaciones incluyen:
Apriete el tiempo, el tono y el vibrato de plomo y coros apilados o pistas instrumentales.
La creación de una o más realistas pistas dobles de una sola pista de entrada.
Playback diálogo (ADR) y voz por el mismo o diferentes artistas, incluso cuando hay pistas de guía ruidosos.
Cambio de la inflexión en el diálogo (ADR, voz en off, etc.) con el patrón Guía deseada proporcionada por grabar el director o editor de diálogo.
Revoice Pro lleva a cabo estas tareas de forma automática, con asombrosa velocidad, precisión y calidad, horas de edición de verano.
Las reacciones de los usuarios

"Revoice Pro 3 saves an obscene amount of time that used to be spent. I find it an incredibly musical plug-in because it allows you to make stuff tight and in tune with itself but still have variants. So you end up with backing and lead vocals that you can really push forward in a mix and into sounds. Killer to my ears."
Francesco Cameli Ingeniero - Berklee College Of graduado de la música que ha trabajado con artistas como Queen, Genesis, Eric Clapton, Mariah Carey, Muse y Adele
"I use Revoice Pro to create double vocal parts and harmonies. It saves me lots of time and energy, which can be spent elsewhere."
Productor Ganar Val Premio Grammy Garay ha trabajado con artistas como Marvin Gaye, Elton John y Dolly Parton y en muchas películas como Steven Spielberg Pequeños Gigantes
"The best sounding doubler I have ever heard!"
Chris Garcia - Productor y Compositor ha trabajado con artistas como Lana Del Ray, Celine Dion, Katy Perry y Santana
"Revoice Pro has allowed me to reference the pitch and pacing of a piece of recorded dialog on set and using the calculations from such to then impress upon another dialog recording from another take void of troublesome distracting sounds or a clean wild line the timing and pitch."
Jonás Guelzo Supervisor Sound ha trabajado con artistas como Peter Berg (Director de Lone Survivor), Damon Lindelof (escritor de Lost) y Ryan Gosling (Actor en Drive, The Place Beyond The Pines y Lost River)
"Revoice Pro saves me and my team hours of work when it comes to vocal pitch and timing correction with doubled vocals and backgrounds. It is amazing how fast the workflow is. Thank you Synchro Arts!"
Productor Ganar a Tony Maserati Grammy Lady Gaga, Jason Miraz.
"I've been using are Revoice 3 on everything I work on … for pocket and doubles. It's made it possible to work faster and smarter…. A note had a very heavy reggae style vibrato on it so I didn't think it was going to work. It worked amazingly well. No artifacts just shorter."
Mischke, inc mischkemusic - nominado al Grammy 2011
"I started using Revoice Pro on 'American Hustle' and I was surprised at how quickly and perfectly it matched sync without sonic artifacts. I now use the pitch function to match performances, and it works incredibly well. Because Revoice Pro is so fast and precise, it's now my go to tool."
Diálogo René Tondelli y ADR editor estadounidense Hustle. Django Unchained
Ensayos, Descargas y Compras
Una licencia de prueba gratuita de 14 días (basado en iLok) para Revoice Pro se puede obtener de www.synchroarts.com largo
Licencias completas (basada en iLok) se pueden adquirir en los concesionarios de Synchro Arts 'o en línea desde www.synchroarts.com/store .
Precio recomendado por menor
$ 599
374 (sin IVA)
449 (sin IVA)
* Los actuales propietarios deben visitar http://www.synchroarts.com/store para comprobar su elegibilidad para una actualización con descuento o gratis.
Los descuentos están disponibles en el comercio-ins para los propietarios VocALign actuales.
(NOTA: el precio del producto, características, especificaciones, requisitos del sistema y disponibilidad están sujetos a cambios sin previo aviso.)
Web: