German audio software developer Zynaptiq prides itself on using state-of-the-art artificial intelligence and proprietary signal processing techniques to design their unique line-up audio plug-ins. They released a series of audio processors, 'Unveil', 'Unfilter' and 'Unchirp' to assist producers is cleaning up audio files of unwanted reverberation, filtering and artifact removal, to much acclaim. It seems the designers at Zynaptiq are great at observing and tapping into uncharted areas of audio software development and bringing tools into the market that change the way we work.
What Is It?
Their latest innovation, Intensity, is defined as a 'new kind of audio processor for mixing, mastering and sound design.' Intensity brings out any sound source's detail, enhancing the perceived loudness and density while also adding clarity. Sounds like every producer's missing link, doesn't it? It's also worth noting that this was built using techniques found in facial recognition algorithms in line with their commitment to bring the world of artificial intelligence into the audio processing world. I was really looking forward to diving into Intensity and tried it on a number of sound sources in my tracks as well as the master buss to experiment with its capabilities. It quickly became a go-to plug for me.
Overall impressions
The main thing that blew me away about Intensity was the amount of perceived boost and detail it brings out in any audio source without increasing the overall volume of the audio output. Compressors, limiters and even EQs (in boosting mode) are designed to bring out the 'loudness' factor of certain frequencies, or overall in the mix. Through this process of creating more clarity and definition, I've found I am fighting the loudness war between tracks in my mix session when using these tools too much, when all I want is to bring out the original character a bit more.
Even in the mastering situations, I've found that EQs or certain compressors would color the sound too much from the original, especially with some of my projects that were more at the sound design or classical end of the spectrum. Zynaptiq does a great job here of bridging the gap so audio producers can work on creating more delicate, less compressed mixes, and still get the clarity they are looking for. It's important to note that Intensity is NOT a compressor.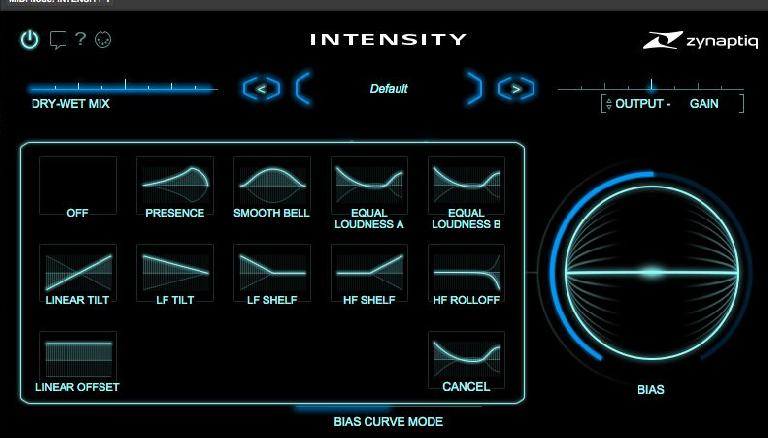 Fewer Controls, More Power
There are only a few controls in Intensity, the most important being the 'Intensity' circuit. This is the main control that brings out the clarity and depth in the sound source. Here you can adjust the amount using the horizontal control inside the circle and at the same time adjust the dry/wet aspect of how much the overall effect will be heard in the sound. If you want more independent control over specific frequencies in the sound, the Bias knob can be using which acts similarly to an EQ.
A present pack of Bias curves are provided for quick auditioning. When using more of the Bias setting, I found myself adjusting the dry/wet mix of the overall signal to taste. You can also create your own Bias curve using the custom setting option. If you are looking for more volume on your output, the soft-knee saturating limiter is handy and sounds very warm.

Check out this overview video by the Zynaptiq team that has some great A/B comparisons to give you an idea of the potential of this amazing tool: