Zoom has taken a clear step forward in the creative video market with their line of 'handy recorders' and video gear. Their new tagline, "We're for Creators" implies a renewed focus on their line of audio/video products used by musicians, songwriters and podcasters alike. I spent a few weeks with the iQ5 and was very pleased with how it performed.

The Features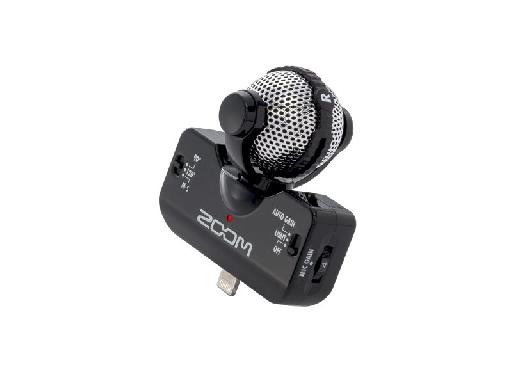 It's so small you'll want to have it with you all the time!
The most obvious feature to me about the iQ5 is its size. This device is wonderfully small and can easily fit in your pocket. It just begs you to carry it around all the time and be prepared to capture pro sound with your iPhone videos.
I'm a big fan of the rotating mechanism that Zoom built into the iQ5. The mic capsule is a tiny ball suspended between two clamps, enabling you to adjust the orientation however you want. This is huge for me, as I'm a big fan of using my iPhone as an 'alternative camera' to capture unique angles and positions that I couldn't using a standard DSLR. You now can place your iPhone just about anywhere and rotate the capsule to capture perfectly balanced stereo sound from just about any angle.
The USB pass through for charging also makes sense. I'm always irritated by devices that use the Lightning port on the phone and don't allow you to charge your phone simultaneously. Let's be honest, the iPhone's battery is greedy enough'"when you start attaching devices you really impact your battery life. It's good to know Zoom has us covered there.
The Sound
The sound of the iQ5 is head and shoulders above the built-in iPhone microphone. The auto-gain didn't make the sound feel too 'squashed' and it handled loud rock band sources just fine. The ability to dial in your own gain is also wonderfully convenient. I recorded some drummers from (quite) a short distance away and was able to get really great results that didn't sound distorted or overly limited.
The iQ5 has the capability of recording and decoding mid-side microphone signals. This allows you to set the stereo width of your sound source. You can set it to 90 or 120 physically on the device, or use Zoom's free companion app to take complete control of your stereo field. I had a lot of fun recording some acoustic guitar through the iQ5 and comparing the narrow, focused sound against the super-wide mid-side decoded sound.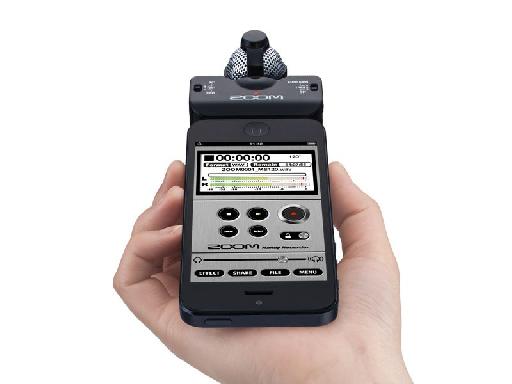 The included app turns your iPhone into a full-featured handy recorder!
The Handy Recorder app that Zoom has made available for free has some really nice features as well. You can adjust EQ, add compression, add reverb and do a lot of basic audio editing within the app. It allows you to record in both compressed and uncompressed formats. Also, basic trimming and editing functions are supported. This little device is a mobile podcasters' best friend.
The Conclusion
The iQ5 microphone from Zoom is a compact and great sounding alternative to using the built-in microphone on your lightning-capable iOS device. I used it for 2 weeks in a variety of different ways and was pleasantly surprised at how capable it was. It's no surprise that the iQ5 has found its way into my camera bag as a piece of kit I want to always have with me.