In an unexpected turn of events, I had a chance to sample Zero-G Psychoacoustics from Time and Space this month. Psychoacoustics is an instrument cleverly designed for Kontakt that blurs the line between instrument and sound design. There's a lot here in a fairly easy to use interface. Let's take a closer look.
By the Numbers
Psychoacoustics houses about 2.5GB of raw sounds that are processed, scripted, and layered into an 'unwrapped' Kontakt instrument library. There are over 200 presets to choose from, and with 14 effect processors and 17 filter types the sounds can definitely range from familiar to unrecognizable. The presets are well organized into categories such as 'Pads & Drones' and 'Sound Design', so you can find what you need pretty quickly.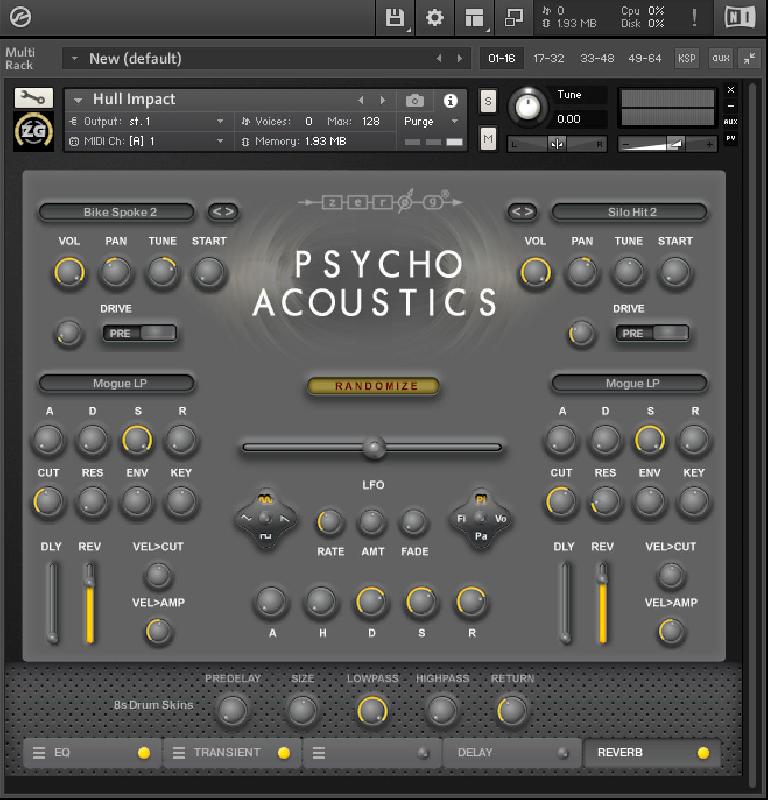 Getting In The Flow
There are two sound sources to work with on any given patch, and you can quickly scroll through the available alternatives via a drop down menu. From there, you can adjust the volume, pan, tuning, and sample start location with knobs. There's a drive circuit to work with that will give you a little edge. Then the sound passes through the filter stage. Here you've once again got a drop down menu with a bevy of choices.
The signal path is pretty simple to follow, and is thankfully identical on each side. A handy mix slider in the middle allows you to adjust the ratio between the 2 sound sources. These sound sources range from instrument sounds to bicycle spokes (really!), but even the weirdest of sonic material (hitting a silo) can be tuned and utilized as an instrument.
Finally, a randomize button dead center allows you to randomize the parameters and give you a fresh 'remix' of any sound you're working on. At the bottom, you can any of the 14 effect processors. The controls are well nested, so you don't have to 'look at' everything all at once.
The Sound
I recorded a quick sample of some of the sounds from Psychoacoustics. The first is a fairly ominous pad that actually sounded pretty haunting. Then I went into the 'short instruments' category and tried out a keyboard patch. Finally, inspired by the first patch, I opted to check out some of the scarier sound design templates.
The sound design and tempo-synced pulses in particular really stood out as useful. If you're a composer who works with film cues, many of these patches could contain all you need for an entire scene. Some of the playable instrument sounds seemed a little high-end happy for me, but that was easily tweakable with the included EQ. There is somewhat of a 'metallic' vibe that permeates through many of the patches due to the nature of the sound sources, and it's really fun. The sounds are unusual and uncommon - not something you'd really get from say, a synth emulation.
Conclusion
Zero-G Psychoacoustics is a solid instrument. It's quite efficient, the sounds are very unique and playable, and the sound design patches really do a good job of letting you design environments quickly. For the cost of an Xbox game, you're getting quite a bit of value here.