Review: Yamaha TF-Rack Mixer
Yamaha's latest live sound mixer has a ton of I/O, a great touchscreen and can be remote controlled from an iPad. But that's just the start, as Joe Albano discovered.
The TF-Rack is Yamaha's latest addition to its cost-effective range of TF digital live mixers. It's basically a rackmount mixer similar to the smallest desktop model in the series, the 16-channel TF-1, minus the 16 faders, and it packs a lot of capability into its three-space rack format, making it a highly portable option for all sorts of small-to-medium live mixing jobs.

Front And Center
The front panel is a model of elegant simplicity. It's dominated by the color touchscreen display on the left, from which you can run the entire mixer. This is a fully-capable touchscreen incorporating not just point, tap, and drag but even gestures like scrolling horizontally and vertically, and two-finger pinch/zoom (setting EQ "Q", for example). Most mixing parameters—as well as preferences and configuration settings—can be adjusted directly on the touchscreen—I'll come back to it in a minute.

The display is augmented by a "Touch and Turn" knob just to the right, which is always assigned to the last control touched onscreen. This is very convenient for adjusting parameters that are apparently too small for onscreen touch control, like Pan. The knob has course and fine control options, enabled by pushing it in and turning; for example, when assigned to a channel fader, turning the knob changes the level in increments of 1 dB (or more, as you go down in level), but pushing and turning provides .05 dB resolution. There's also a Shift key, which is handy for switching between related functions, like EQ gain and frequency.

Besides the Touch and Turn knob there are six User-Defined buttons and four User-Defined knobs, which, of course, can be set to provide immediate access to particular functions like lead vocal level or overall stereo master volume; keep in mind they can also be set to control less obvious mixer functions like EQ or compressor controls, or FX levels and parameters.

Above the Touch and Turn knob four buttons provide quick access to the different fader banks: Input, Group, Output, and a Custom bank. Over to the right are four more buttons, for group Mute and Cue Clear functions, and a convenient Tap button, for quickly tapping tempo for effects from song to song.

The front panel is rounded out with a headphone jack and level control, and two computer connections—an iPad jack is intended for iOS connections, which can pass audio as well as serve as a storage connection for scenes and presets, and a USB connection, for storage (FAT32 formatting required).
Around Back

In contrast to the relative simplicity of the front panel, the rear panel is chock-full of gozintas and gozoutas. There are 16 balanced XLR/TRS combo jacks, featuring Yamaha's D-PRE mic preamps, naturally with per-channel Phantom Power, set up from the display. There's also an unbalanced stereo pair of RCAs, for line-level (-10dBV) devices. On the output side, you've got sixteen balanced +4 dBu "Omni Out" connections—eight XLRs and eight TRSs—all of which can be configured as needed.

There's a jack for an optional footswitch, which can be configured as another User-Defined control, and a USB port intended for computer hookup—the TF-Rack can also serve as an audio interface. An RJ-45 jack allows for Ethernet connection to a computer or other network device, and there's an expansion slot for optional cards like Yamaha's NY64-D card, which provides Dante connections.
Getting Around
Anyone who's ever used a hardware digital mixer will quickly feel at home paging through the various screens in the TF-Rack; more traditional old-school analog sound guys might have to take a minute get used to that by-now familiar paradigm, but everything is laid out so clearly and logically that trips to the manual should be rare, if needed at all. The unit steps you through initial setup, and access to all the pages from the display is very straightforward.

The display provides access to all the Preference and Configuration pages, as well as the options for saving and loading Presets—starting points for a mixer setup—and Scenes—settings for all channels. Several soft buttons at the top and three hardware buttons below make navigating a breeze.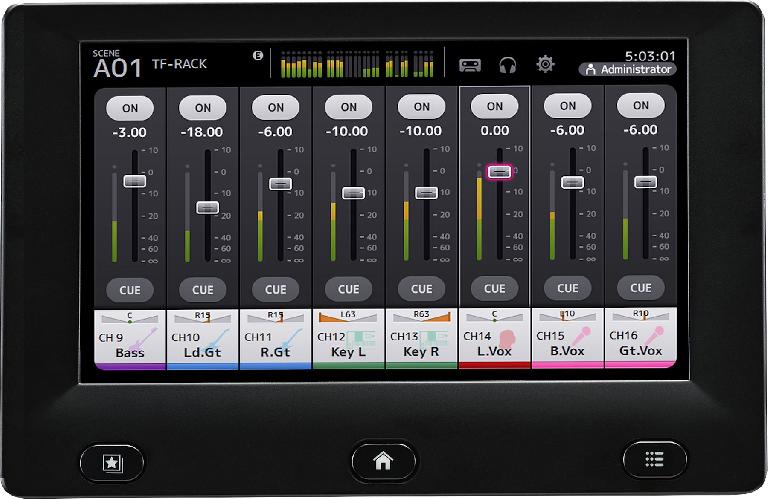 The left hardware button calls up the Library, where you can save and recall Presets; the right button calls up a contextual menu (Copy, Paste, etc). The center button is the mixer "home" key—this serves as a shortcut to take you directly to the main mixer page, where it can be set to toggle between fader view and full channel view.

The softkeys at the top access various utilities: scenes, metering displays, record & playback i/o settings, and a title page. The small headphone icon accesses Cue Monitor controls and the built-in test Oscillator, and the gear icon accesses the Setup page, including Preferences, bus and i/o routing, expansion devices, the User-Defined controls, and custom fader bank. Several additional icons at the bottom provide display and network settings, and even a handy Help tutorial.

In the main mixer page—the Overview screen—a tap on a channel will take you to the Channel View page, where you can access the various processor pages: Input, EQ, Gate, Compressor, FX1&2 and Sends. Each of these is fully adjustable from the display and Touch and Turn knob, providing full mix control of all the usual parameters. There's even a "1-knob" mode for the EQ and compressor—this puts all parameters under a single control—it's like crossfading through a selection of presets, and even though I'm a total control freak when it comes to mixer settings I could see how this would be helpful for making quick, useful adjustments in a particularly busy live mix.

Besides accessing the individual processors from the Channel Strip page, you can also quickly jump to any of those pages from the main channel strip Overview page, with a tap on the desired section; the home key will always take you right back to the main mixer view.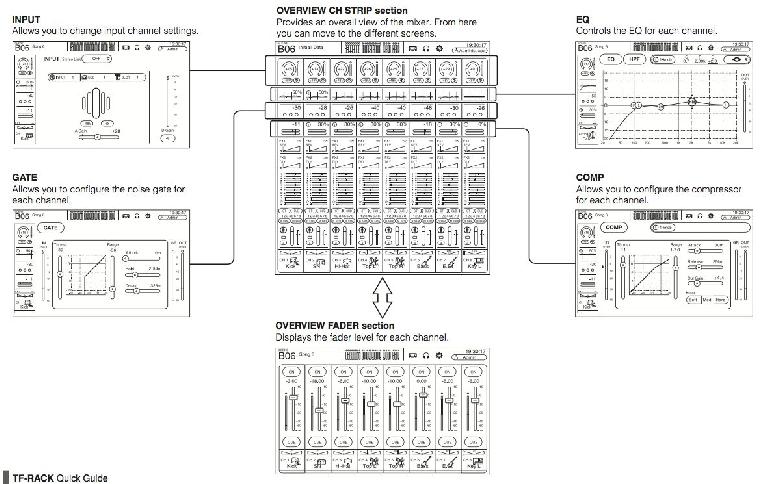 All the mixing tools and effects are exactly what you'd expect from an industry leader like Yamaha, and you shouldn't feel lacking in any mixing capability—in fact it's quite impressive how much mixer they've packed into such a small, easily-transportable piece of hardware.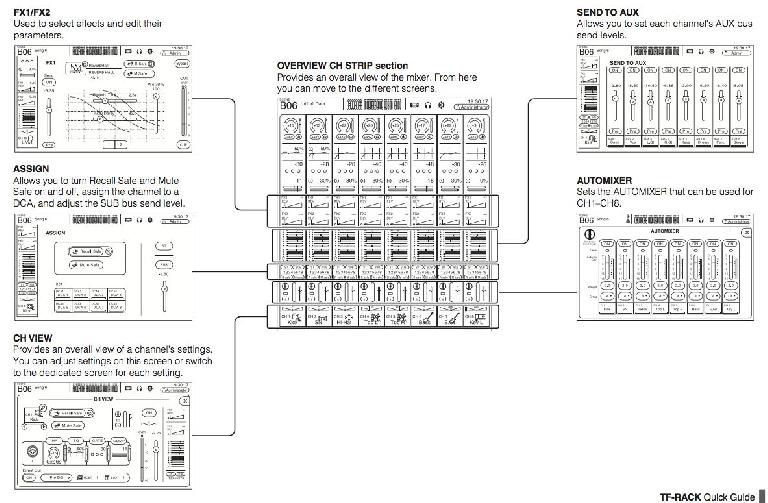 In Use
The TF-Rack was simple enough to set up, and after working with it for a short while I felt I had built up sufficient speed to handle even a busy live mix situation with ease. I sometimes have a little difficulty with touchscreens, but this one responded reliably, without noticeable latency. Given the screen size, I did find the Touch and Turn knob invaluable, and I wished there were even more User-Defined hardware knobs—still, operating the TF-Rack is a breeze for anyone who's already comfortable with the familiar page-by-page digital mixer approach.

But twiddling around on the front panel is not the only way to run a show with the TF-Rack—Yamaha has provided some very welcome external control options as well.
External Control
Yamaha offers several options for external control of the TF-Rack. Their TF Editor application (Windows & Mac) allows for remote setup and configuration. For live applications, the TF StageMix iPad app provides for Wi-Fi-based wireless control of the mixer from your iPad, with an interface designed to be comfortably similar in operation and flow to the onboard touchscreen.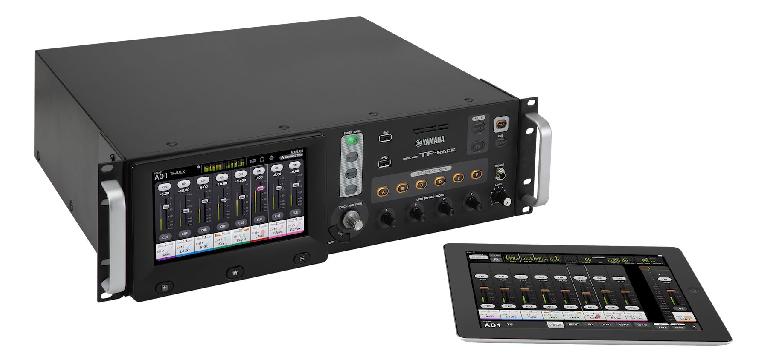 I didn't have a chance to test this out, but I would think that any serious user would want to have it up and running for every gig, to avoid being tied down to the rack area where the TF is installed. There's even a MonitorMix app, which brings personal monitor mixing to the performers via up to 10 iPhones, iPads or iPods simultaneously.
Expansion
Besides the onboard connections, the TF-Rack's i/o can be expanded via the expansion slot on the back. As I mentioned above, the NY64-D card can be installed to provide Dante connections with Yamaha's Tio1608-D expansion unit, which provides an additional 16 mic/line inputs and 8 line outs, for larger mixing scenarios.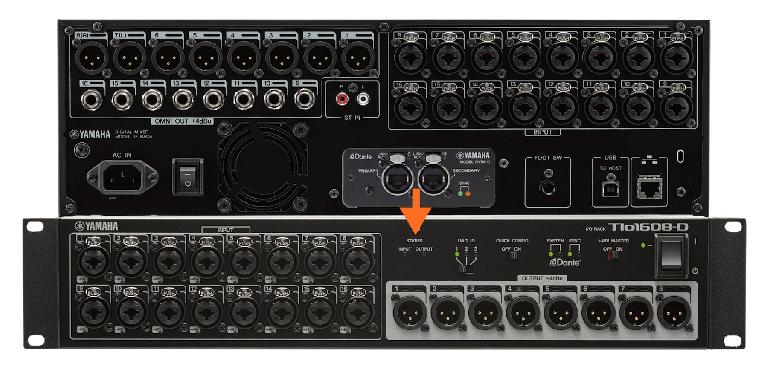 Final Word
The Yamaha TF-Rack may be an ideal solution for someone doing live sound who needs an easily portable unit with comprehensive, expandable i/o, easy setup and configuration and flexible digital mixing capabilities including convenient remote control. Yamaha digital mixers have become staples of modern live sound, and this model continues that tradition, packing a lot into its relatively diminutive three-rackspace format—it's definitely worth a look for anyone who's serious about live sound.