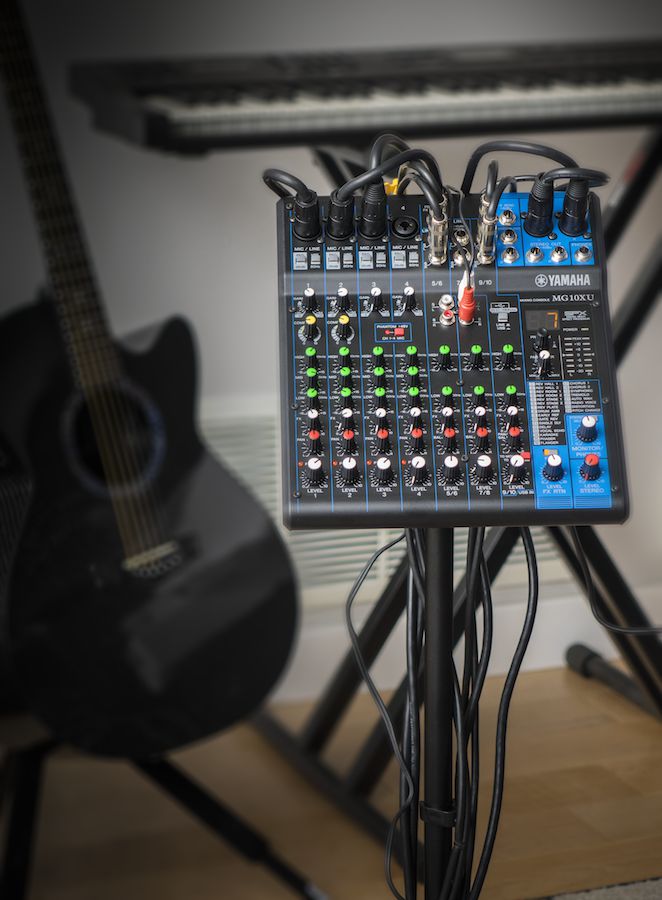 Several years ago, it seemed like compact mixers were all the rage. Every large pro audio manufacturer (and half the small ones) started churning out different models with different features. So while there wasn't a lack of selection, my question was: Is anybody really doing it right?

Yamaha were a little late to the game, but perhaps that gave them time to get it right. When the original MG-series mixers were introduced, they were an immediate hit. Many consumers needed to replace their—how shall I say—less than reliable mixers of a somewhat 'disposable' design with something that sounded better and was built to last, and the MG-series certainly fit the bill.

Now in their third generation, the new MG-series mixers offer new features and even more utility. At first glance, there appear to be ten different models, but it's easier to think of the series as five different models, each with a twin. The XU designation at the end of the model number indicates built-in digital effects and USB connectivity. (The MG06X, the smallest of the bunch, has effects, but no USB port.) For example, I'll be reviewing the MG10XU, which has 10-inputs, effects, and USB, whereas the MG10 is the standard analog model without effects or USB.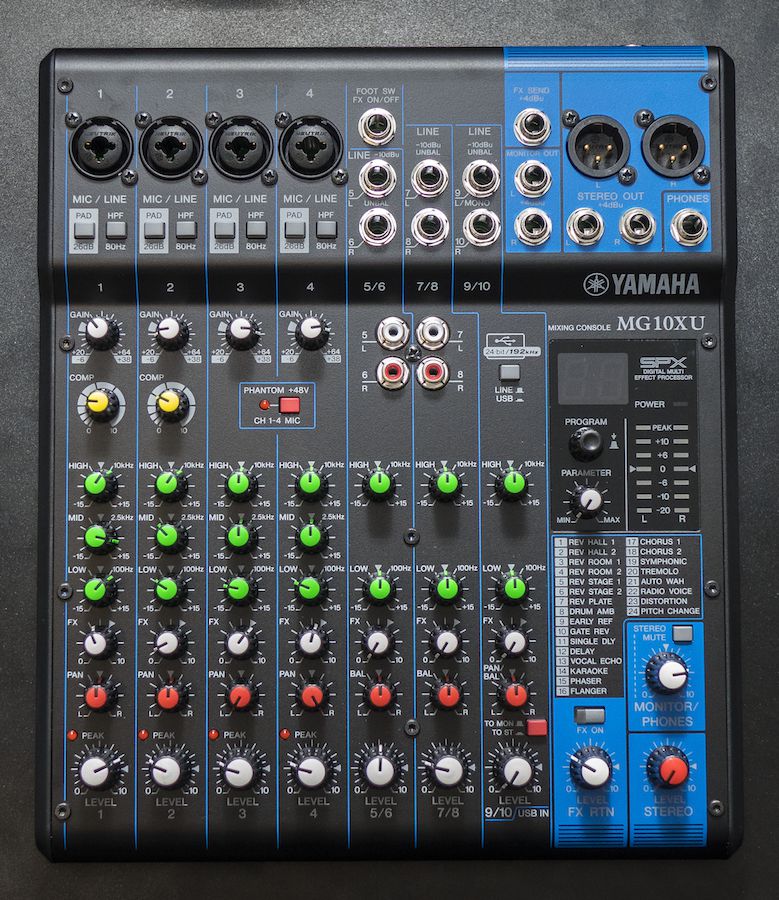 The Yamaha MG10XU mixer, top view.
What's New?
For me, the biggest improvement is the addition of the D-PRE Class-A microphone preamp. This is the same preamp you'll find on the Steinberg UR- and MR-series audio interfaces (Steinberg is owned by Yamaha), and has earned a reputation for being a very musical sounding preamp with low noise and loads of gain. If that was all Yamaha added to the MG, it would be enough for me.
Also new is bi-directional USB connectivity (on XU models), which provide 2-channel recording and playback capability to computers or the Apple iPhone and iPad. (Apple Camera Connection Kit required.) There are several great inexpensive recording apps for iPad, and you should check out Yamaha's $1.99 Cloud Recorder for recording, editing, and uploading directly to SoundCloud. You'll also find a code in the box with which to download a free copy of Steinberg Cubase AI for Mac and PC. The USB interface offers 24-bit recording with up to a remarkable 192 kHz sample frequency.
General Features
The MG-series comes in 6-, 10-, 12-, 16-, and 20-input configurations. Larger models have channel faders and universal power supplies, while smaller models have knobs and AC adapters. The 16- and 20-input models come with rack ears, which are optional on the 12-input model. The MG10XU has 4-XLR/TRS/TS mono inputs with phantom power, 26 dB pad and 80 Hz filter switches, 3-band EQ with 100 Hz, 2.5 kHz, and 10 kHz fixed frequencies, and inputs 1 and 2 also have very simple and effective one-knob compression.
The other six inputs are configured as three stereo pairs, three mono inputs, or in combinations thereof. They're all -10dB unbalanced 1/4" connectors, and inputs 5/6 and 7/8 also have RCA connectors. Inputs 9/10 can accept signal from the 1/4" connectors, or the USB input for monitoring via a button on the front panel. Shelving EQ at 100 Hz and 10 kHz is also provided.
All the inputs have an FX send to the built-in SPX digital effects processor. The MG10XU has 24 different effects including reverb, delay, modulation, and other special effects, and are routed to the internal FX return channel. Each effect can be slightly programmed with the Parameter knob, and remember to click (press down on) the Program knob when choosing a different effect. The effects can be enabled/disabled either with a button above the return knob, or by an optional foot switch. There's also a hardware FX send connector that bypasses the built-in effects, but you'd need to use input channels to return an external effect processor to the signal path.
There are three output sections: Stereo Out, Monitor Out, and Phones. The Stereo Out has an independent volume knob with XLR or 1/4" balanced +4 dB connectors, while the Monitor Out has 1/4" balanced +4 dB connectors only, and the Monitor knob also controls the level of the single Phones output.
How It Sounds
For a fair comparison, I used a mic splitter to record different instruments into both the MG10XU and a Behringer Xenyx 1202FX, which I then connected to a computer via the 1/4" balanced outputs and recorded the results. The Yamaha simply sounded better. It's not that the Behringer sounded bad, it's just that the Yamaha sounded richer, cleaner, and produced more nuance. I'm sure that's due in part to the D-PRE mic preamps, but I also suspect the Yamaha has a more robust signal path. Granted, the Behringer—while not having as many features—is much cheaper than the Yamaha, but you'd expect to get better results from a bigger investment. The Yamaha SPX effects also sound great and benefit from decades of DSP research and development.
Who It's For
One unique feature of the 6- and 10-input MG mixers is the optional BMS-10A mic stand adapter, which makes these small mixers perfect for live performers or small ensembles by keeping mixer access at your fingertips.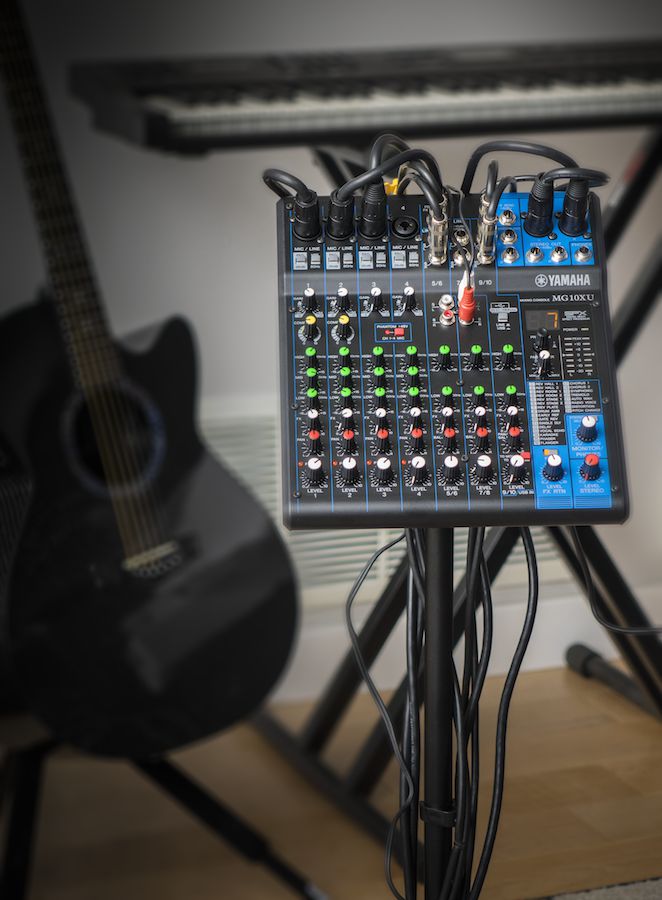 The MG10XU on a mic stand with the optional BMS-10A.
While you don't have a dedicated AUX buss for monitoring, most folks will do just fine by using the Monitor Out for in-ear or foldback monitors. The built-in effects are great for live performers, and the XLR or 1/4" outputs allow for connectivity to any house sound console or sound system. The compressors on inputs 1 and 2 do a great job of quickly adding a little dynamic control for microphones or instruments. With choices of XLR/ 1/4" and RCA connectors, you'll have lots of input options. Being able to bypass the effects with an optional foot switch is really nice feature, too.
The USB port makes the MG10XU great for small project studio recording. And if you don't own a DAW program, just download Cubase AI for free. 2-in and 2-out is enough for most singer/songwriters, and the flexible USB monitoring is great for live Internet broadcast. You can even attenuate the computer playback level by clicking the Program knob five times, then turn it set the desired level. And connecting the MG10XU to an iPhone or iPad will give you even more remote recording capabilities.
For folks that just need a small mixer without all the bells and whistles, yet still demand high-quality sound and utility, the standard MG10 would be a great place to start. You'll also save about $50.00 by foregoing effects and USB.
Conclusions
There are a few things I don't like about the MG10XU. For example, while the chassis is metal, the sides are plastic. That reduces the weight and the cost, but can be an impediment to durability. I also expected a USB cable in the box, but it's not included. (Like I don't have extra USB cables.) I also wish the 1/4" inputs on channels 5-10 had TRS connectors and switchable -10/+4 levels, but that's expecting a lot from any small mixer. The AC adaptor is a large 'line lump', but good sounding mixers require more voltage than their lesser counterparts, so you're trading compact size for better sound.
Even with those few small drawbacks, the MG10XU is an extremely versatile, great sounding mixer. If you're a live performer, a recording enthusiast, simply in need of more inputs, or all of the above, the MG10XU offers a lot of value. And if you need more/less inputs, or more/less features, the breadth of the MG-series mixers means you'll probably find exactly what you're looking for at the price that fits the bill.