Quando Yamaha anunciou os novos mixers 192 kHz / 24-bit AG-série ( AG03 e AG06 ), minha reação inicial foi,
Na profundidade da pele
As medidas AG06 apenas 6,1 "x 2,5" x 8,0
"The XLR connectors access the acclaimed D-PRE mic preamps found in high-end Yamaha and Steinberg mixers."
Input 3/4 é mono ou estéreo no quarto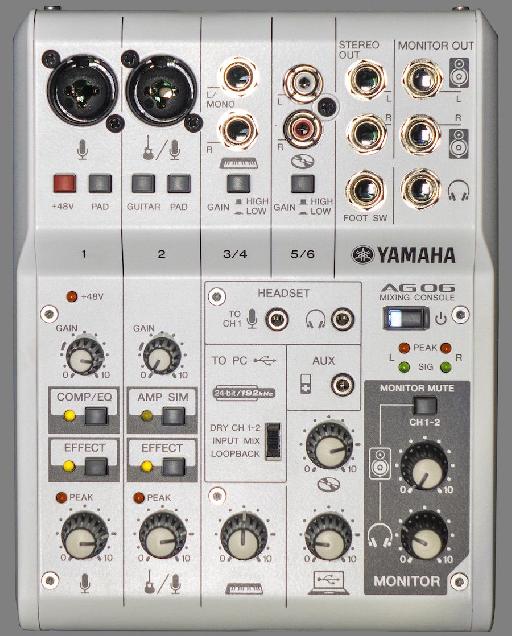 Figura 1. Vista superior.
Lá
Todos os níveis de entrada e de saída são controlados por botões, incluindo o nível de entrada USB I
Achados e perdidos
O painel frontal não tem controles de pan e botões EQ. Em vez disso, existem interruptores no canal 1 para COMP / EQ, canal 2 para SIM AMP (simulador de amplificador de guitarra), e ambos 1
"Once you install AG DSP Controller, you can access and program the DSP in Easy or Expert modes."
Modo Fácil
Modo Fácil é

Figura 2. AG Controlador DSP - Modo Fácil.
CH1 MIC TONE seleciona 10 música ou fala diferente EQ
Expert Mode
Expert Mode é para usuários mais experientes, e oferece uma grande variedade de configurações totalmente programáveis, incluindo pré-ajustes para os canais 1 e 2, bem como diferentes tipos de reverb.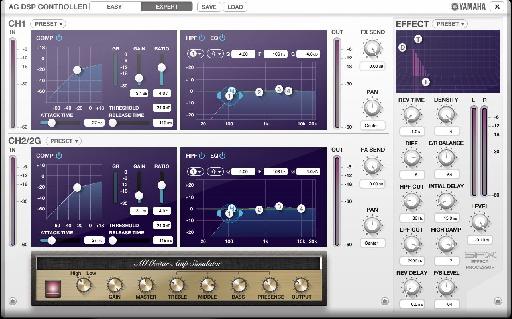 Figura 3. AG Controlador DSP - Expert Mode.
Ambos os canais 1 e 2 têm compressores e equalizadores, mas os pré-ajustes para o canal 1 são voltadas para microfones, enquanto o canal 2 presets são principalmente para guitarras acústicas e elétricas, bem como baixos. Todo o compressor e configurações de equalização são totalmente programáveis. Canal 2 tem o painel de controle AG Guitar Amp Simulator com o qual para personalizar o amplificador virtual. Ambos os canais possuem controles FX SEND, bem como botões de PAN e em metros / OUT. A seção EFFECT é onde você programar os efeitos de reverberação SPX, e também é totalmente programável. Expert Mode também fornece para o carregamento eo salvamento de suas configurações de DSP.
Usando o DSP
Depois de você
Ao usar a AG para transmissões pela internet ou jogos, não
O reverb SPX realmente parece ótimo. Assim, ao usar o AG com um programa DAW, certifique-se de gravar em faixas estéreo ao usar os efeitos de reverberação. Caso contrário, o reverb vai sair mono e não é capaz de fornecer a profundidade que os efeitos SPX são conhecidos.
"It's virtually impossible to find another mixer that offers the feature set of the AG06, even at considerably higher prices."
Oque
Com um preço de rua de menos de US $ 200, as ofertas AG06 de riqueza de características únicas que realmente vai apelar para uma variedade de audiências. No entanto, há algumas coisas a considerar antes de decidir que
Em primeiro lugar, apenas uma entrada XLR tem alimentação fantasma, o que significa que a gravação estéreo ou multi-canal com microfones condensadores exigirá uma alimentação fantasma adicional (ou pilhas se o microfone pode ser auto-alimentado.)
Além disso, o DSP deve ser programado com o app AG Controlador DSP de um computador, o que significa que se você contar com a DSP, mas esqueceu-se de programar ou carregue suas configurações favoritas
Conclusão
Eu me sinto como o AG06 é o Leatherman de pequenos misturadores: Ele pode fazer muito, inclusive coisas que ninguém produto pode fazer, e faz tudo muito acessível. Isto
Preço: $ 269 USD
Prós: excelente som, muitos usos comuns e únicos, fácil de webcasting, poderoso DSP, vem com Cubase AI 8.
Contras: Apenas um canal com alimentação fantasma, nenhum editor compatível com iPad, e as suas muitas complexidades requerem algum tempo de aprendizagem.
Rede: