Quando Yamaha ha annunciato i nuovi mixer 192 kHz / 24-bit AG serie ( AG03 e AG06 ), la mia reazione iniziale è stata,
A Pelle Profondità
Le misure AG06 solo 6.1 "x 2.5" x 8.0
"The XLR connectors access the acclaimed D-PRE mic preamps found in high-end Yamaha and Steinberg mixers."
Ingresso 3/4 è mono o stereo su 1/4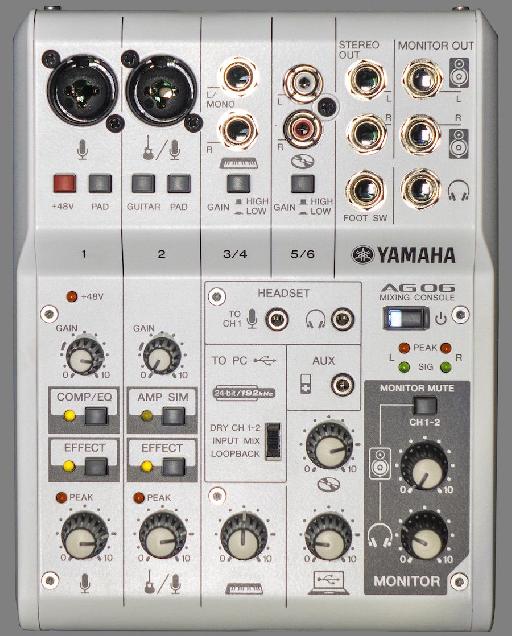 Figura 1. Vista dall'alto.
Là
Tutti i livelli di ingresso e di uscita sono controllati dalle manopole, compreso il livello di ingresso USB I
Perso e trovato
Il pannello frontale privo di controlli pan e manopole EQ. Invece, ci sono interruttori sul canale 1 per COMP / EQ, il canale 2 per AMP SIM (simulatore di amplificatore chitarra), ed entrambi 1
"Once you install AG DSP Controller, you can access and program the DSP in Easy or Expert modes."
Easy Mode
Easy Mode è

Figura 2. AG DSP Controller - Easy Mode.
CH1 MIC TONE seleziona 10 diversi musica o parlato EQ
Modalità Esperto
Expert Mode è per gli utenti più esperti, e offre una vasta gamma di impostazioni completamente programmabili, tra cui preimpostazioni per i canali 1 e 2, così come i diversi tipi di riverbero.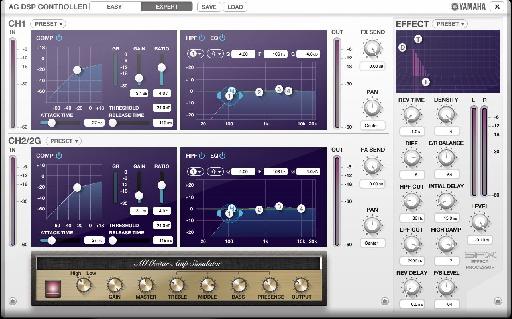 Figura 3. AG DSP Controller - Expert Mode.
Entrambi i canali 1 e 2 hanno compressori ed equalizzatori, ma i preset per il canale 1 sono orientati per microfoni, mentre il canale 2 preselezioni sono in primo luogo per le chitarre acustiche ed elettriche, così come bassi. Tutto il compressore e impostazioni EQ sono completamente programmabili. Canale 2 ha il pannello di controllo AG Guitar Amp Simulator con cui personalizzare l'amplificatore virtuale. Entrambi i canali hanno controlli FX SEND, così come le manopole PAN e metri IN / OUT. La sezione EFFECT è dove si programmano gli effetti SPX riverbero, ed è inoltre completamente programmabile. Expert Mode prevede anche il caricamento e il salvataggio delle impostazioni DSP.
Utilizzando il DSP
Dopo di te
Quando si utilizza l'AG per Internet o giochi trasmissioni, ci
Il riverbero SPX suona davvero grande. Così, quando si utilizza il AG con un programma di DAW, assicurarsi di registrare su tracce stereo quando si utilizzano gli effetti di riverbero. Altrimenti, il riverbero uscirà mono e non in grado di fornire la profondità che effetti SPX sono noti per.
"It's virtually impossible to find another mixer that offers the feature set of the AG06, even at considerably higher prices."
Cosa
Con un prezzo al pubblico di meno di 200 dollari, le offerte di AG06 ricchezza di caratteristiche uniche che sarà veramente appello ad una varietà di pubblico. Tuttavia, ci sono alcune cose da considerare prima di decidere che
In primo luogo, solo un ingresso XLR ha l'alimentazione phantom, il che significa che la registrazione stereo o multicanale con microfoni a condensatore richiedono un ulteriore alimentazione phantom (o batterie se il microfono può essere auto-alimentato.)
Inoltre, il DSP deve essere programmato con l'app AG DSP controller da un computer, il che significa che se si basano su DSP, ma ha dimenticato di programmare o caricare le impostazioni preferite
Conclusione
Mi sento come il AG06 è la Leatherman di piccoli agitatori: Si può fare molto, comprese le cose che nessuno prodotto può fare, e fa tutto molto conveniente. Esso
Prezzo: $ 269 USD
Pro: Ottima suono, molti usi comuni ed uniche, facile di webcasting, potente DSP, viene fornito con Cubase AI 8.
Contro: Solo 1 canale con alimentazione phantom, nessun editor compatibile con iPad, e le sue numerose complessità richiedono un certo tempo di apprendimento.
Web: