Lorsque Yamaha a annoncé les nouveaux mélangeurs 192 kHz / 24 bits AG-série ( AG03 et AG06 ), ma première réaction a été,
À la profondeur de la peau
Les mesures de AG06 seulement 6,1 "x 2,5" x 8,0
"The XLR connectors access the acclaimed D-PRE mic preamps found in high-end Yamaha and Steinberg mixers."
Entrée 3/4 est mono ou stéréo sur 1/4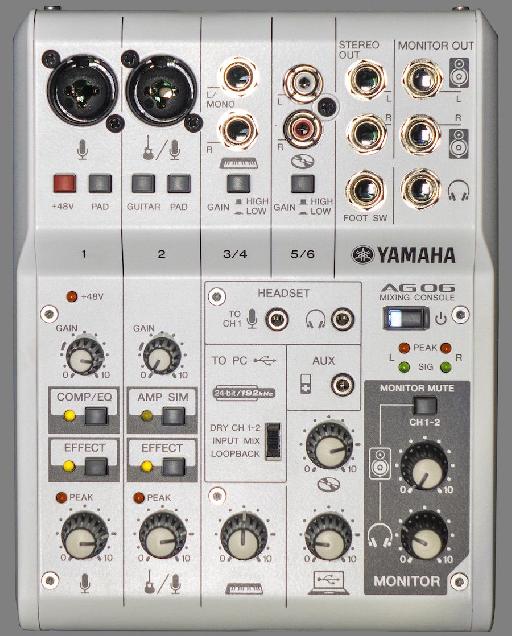 Figure 1. Vue de dessus.
Là
Tous les niveaux d'entrée et de sortie sont contrôlés par des boutons, y compris le niveau d'entrée USB I
Perdu et trouvé
Le panneau avant manque de contrôles de déplacement et les boutons d'EQ. Au lieu de cela, il ya des commutateurs sur le canal 1 pour COMP / EQ, le canal 2 pour AMP SIM (simulateur d'ampli guitare), et les deux 1
"Once you install AG DSP Controller, you can access and program the DSP in Easy or Expert modes."
Easy Mode
Easy Mode est

Figure 2. AG DSP Controller - Mode Facile.
CH1 MIC TONE sélectionne 10 la musique ou de la parole EQ différent
Mode Expert
Mode Expert est pour les utilisateurs plus expérimentés, et offre un large éventail de paramètres entièrement programmables y compris les préréglages pour les canaux 1 et 2, ainsi que différents types de réverbération.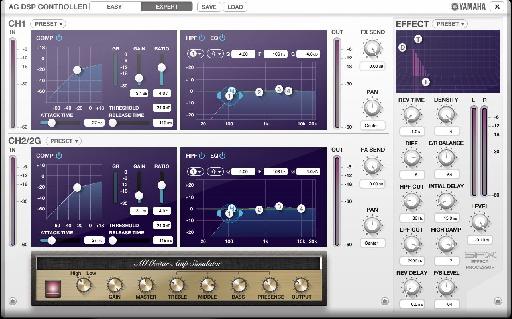 Figure 3. AG DSP Controller - Mode Expert.
Les deux canaux 1 et 2 ont compresseurs et égaliseurs, mais les présélections pour le canal 1 sont adaptés pour les micros, tandis que le canal 2 présélections sont principalement pour les guitares acoustiques et électriques, ainsi que les basses. Tout le compresseur et réglages d'égalisation sont entièrement programmables. Channel 2 a le panneau de commande AG Guitar Amp Simulator avec laquelle vous voulez personnaliser l'ampli virtuel. Les deux chaînes ont des contrôles FX SEND, ainsi que des boutons PAN et mètres IN / OUT. La section d'effets est l'endroit où vous programmez les effets de réverbération SPX, et est également entièrement programmable. Mode Expert fournit également pour le chargement et la sauvegarde de vos paramètres de DSP.
Utilisation du DSP
Après vous
Lorsque vous utilisez l'AG pour Internet ou jeu émissions, il
La réverbération SPX sonne vraiment super. Ainsi, lorsque l'aide de l'AG avec un programme DAW, assurez-vous d'enregistrer sur des pistes stéréo en utilisant les effets de réverbération. Sinon, la réverbération sortira mono et non en mesure de fournir la profondeur que les effets SPX sont connus pour.
"It's virtually impossible to find another mixer that offers the feature set of the AG06, even at considerably higher prices."
Quoi
Avec un prix public de moins de 200 $, les offres AG06 de la richesse des caractéristiques uniques qui seront vraiment appel à une variété de publics. Cependant, il ya quelques choses à considérer avant de décider qu'il
Tout d'abord, une seule entrée XLR a une alimentation fantôme, ce qui signifie que l'enregistrement stéréo ou multi-canal avec des microphones à condensateur nécessiteront un alimentation fantôme supplémentaire (ou piles si le micro peut être auto-alimenté.)
En outre, le DSP doit être programmé avec l'application AG DSP Controller à partir d'un ordinateur, ce qui signifie que si vous comptez sur le DSP, mais oublié de programmer ou de charger vos paramètres préférés
Conclusion
Je me sens comme l'AG06 est le Leatherman de petits mélangeurs: Il peut faire beaucoup, y compris des choses qu'aucun produit ne peut faire, et il le fait très abordable. Il
Prix: $ 269 USD
Plus: Grande sonores, de nombreux usages communs et uniques, webcasting facile, DSP puissant, livré avec Cubase AI 8.
Moins: Seulement 1 canal avec alimentation fantôme, aucun éditeur iPad compatible, et ses nombreuses subtilités nécessitent un certain temps d'apprentissage.
Web: