Cuando Yamaha anunció los nuevos mezcladores de 192 kHz / 24 bits AG-series ( AG03 y AG06 ), mi primera reacción fue,
En Profundidad Piel
Las medidas AG06 única 6.1 "x 2.5" x 8.0
"The XLR connectors access the acclaimed D-PRE mic preamps found in high-end Yamaha and Steinberg mixers."
Entrada de 3/4 es mono o estéreo en un cuarto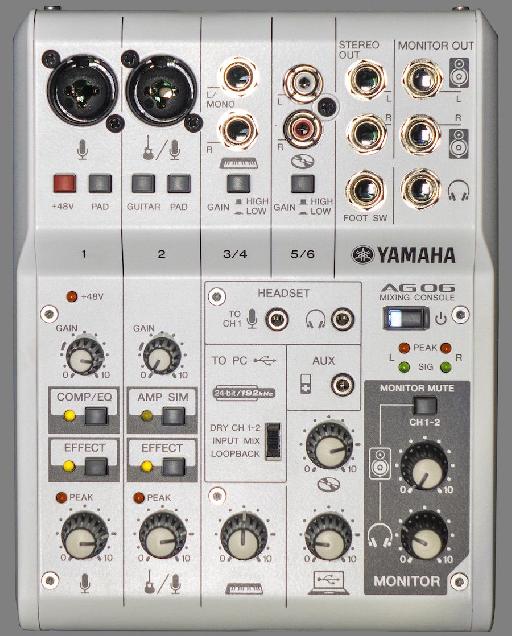 Figura 1. Vista superior.
Ya Está
Todos los niveles de entrada y de salida son controlados por mandos, incluyendo el nivel de entrada USB I
Objetos perdidos
El panel frontal carece de controles de panorama y las perillas de EQ. En cambio, hay interruptores en el canal 1 para COMP / EQ, el canal 2 para AMP SIM (simulador de amplificador de guitarra), y ambos 1
"Once you install AG DSP Controller, you can access and program the DSP in Easy or Expert modes."
Modo Fácil
Modo Fácil es

Figura 2. Controlador DSP AG - Modo Fácil.
CH1 MIC TONO selecciona 10 música o discurso EQ diferente
Modo Experto
Modo Experto es para usuarios más experimentados, y ofrece una amplia gama de configuraciones totalmente programables incluyendo presets para los canales 1 y 2, así como los diferentes tipos de reverberación.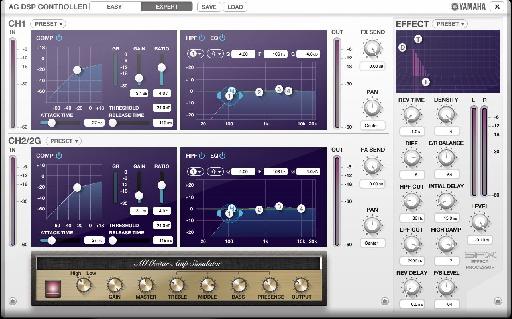 Figura 3. Controlador DSP AG - Modo Experto.
Ambos canales 1 y 2 tienen compresores y ecualizadores, pero los presets para el canal 1 están orientados para micrófonos, mientras que el canal 2 presets son principalmente para guitarras acústicas y eléctricas, así como los bajos. Todo el compresor y ajustes de EQ son totalmente programables. Canal 2 tiene el panel de control AG Guitar Amp simulador con el que personalizar el amplificador virtual. Ambos canales tienen controles SEND FX, así como mandos PAN y en metros / OUT. La sección de efectos es donde se programan los efectos de reverberación SPX, y también es totalmente programable. Modo Experto prevé también la carga y el ahorro de sus ajustes DSP.
Utilizando el DSP
Después de ti
Al utilizar el AG para Internet o juego emisiones, hay
La reverb SPX realmente suena muy bien. Así que cuando se utiliza el AG con un programa DAW, asegúrese de grabar en pistas estéreo al utilizar los efectos de reverberación. De lo contrario, la reverberación saldrá mono y no es capaz de proporcionar la profundidad que los efectos SPX son conocidos.
"It's virtually impossible to find another mixer that offers the feature set of the AG06, even at considerably higher prices."
Qué
Con un precio de venta de menos de $ 200, las ofertas AG06 de la riqueza de características únicas que realmente será de interés para una variedad de audiencias. Sin embargo, hay algunas cosas a considerar antes de decidir que
En primer lugar, sólo una entrada XLR tiene alimentación phantom, lo que significa que la grabación estéreo o multicanal con micrófonos de condensador requieren una alimentación phantom de alimentación adicional (o pilas si el micrófono puede ser auto-alimentado.)
Además, el DSP se debe programar con la aplicación del controlador DSP AG desde un ordenador, lo que significa que si usted confía en el DSP, pero se olvidó de programar o cargar sus ajustes favoritos
Conclusión
Me siento como el AG06 es la Leatherman de pequeños mezcladores: Se puede hacer mucho, incluyendo cosas que nadie producto puede hacer, y lo hace todo muy asequible. Eso
Precio: $ 269 USD
Pros: Gran sonido, muchos usos comunes y únicas, fácil de difusión por Internet, potente DSP, viene con Cubase AI 8.
Contras: Sólo 1 canal con alimentación phantom, ningún editor compatible con el iPad, y sus muchas complejidades requieren algún tiempo de aprendizaje.
Web: