Bei Yamaha angekündigt, die neue 192 kHz / 24-Bit-AG-Serie Mischer ( AG03 und AG06 ), war meine erste Reaktion,
Skintiefe
Die AG06 Maßnahmen nur 6,1 "x 2,5" x 8,0
"The XLR connectors access the acclaimed D-PRE mic preamps found in high-end Yamaha and Steinberg mixers."
Input 3/4 ist Mono oder Stereo auf 4.1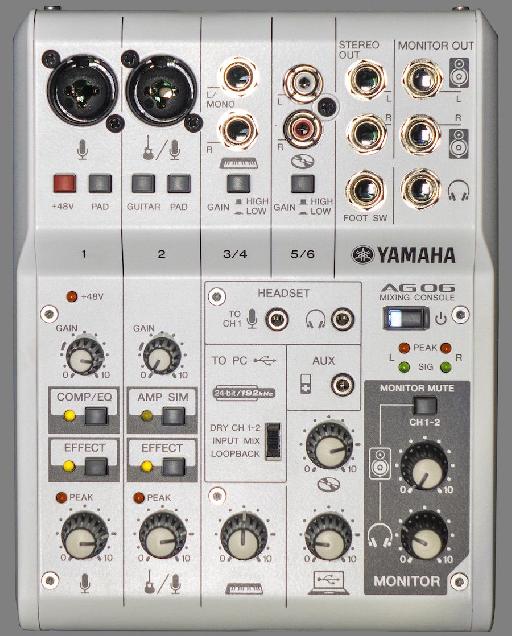 Abbildung 1. Ansicht von oben.
Dort
Alle Eingangs- und Ausgangspegel werden durch Knöpfe gesteuert, einschließlich der USB-Eingangspegel I
Verloren und gefunden
Die Frontplatte fehlt Panoramaregler und EQ-Regler. Stattdessen gibt es Schalter auf Kanal 1 für COMP / EQ, Kanal 2 für AMP SIM (Gitarrenverstärkersimulator), und beide 1
"Once you install AG DSP Controller, you can access and program the DSP in Easy or Expert modes."
Easy Mode
Easy Mode ist

Abbildung 2. AG DSP Controller - Easy Mode.
CH1 MIC TONE wählt 10 verschiedene Musik- oder Sprach EQ
Expertenmodus
Experten-Modus ist für erfahrene Anwender und bietet eine breite Palette von vollständig programmierbaren Einstellungen, einschließlich Voreinstellungen für Kanal 1 und 2, sowie verschiedene Arten von Reverb.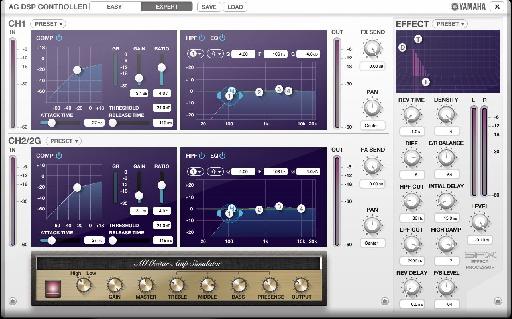 Abbildung 3. AG DSP Controller - Experten-Modus.
Beide Kanäle 1 und 2 Kompressoren und Equalizer, aber die Presets für Kanal 1 sind für Mikrofone ausgerichtet, während die Kanal-2-Presets sind in erster Linie für die akustische und elektrische Gitarren sowie Bässe. All der Kompressor und EQ-Einstellungen sind frei programmierbar. Kanal 2 hat die AG Guitar Amp Simulator Bedienfeld, mit dem die virtuelle Amp anpassen. Beide Kanäle haben FX Send-Regler sowie PAN Regler und IN / OUT Meter. Der Effekt-Sektion ist, wo Sie die SPX Halleffekte zu programmieren, und ist auch voll programmierbar. Experten-Modus stellt auch für das Laden und das Speichern Ihres DSP-Einstellungen.
Unter Verwendung des DSP
Nach dir
Bei Verwendung der AG für Internet oder Spiel-Übertragungen gibt
Die SPX Reverb klingt wirklich toll. Also, wenn Sie die AG mit einer DAW-Programm, stellen Sie sicher, Stereo-Spuren aufnehmen, wenn Sie die Reverb-Effekte. Andernfalls wird der Reverb kommen Mono und nicht in der Lage, die Tiefe, die SPX-Effekte bekannt sind bereitzustellen.
"It's virtually impossible to find another mixer that offers the feature set of the AG06, even at considerably higher prices."
Was
Mit einem Straßenpreis von unter 200 Dollar, die AG06 Angebote Fülle von einzigartigen Features, die wirklich ansprechen wird auf eine Vielzahl von Zielgruppen. Allerdings gibt es ein paar Dinge, bevor sie entscheidet, sie betrachten
Erstens hat nur einen XLR-Eingang Phantomspannung, was bedeutet, dass Stereo- oder Mehrkanal-Aufnahme mit Kondensatormikrofone benötigen eine zusätzliche Phantomspeisung (oder Batterien, wenn das Mikrofon kann self-powered sein.)
Außerdem muss der DSP mit der AG DSP-Controller app von einem Computer, was bedeutet, dass, wenn Sie verlassen sich auf die DSP aber vergessen, programmieren oder laden Sie Ihre bevorzugten Einstellungen programmiert werden
Abschluss
Ich fühle mich wie das AG06 ist die Leatherman kleiner Mischer: Es kann eine Menge, auch Dinge, die niemand Produkt tun können, und macht alles sehr kostengünstig. Es
Preis: $ 269 USD
Pro: Toller Sound, viele gemeinsame und einzigartige Anwendungen, einfach Webcasting, leistungsstarken DSP, kommt mit Cubase AI 8.
Nachteile: Nur 1 Kanal mit Phantomspeisung, kein iPad-kompatiblen Editor, und die vielen Feinheiten erfordert einige Einarbeitungszeit.
Web: