When Yamaha announced the new 192 kHz/24-bit AG-series mixers (AG03 and AG06), my initial reaction was, 'Oh great, just what the world needs: another small mixer.' But Yamaha markets the AG for a wide range of users including musicians, DJs, producers, Internet broadcasters, gamers, and educators, among others, and I quickly discovered there's more to the AG mixers than meets the eye.
At Skin Depth
The AG06 measures only 6.1" x 2.5" x 8.0" and weighs 2.2 lb in a metal chassis. As the name denotes, the AG06 has a total of six analog inputs: Mic/Line 1 has phantom power and pad switches, while Mic/Line 2 has guitar and pad switches. (No phantom power.) Inputs 1 and 2 have combo XLR and 1/4" connectors, the latter of which are balanced/unbalanced. The XLR connectors access the acclaimed D-PRE mic preamps found in high-end Yamaha and Steinberg mixers and audio interfaces, and that's a real bonus at this price point.
"The XLR connectors access the acclaimed D-PRE mic preamps found in high-end Yamaha and Steinberg mixers."
Input 3/4 is mono or stereo on 1/4" unbalanced connectors and have a high/low gain switch. Input 5/6 is identical to input 3/4, but with RCA rather than 1/4" connectors. There are separate 1/4" balanced outputs for stereo and monitor outputs, as well as a stereo headphone output.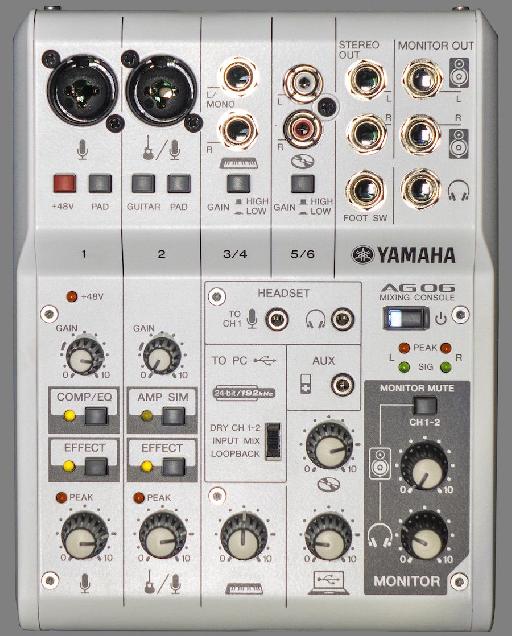 Figure 1. Top view.
There's also a headset section and an aux input, all of which are on 1/8" connectors. When you plug a headset (microphone/headphone combo) into these jacks, the mic signal is sent to channel 1 (bypassing the XLR/1/4" connector), and the headphone signal is routed away from the 1/4" output in favor of the headset 1/8" connector. (Note: If you use the AG06 for interviews and you need headphones for both you and your guest(s), you'll need an additional headphone amp.) The aux input is stereo, but has no level control, which you won't miss because devices like smartphones, music players, and tablets all have their own output level controls. Lastly, there's a 1/4" foot switch connector that provides hands-free reverb on/off. (More about the reverb and other effects later; Yamaha foot switch FC5 or equivalent, sold separately.)
All the input and output levels are controlled by knobs, including the USB input level I'll discuss in a moment. The back of the AG06 has a USB 2.0 port (type B) for data and bus-power, as well as a micro-USB connector for power when not connected to a computer or when using an iPad. (Apple Camera Connection Kit required, sold separately.) It does not come with a power supply, only a USB cable. Therefore, you must power the AG via a computer USB port or by an external battery like the Jackery Giant +. If you need AC power, you could use a third-party 5-volt AC-adapter so long as it has a micro-USB connector and a minimum of 500 mA of current. You can also mount the AG06 to a mic stand by using a Yamaha BMS10A mic stand adapter. (Sold separately.)
Lost and Found
The front panel lacks pan controls and EQ knobs. Instead, there are switches on channel 1 for COMP/EQ, channel 2 for AMP SIM (guitar amp simulator), and both 1 & 2 have EFFECT buttons. These buttons allow you to enable/disable the onboard DSP effects and pan controls. But how do you access these controls? The answer comes when you first open the box and you're greeted by a striking anime character directing you to download your software at www.yamahaproaudio.com/ag. There you'll find video tutorials, your downloadable license for Cubase AI 8 (Steinberg's potent entry-level DAW), AG-series drivers for Windows (drivers for Mac are class-compliant), and a curious little program called AG DSP Controller for Mac and Windows. Once you install AG DSP Controller, you can access and program the DSP in Easy or Expert modes.
"Once you install AG DSP Controller, you can access and program the DSP in Easy or Expert modes."
Easy Mode
Easy Mode is…well…easy, with only three knobs to set. Such a simple control panel makes the DSP accessible to any user at any level of experience.

Figure 2. AG DSP Controller - Easy Mode.
CH1 MIC TONE selects 10 different music or speech EQ & compression settings, AMP SIM selects 10 different guitar amps from clean to overdrive, and EFFECT selects different amounts of reverb. The first setting of each knob bypasses the corresponding DSP effect.
Expert Mode
Expert Mode is for more experienced users, and offers a wide array of fully programmable settings including presets for channels 1 and 2, as well as different types of reverb.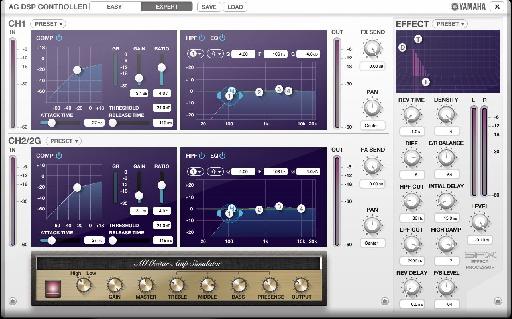 Figure 3. AG DSP Controller - Expert Mode.
Both channels 1 and 2 have compressors and equalizers, but the presets for channel 1 are geared for microphones, while the channel 2 presets are primarily for acoustic and electric guitars, as well as basses. All the compressor and EQ settings are fully programmable. Channel 2 has the AG Guitar Amp Simulator control panel with which to customize the virtual amp. Both channels have FX SEND controls, as well as PAN knobs and IN/OUT meters. The EFFECT section is where you program the SPX reverb effects, and is also fully programmable. Expert Mode also provides for the loading and the saving of your DSP settings.
Using the DSP
After you've programmed the DSP, the AG will remember ALL of the settings, even after you've turned the mixer off or disconnected it from power. This feature allows you to enable or disable those settings when you're not connected to the computer simply by pressing the COMP/EQ, AMP SIM, and EFFECT buttons on the front panel. (See Figure 1.) But how do you use the FX for recording or for internet broadcast? That's done very easily with the TO PC switch. It has three settings: DRY CH 1-2, INPUT MIX, and LOOPBACK. It's easiest to think of them like this: DRY CH 1-2 turns the AG into a 2-channel (channels 1 and 2) audio interface without any DSP, while the INPUT MIX setting allows you to mix or record all the inputs (including the AUX input) in a stereo blend with DSP. LOOPBACK sends the stereo mix of channels 1-6 with DSP and the sound from the computer or iPad to the USB 2.0 data port for webcasting to services like YouTube Live and UStream, as well as game distribution services like Twitch.
When using the AG for Internet or game broadcasts, there's a MONITOR MUTE button that will mute channels 1 and 2 from the output signal. That allows you and/or your guests to have off-air conversations while still broadcasting signal from the other inputs. You can also use the MONITOR MUTE button for software monitoring through a DAW (like the included Cubase or Cubasis for iPad, sold separately at The App Store), but make sure you turn up the computer level (the knob with the USB icon) to hear both the recording and the playback.
The SPX reverb really sounds great. So when using the AG with a DAW program, make sure to record on stereo tracks when using the reverb effects. Otherwise, the reverb will come out mono and not able to provide the depth that SPX effects are known for.
"It's virtually impossible to find another mixer that offers the feature set of the AG06, even at considerably higher prices."
What's Not to Like?
With a street price of under $200, the AG06 offers of wealth of unique features that will truly appeal to a variety of audiences. However, there are a few things to consider before deciding it's the right mixer for your needs.
First, only one XLR input has phantom power, which means that stereo or multi-channel recording with condenser microphones will require an additional phantom power supply (or batteries if the mic can be self-powered.)
Also, the DSP must be programmed with the AG DSP Controller app from a computer, which means that if you rely on the DSP but forgot to program or load your favorite settings—even turning a pan knob—prior to disconnecting it from your computer, you're stuck with the settings in memory. (As a fallback, you can reset the DSP to the factory settings by holding the COMP/EQ button on channel 1 while turning on the power.) For users that leave their computers at home, I hope Yamaha will release the DSP app for iPad at a future date.
Conclusion
I feel like the AG06 is the Leatherman of small mixers: It can do a lot, including things no one product can do, and does it all very affordably. It's virtually impossible to find another mixer that offers the feature set of the AG06, even at considerably higher prices. So if versatility matters to you, you must look at the AG06 or its smaller sibling, the AG03. For the power they punch, they really should cost more than they do, but don't tell that to Yamaha.