Wallender Instruments, developer of awesome physically-modeled orchestral wind and brass instruments widely used by professional film composers and sound designers in a host of popular movies and TV shows, also creates music apps for iOS devices, like Wivi Band 15-in-1. In fact, in the woodwind quartet video below, composed and performed by Jordan Rudess, all the sounds you hear were created in Wivi Band on the iPhone:
Now, Wallender Instruments has expanded their palette to include string and percussion instruments, and their first offering using this new technology is WI Orchestra for iPhone and iPad. And it's free! Let's take a look.
First Impressions
When you first launch WI Orchestra on iPhone, you'll see this screen: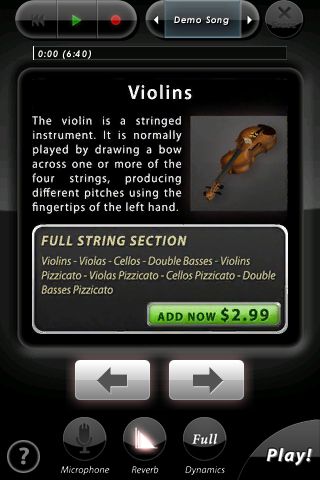 WI Orchestra: iPhone main screen.
Because of the reduced screen real estate on the iPhone, the actual playing screen opens when you click the Play button in the lower right: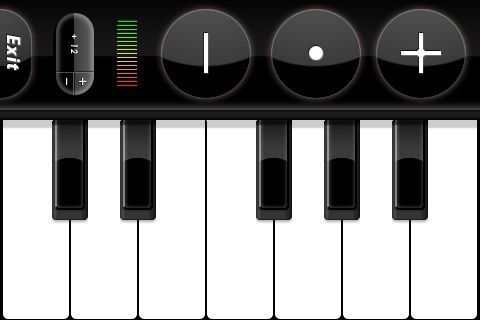 WI Orchestra: iPhone Play Screen.
On the iPad, everything's in one screen: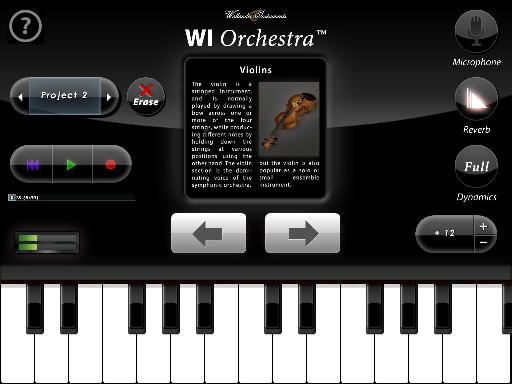 WI Orchestra: iPad Screen.
One obvious difference you'll see between the two images is that the iPhone screen has that green "Add Now $2.99" button in it, while the iPad doesn't. That's because I upgraded the String libraries on the iPad, but not on the iPhone. While you do get violins in the free version, you don't get the rest of the orchestral strings until you upgrade within the app for $2.99. This applies to the rest of the orchestral libraries as well: the free version includes violins, trumpets, flute, tenor sax, and tympani, but everything else requires library upgrades.
With those in-app purchases, which will cost you a grand total of $14.95 for the five main libraries, you get just about the entire orchestra, a huge list of instruments: Violins, Violas, Cellos, Double Basses, Violins Pizzicato, Violas Pizzicato, Cellos Pizzicato, Double Basses Pizzicato, Trumpet, Piccolo Trumpet, Trombone, Bass Trombone, French Horn, Wagner Tuba, Tuba, Cornet, Flugelhorn, Euphonium, Flute, Piccolo, Alto Flute, Bass Flute, Recorder, Clarinet, Bass Clarinet, Oboe, English Horn, Bassoon, Contrabassoon, Sopranino Saxophone, Soprano Saxophone, Alto Saxophone, Tenor Saxophone, Baritone Saxophone, Bass Saxophone, Timpani, Harp, Mixed Percussion (Bass Drum, Toms, Bongos, Castanets, Triangle, Cymbal, Gong, Snare, Tambourine, Woodblock, Tam-tam), Glockenspiel, Xylophone, Marimba, Vibraphone, Celesta, and Piano'"whew!
[Ed: Now try saying that backwards!]
Of course, the real question is, what does it sound like? Very good, actually; WI Orchestra includes a demo song that uses all the instruments, even if you haven't purchased them. And since songs recorded in WI Orchestra can be saved as WAV files and imported to your computer via iTunes, here it is:
The sound is a little gritty, for reasons I'll explain in a second, but otherwise it sounds excellent, particularly for the price. That grittiness is probably the app's greatest limitation at this point; while you can record your own music into the built-in recorder, and even overdub as many layers as you want, the actual recording has a sample rate of only 16 kHz, so you lose a lot of high-frequency resolution. If it weren't for that, I'd be completely happy with the app. Perhaps we'll see a future upgrade to improve that.
Other Features
As I mentioned, you can record your own songs into the built-in recorder'"up to 99 of them'"and export them via iTunes. And, if you're using iOS 4 or later, the keyboard even provides a certain amount of touch sensitivity. You can get more expression yet by enabling the Microphone and blowing into it while playing, just like Wivi Band, which gives you breath control for swells and dynamics. And because version 1.0.1 of the app supports iOS Core MIDI, you can even use external MIDI controllers. Taking advantage of this, I attached Apple's Camera Connection Kit to my iPad, then plugged in a Korg nanoKEY USB controller into the Kit's USB port (the iPad supplies just enough power to run the nanoKEY). Then I recorded four passes of string parts to create a short classical piece:
Again, the recording quality isn't ideal, and the lack of a metronome made the tracking a little tricky, but still, for sketches or quick ideas, there's nothing that approaches WI Orchestra on iOS.
Conclusions
Really, for the price (again, it's free!), WI Orchestra is a powerful, great-sounding app. And for only an additional $15, you get an enormous library of standard orchestral sounds. With the addition of better-quality recording and a metronome, WI Orchestra could be a genuinely useful workstation for any composer or arranger working with classic instrumental sounds. As it is, it's still a great deal, and a lot of fun to play.