Most grand piano virtual instruments these days tend to gravitate towards the 'big four' - Steinway, Yamaha, Bösendorfer and Fazioli. When I was approached by Whole Sounds to review their 1954 Baldwin Parlor Grand I was intrigued - it's been a while since I'd had the chance to check out something a little different in the piano space. I'm really glad I did. Check it out.
What It Is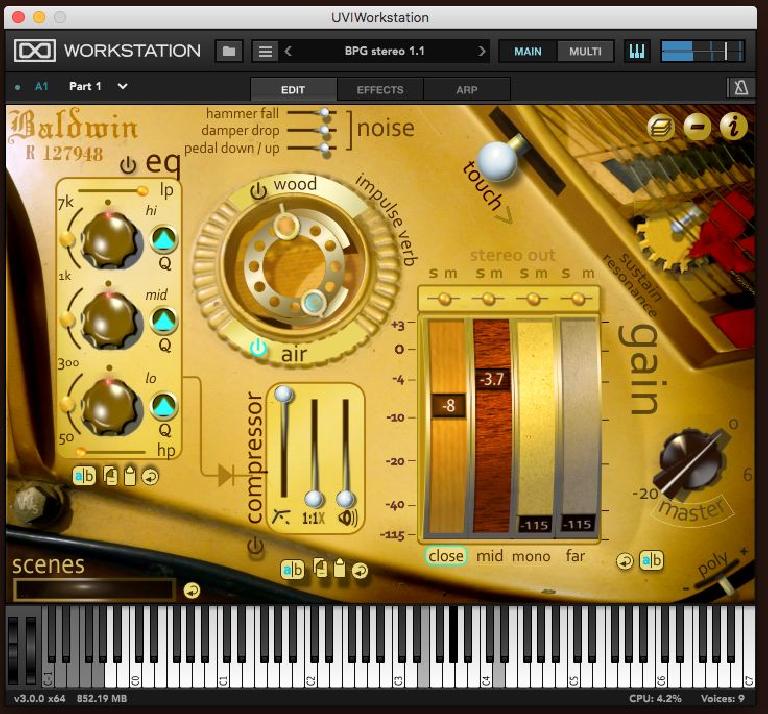 The 1954 BPG is a unique piano with a lot of character. I would definitely classify the particular sampled model as bold and dynamic. Listening to some sample recordings of the original instrument led me to expect a piano that was anything but subtle. After all, this is a brand that has had an extremely diverse user base from Bernstein to Bartók to Brubeck!
The BPG is sampled in the UVI format, which means you'll need either the free UVI workstation (a most excellent and efficient engine) to play it back or UVI Falcon (a most excellent and equally efficient engine that also is a synth).
The library weighs in at around 22 gigabytes, and the audio is uncompressed. All 88 keys are sampled at 8 velocity levels, 24 bit, 88.2khz. The samples were recorded from four perspectives - close mics inside the piano, mid mics 18" away, a mono mic from the player perspective and far mics to give a ton of ambience.
Of course, all four can be combined when crafting your ultimate piano sound.
The engine itself has some clever graphical representations, but I did find it to be a little cluttered. There is a TON of functionality scripted into this instrument, and maybe in the next version the good folks at Whole Sounds can put some of it onto a second page. The bright side of this is that there really is a lot of flexibility here. You can do just about anything from adjusting the level of all four mic positions, customize the hammer/pedal/damper noise, adjust the sustain resonance, control the 'touch' response of the piano to your controller, engage a subtle compressor and precise EQ… the options are really staggering! You can even store two configurations side by side for a quick A/B test, and you can save your setups into scenes.
The Sound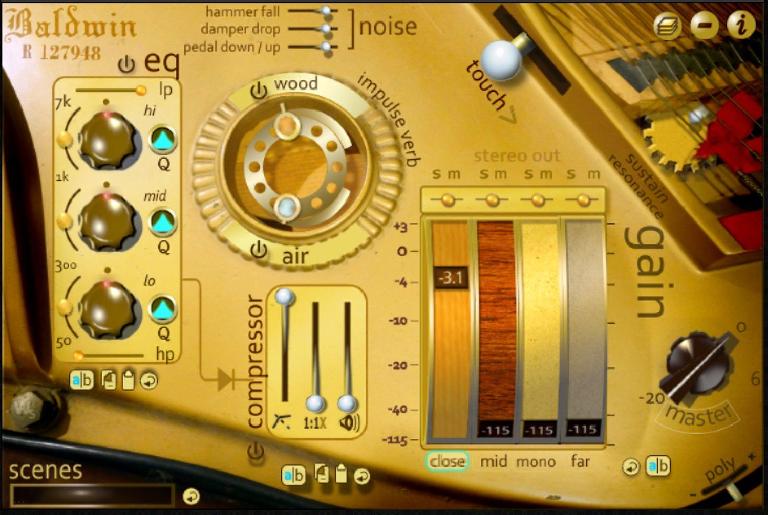 The sound of the 1954 Baldwin Parlor Grand is definitely a breath of fresh air. Using the close mics, I was really happy with the bold and direct sound of the piano. Most of you who record and mix piano know that the sound of a solo piano is not necessarily what is going to cut through the mix.
If you record pop/rock/contemporary piano you most likely EQ and compress it while the pianist is out of the room - most keyboard players' heads would explode if they heard the sonic sculpting you need to do to get a piano to 'cut' through a dense mix. The BPG close mics are as close to that EQ'd rock sound as you can get right out of the box. The piano does a great job of standing out when you need it to. You can easily dial the boldness back by mixing in some of the more distant mic options, making this piano work for jazz and classical as well as contemporary music.

There are some really fantastic examples on their website recorded by a bunch of users that can really get you an idea of what this piano sounds like - https://www.wholesounds.com/listen/. The good news however is that you can download a fully functional demo right from their website and check it for yourself.
Conclusion
I truly enjoyed the sound of the BPG. It's refreshing that you get three licenses with your purchase, so you can run it multiple places without having to worry about transporting your physical iLok every time you want to take it with you, and it's an astonishingly low price. You can even get it a touch cheaper if you record a short demo of yourself playing the BPG! A very fun instrument from a good bunch of folks.