Harmonic exciters and enhancers are often shrouded in mystique and relegated to the extremes of the audio engineering world. There are engineers that swear by them and there are engineers who will judge you harshly for using them in your mix. Part of this stigma stems from companies back in the day keeping their 'secret sauce' a little too secret and not offering up much information as to what their algorithm/device actually does to your audio.

Fortunately for us, Waves has taken the opposite approach to Vitamin. They are very clear on what it does and how it can affect your sound, and they even give you a large amount of control over how the processor works. Let's dive in!
The Vitals
Vitamin is a multiband harmonic enhancer that divides up your sound into 5 discrete regions. You can then apply their tone-shaping algorithm separately to each band. A stereo width control is also provided for the bands, giving you the ability to allow one sonic 'area' of your sound to be wider than another.
The concept is a sound one, and I really liked the idea of being able to apply the harmonic enhancement to only a certain region of my mix. I've always viewed harmonic exciters as time savers rather than holy grails. This stems all the way back to my BBE stomp box days. Sure, I could spend twenty minutes or so and eq whatever back line amp the gig provided; but it was much quicker to stomp on the exciter, adjust the overall amount and start playing.
Waves has stuck to a similar philosophy in designing Vitamin. They flat out tell you that the result of Vitamin is comparable to a parallel chain of EQ, compression and saturation processors. With Vitamin, however, you'll get the same results in a mere fraction of the time.
The Interface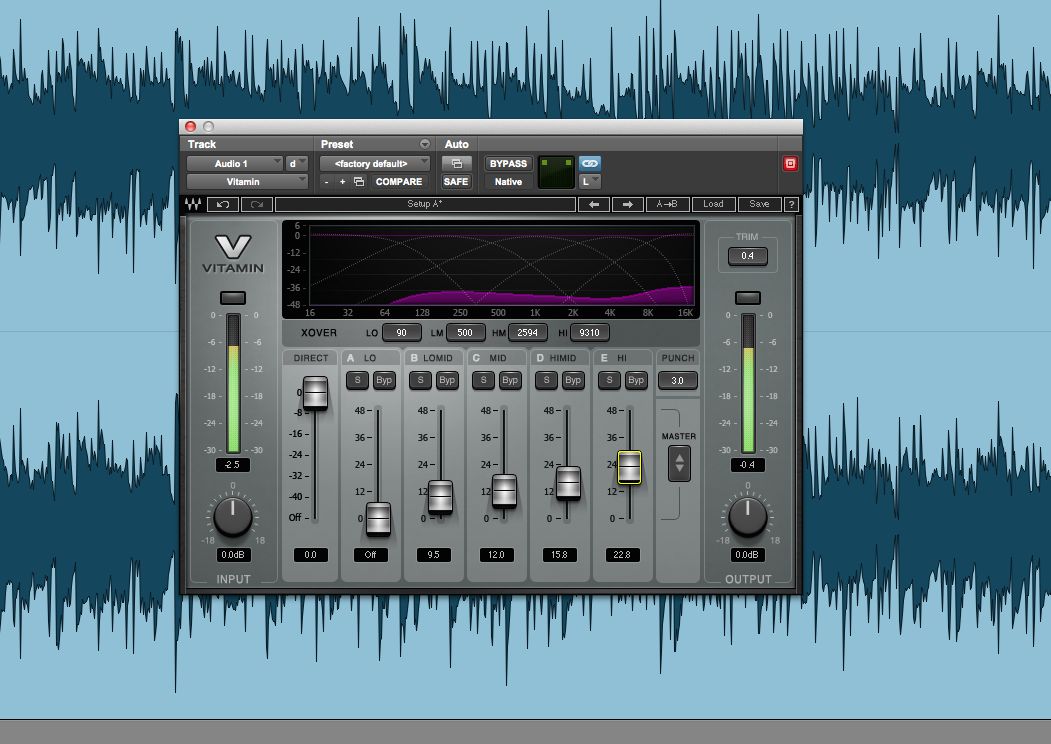 Waves Vitamin is quite straightforward with a simply-designed interface.
With Vitamin, you get mix control of 5 regions of sound broken up into typical EQ areas. You can adjust the amount of enhancement for each region with a fader. A master fader which moves all regions keeping their relative amounts intact is provided. You also get a stereo width adjustment for each region, as well as a master fader for width.
You can solo each harmonic band or bypass its effect with a touch of a button. As with most Waves plug-ins, you can also adjust the input and output gain of the signal.
The Sound
I found Vitamin to be an incredible time-saver. Applied to an overall mix, subtle changes can bring out aspects of your music that may have been previously buried in mud. I applied Vitamin to an acoustic guitar track that was desperately in need of new strings and was very pleased with the results. I appreciated the 'punch' control as well, which allowed me to smooth out some of the harshness typically associated with harmonic exciters.
Conclusion
Waves Vitamin is an extremely useful tool for quick fixes. Although you may be able to accomplish much of what it does on your own with a large compliment of parallel EQ and compression plug-ins, why spend the time?
Price: $99 for Native / $149 for Soundgrid-enabled
Pros:
Low price point

Simple interface

A harmonic exciter with a TON of control

Cons:
Soundgrid-enabled price is a bit more