Waves made a splash when they first jumped into the synth game with Element, their take on analog subtractive synthesis. Not content to rest on their laurels, Waves recently released Codex—a much more complex polyphonic synth with incredible sound design capability. It's hard to even nail down what category you'd put Codex into… and that's one of my favorite things about it!
A New Paradigm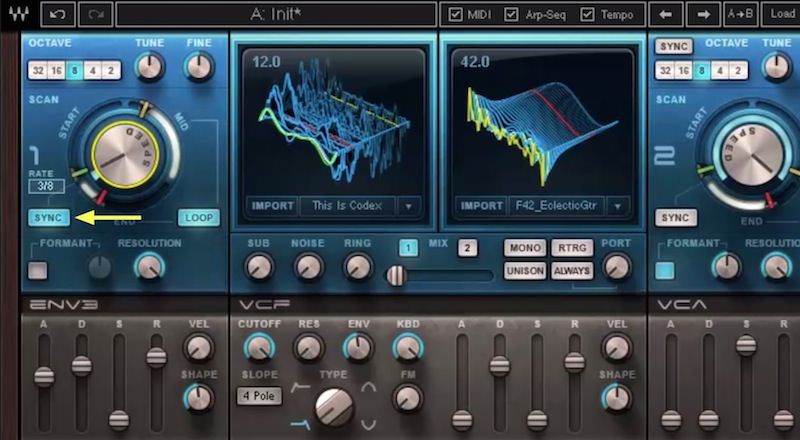 Codex is described as an advanced granular wavetable synth, but there are elements of wavetable, sampling and subtractive synthesis all present. These elements give you more flexibility in sound design and some of the patches you can create with Codex are just unreal.
Basically, you start with a small snippet of audio as our sound source. Codex allows you to determine how fast you play this audio, what direction you play it in, and what portion of the audio you are actually using to generate your sound. You can 'scan' the audio file from just about any point, and you can tell Codex to move back and forth within that snippet of audio at whatever rate you choose.
Simply adjusting the scanning direction and speed will allow you to create some really cool sonic landscapes, but Waves didn't stop there. After you've crafted the perfect sound source through the granular/wavetable engine, Codex allows you to run your audio through the subtractive synthesis engine of Element—complete with 4 LFOs, modulation matrix and arpeggiator/sequencer!
The Building Blocks
Codex comes with a wonderful library of presets that really show off its unique sound generation engine. I found myself truly surprised by some of the really wild, powerful and thick sounds I was hearing as I flipped through the factory presets. In addition to providing a plethora of presets, Codex also comes with a number of sampled audio files that you can use as your sound source for the granular/scanning engine.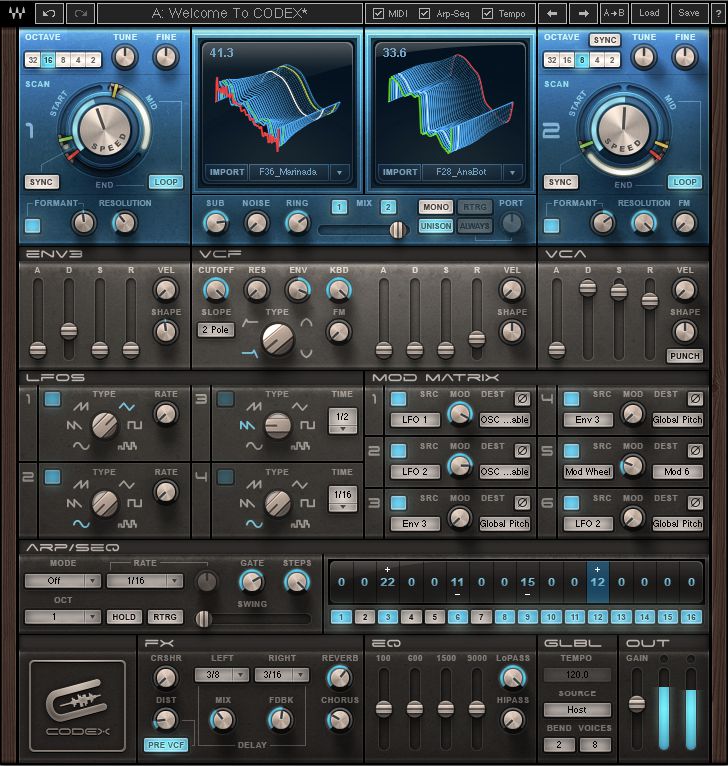 I had a lot of fun dropping my own audio into the granular/scanning engine and warping it beyond belief. It's amazing how many effects you can simulate (chorus/flanger/phaser) just by altering the position and speed of the scan within the waveform. The visual representation that Codex provides is incredibly helpful and even provides inspiration as to where you might want to 'sample' audio from your source to use as the seed of your sound.
Conclusion
At the low price point they're offering, you really can't go wrong with Codex. I think you'd be hard pressed to find another synth that offers the level of sonic diversity and quality that Codex provides at this price point. The synth is fairly efficient, and I didn't run into any problems running multiple instances in a sequence. It comes as a standalone app as well as a VI plug-in to be used in your favorite DAW. If this is the future of where Waves is going with their synth development, then the future is indeed a bright one.