Analog Percussion Bonanza
Vintage analog drum kits seem like they'll never go out of style, and those classic 808 and 909 kits remain as ubiquitous as ever '" platonic ideals of a dance music percussion aesthetic. So when you hear about a new package like Wave Alchemy Synth Drums, you might roll your eyes, thinking 'Who needs another classic Roland drum kit? Isn't one enough?' '" but you'd be missing the point entirely. You see, these aren't your stock analog drum machine kits at all. What we have here are 100% synthesized drum hits generated by a veritable all-star roster of venerable analog gear, featuring the Roland Jupiter-8, Juno-106, SH-09 and System 100 series, Sequential Circuits' legendary Prophet 5 and Pro One, the Korg MS-20, Arp's Odyssey MK 1, Moog's Minimoog Model D, and the Oberheim OB-8.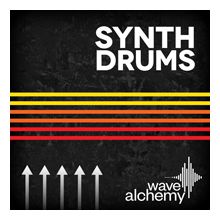 '¨Mighty Sounds'¨
First question: how do they sound? I wasn't familiar with the Wave Alchemy brand before testing these out, but after hearing this pack, I wouldn't hesitate to use their samples again. Coming in three main sections: unprocessed, processed and 'special' processed, all the included samples sounded clear and present, punchy and crisp where needed, and smooth in all the right places. The library organization is impeccable as well. I began by exploring the processed samples, which had been run through their typical post-production signal chain for added tone and girth where warranted. This is where I imagine the average user would source the bulk of their drum samples. The slightly smaller 'special' processed section features samples from all the main drum categories listed below, that have then been run through a Neumann vinyl lathe and/or a Studer A80 MK1 reel-to-reel tape machine for warmth, color, punchiness and saturation. They all sounded fantastic '" but if you want the pure original sample to run through your own processing chain, the pack also comes with a complete selection of the unprocessed samples to do with as you wish.

Full Array
So what kind of drums are we dealing with here? Well, if you're looking for traditional acoustic trap kit sounds, you're clearly in the wrong neighbourhood '" but if thick slabs of analog bass, thundering toms, zips and zaps and full spectrum snares, harmonic metallic pings and ceramic thuds or sizzling white-noise high hats get you excited, you'll find plenty of ammunition for your productions on offer here. Comprised of more than 5900 24-bit drum hits in total, we find kicks (sub-divided into '˜almost real', '˜classic', '˜deep', '˜fat & punchy', '˜knocks', '˜clicks & pulses', '˜thumping', '˜ultra heavy' and '˜unusual'), snare drums (grouped into '˜classic', '˜low & mid-frequency', '˜noise', '˜smacks', '˜synth' and '˜tight'), cymbals (divided by '˜closed hat', '˜open hat', '˜crash & splash', '˜ride' and '˜effect cymbals'), percussion (broken down into '˜blocks & cowbells', '˜dissonant hits', '˜plucks', '˜pop snaps & rim shots', '˜shakers', '˜soft & dark hits' and '˜tubes'), 'imaginary' percussion (sub-grouped as '˜hand', '˜mallet' and '˜stick'), toms (with separate folders for '˜fat & punchy', '˜huge', '˜pulse & laser', '˜short' and '˜unusual'), plus claps, congas and bongos, exotic percussion, strikes, swells, bass hits (including '˜bass bombs', '˜percussive' and '˜sub bass'), and stabs.
With such a wide selection and a bit of creativity, I'm pretty sure you could produce entire tracks using nothing more than the samples provided here '" with some clever arrangement and effects processing, of course.'¨
Kitted Out
'¨The package even comes with hundreds of kits, pre-programmed and ready to go for users of Battery 3, Halion, Kong, Kontakt, NN-XT, SFZ and Ableton Live 9 formats. Users of Maschine or StylusRMX native mapping isn't included, but it's a small price to pay when using such a stellar drum library, especially at such an affordable price. Recommended.
NOTE (Feb 2014): Wave Alchemy has updated this already stellar library with a full set of Drum Racks configured for Ableton Live, designed for full compatibility with Push for maximum hands-on fun.