Wave Alchemy makes some great sample packs and one of its latest is Afro Latin Percussion Vol 1, available for £24.95 as a download from the company's website. Sample packs are still popular because although DAWs come with some great sounds, it can still be difficult to achieve the kind of feel you want for your beats or loops by programming them yourself. This is particularly true of any kind of African or latin percussive sounds, where the swing and feel of the parts is at least as important as the sounds themselves.
Seriously, whatever DAW you use, try loading up a drum instrument and making some convincing latin percussion beats. It's much harder than it looks. As good as groove quantizers are these days, it can still be tricky to get the right mixture of tightness and looseness that somewhat confusingly defines these styles of music. The answer of course is to use pre-recorded samples and loops. Thanks to the flexibility of modern software, you can layer these up in all kinds of ways so that they don't sound standard, and incorporate them more effectively into your tracks.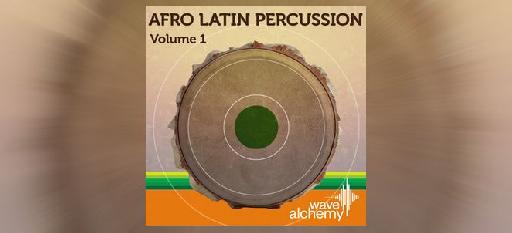 What do you get?
This collection features 683 loops and hits recorded at 24-bit resolution and they are of course royalty-free. They were recorded and played by world class professionals using multiple high-end mics and top flight preamps, then mixed down. The first of the four folders of content contains raw percussion loops : 583 loops and fills recorded at 126 BPM. These files have only minor edits and no post processing applied so they sound just as if you had recorded them dry yourself, and you are free to post-process them however you like. The instruments are split into sections so you get cabasa, clave, cowbell, guiro, caxixi, maraca, shekere, shaker, stick, tambourine, triangle and wood block loops as well as various mixed ensembles.
The second folder contains 456 time-corrected loops, which have had their transients tidied up for an authentic but more musically tight feel. These are intended for producers who want a slightly more metronomic sound rather than a raw feel. Thirdly, there's a folder of 515 REX2 loops created from the raw percussion loops and ready to be loaded into your REX player. Lastly is a folder of 95 one-shot percussion hits and FX samples recorded completely dry out of which you can build your own kits. There are sampler patches supplied in multiple formats including SFZ, Battery, NN-XT and Kontakt so you can quickly put together unique kits to complement the loops.
Gimme that swing
You don't have to be making Afro or latin-centric music to enjoy these loops, they're great for adding some swing and life to electronic music or a range of other styles. Given the difficulty of accurately programming loops in this style and the fact that software drum machines generally don't have these kinds of unusual percussion sounds included, this is a great little sample collection that will be the icing on the cake for many peoples' projects, adding a bit of latin twist to finish things off.
Price: £24.95 download. Available now.
Pros: A great way to add hard-to-program latin percussive loops to any project. Well recorded and full of swing and feeling.
Cons: Some more ensemble loops would be nice.
Web: http://www.wavealchemy.co.uk/afro-latin_percussion_vol_1/pid104