The number of synths on the App Store is steadily growing and this means more of the serious players are coming to join the party. We've already seen excellent synths from Korg, Moog, Propellerhead and now Waldorf bring us Nave.

Structure And Features
The vast majority of synths we see on the iPad (and indeed iOS) are of the subtractive / virtual analog variety. Nave is a Wavetable synth and coming from the kings of Wavetable synthesis this is hardly a surprise. This said, Nave does actually offer more than just traditional Wavetable tech.

Nave's main editing window.
There are actually two wavetables per oscillator plus a virtual analogue oscillator as well. The wavetable oscillators can be anything chosen from the extensive library or even waveforms of your own. These are then mixed with the multimode virtual analogue oscillator which really adds weight to the sound.

An atmospheric pad patch: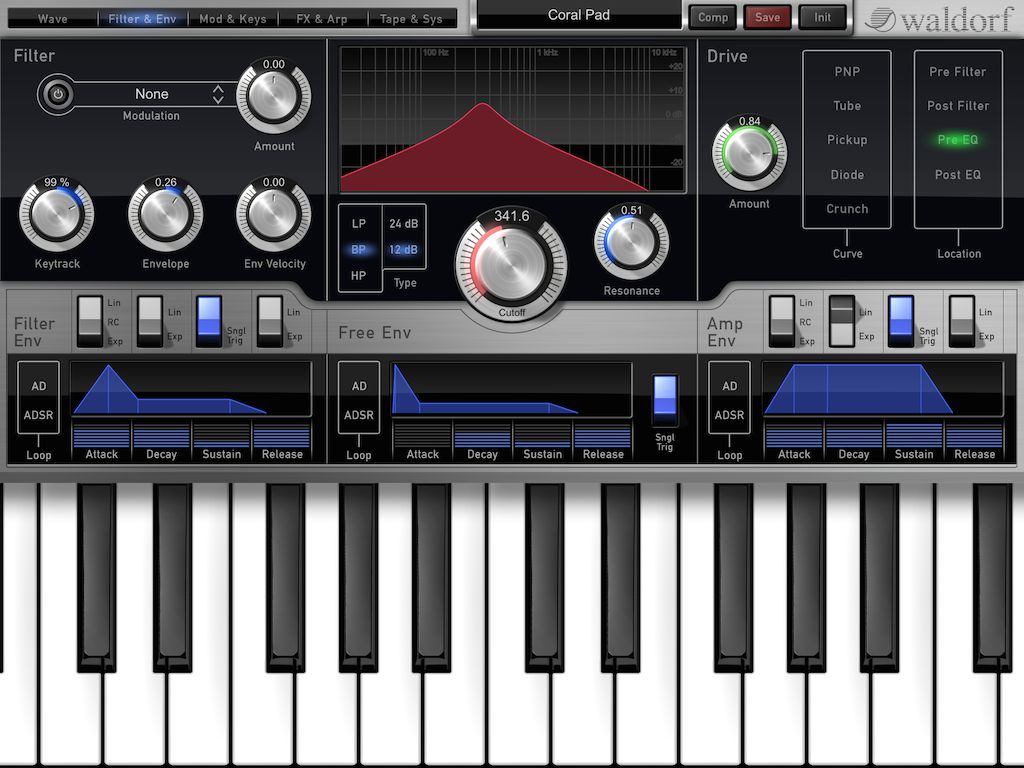 The filter section.
Add to the this the ability to add a 'super saw' style unison effect (via the Uberwave feature), a fully blown multi effects processor and extensive filter options and you have a serious synth engine capable of some genuinely individual sounds.

The Synth In Action
Nave is one of those instruments that may look reasonably simple on the surface, but as you explore its depths you just keep on finding new features. For example, it was a while before I even realized there was a multimode distortion and arpeggiator. It's not because these things are hard to find, they're not, it's simply down to the fact you can lose yourself in each section.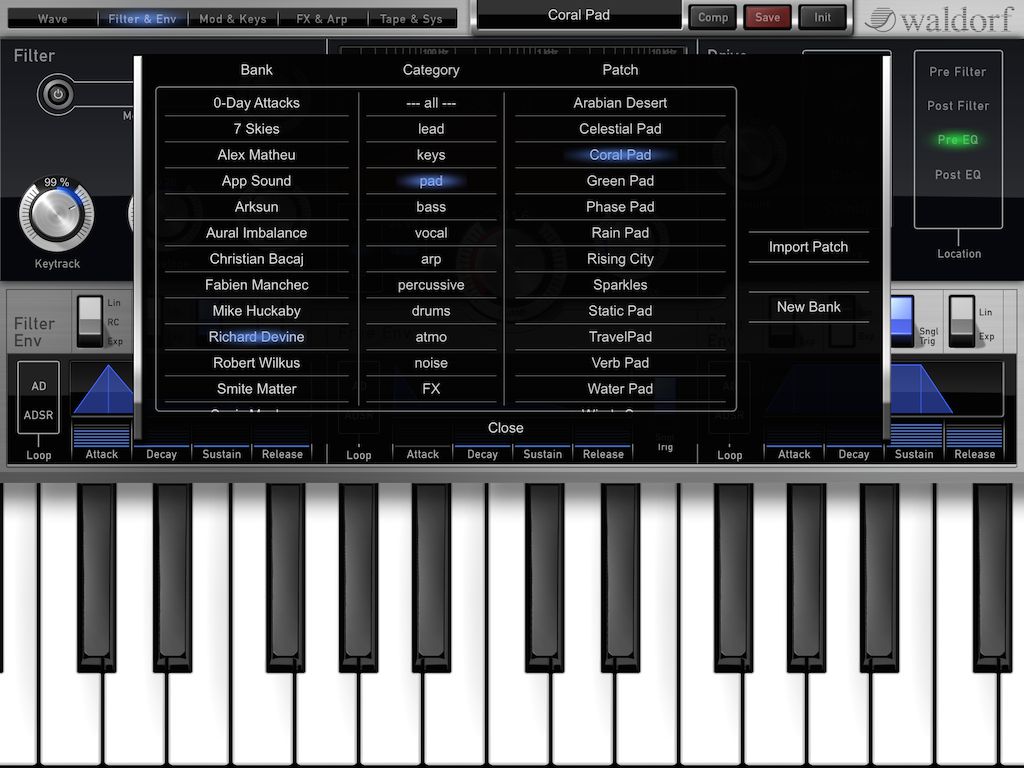 Nave's patch library.
An arpeggio patch with slightly odd timing:

This is certainly not a one page synth, in fact there are five pages in total and a hefty preset library as well. Most of the time, I would put this down as a fault but here it really feels like you can explore the instrument.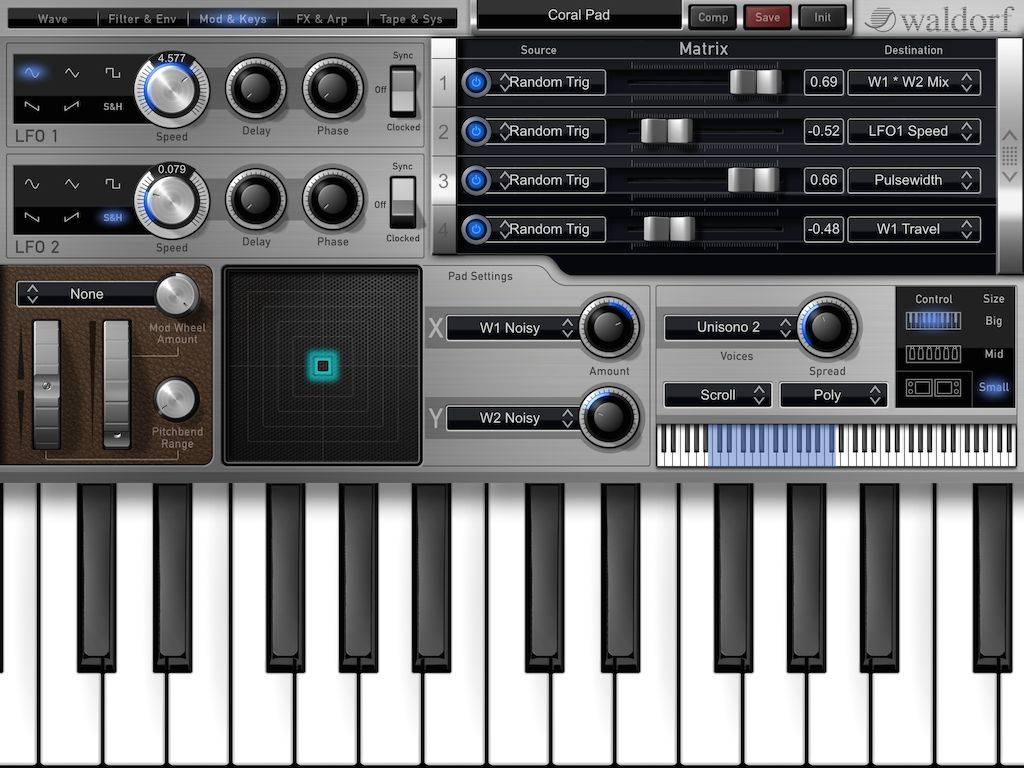 The modulation page.
A straight-up distorted bass patch:

You can use Nave at a simple level by loading presets and using the first few pages to tweak basic parameters or you can delve deeper and get into some serious edits. Be prepared to sit down for a few hours as this thing can be pretty addictive.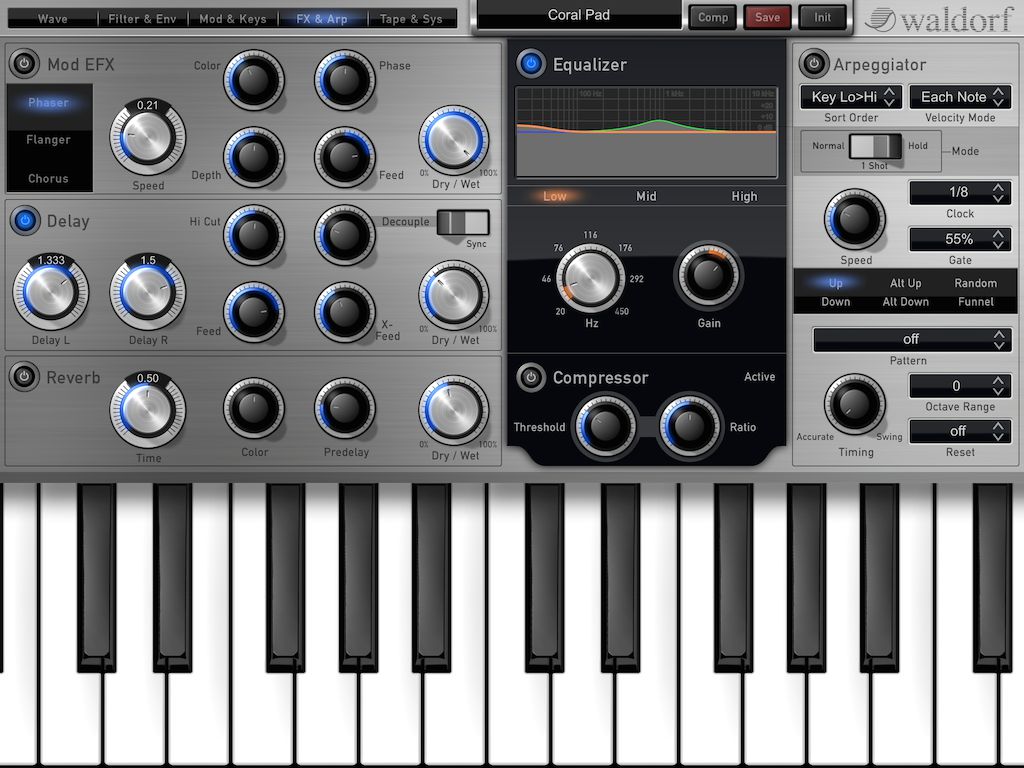 The multi effects section.
There is a full page dedicated to modulation, with LFOs, mod matrix and even an X/Y pad. You can also find a four track tape style recorder on the last page. This synth is literally feature packed.

Conclusion And Thoughts
There is a lot of competition right now when it comes to affordable iOS synths. The bar has been set high, but it's no surprise then that Waldorf have really pulled it out of the bag here. Nave is really an excellent synth and honestly feels and sounds like a high end hardware product.

Nave can use samples to form its sounds: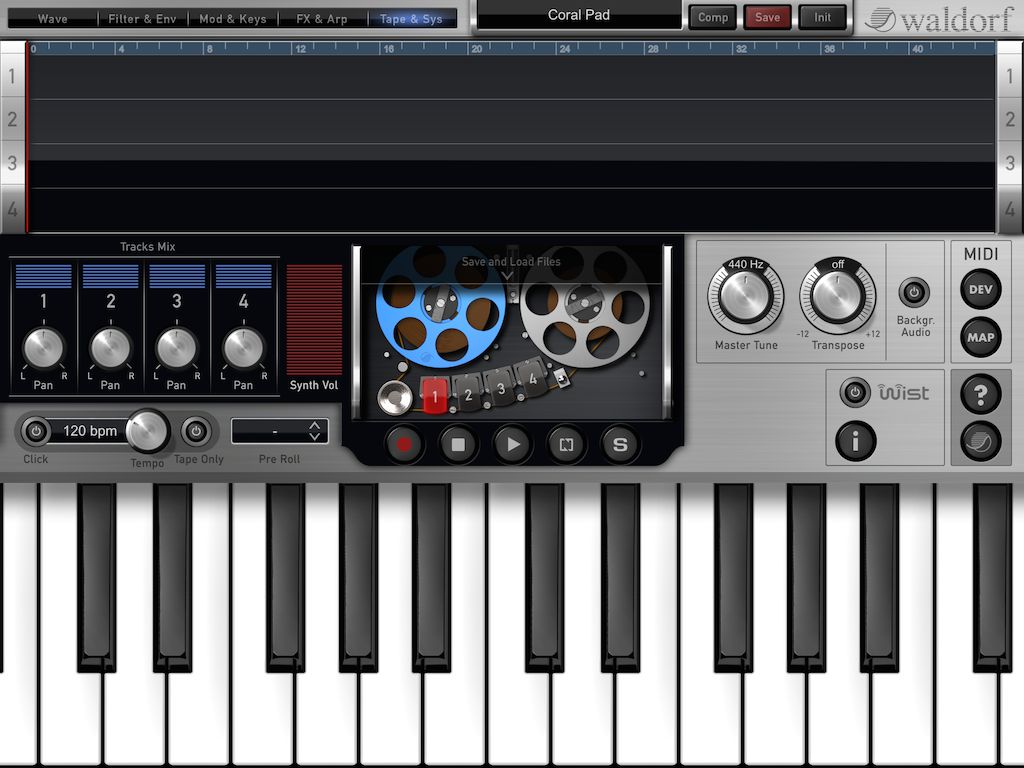 The settings and multi-track recorder.
If you already have a couple of traditional virtual analog instruments on your iPad already, then Nave could be the ideal addition. It has an individual sound and can offer something to both the novice and advanced synthesist alike. In all honesty, I didn't expect anything less than pure quality from Waldorf and thankfully they delivered here.

Price: $19.99 / £13.99 (from the App Store)

Pros: Good bang for your buck, great synth engine, great effects and multi tracker.

Cons: Interface could be a little clearer in places. Navigating presets is sometimes cumbersome.