Vienna Symphonic Library has updated Vienna Ensemble Pro (or simply known as VEPro) to version 6. The application has been completely redesigned with a nice new clean user interface, plus features like tabbed instances, VCA folders, and VST hosting on Mac have been added. But let's first take a step back and look at what VEPro is, and then expand on the new features.
What is VEPro?
In its most basic form, VEPro is a mixing and hosting application. You can add instances of your instruments and add effects to these and mix them. You then can route these back to your DAW seamlessly.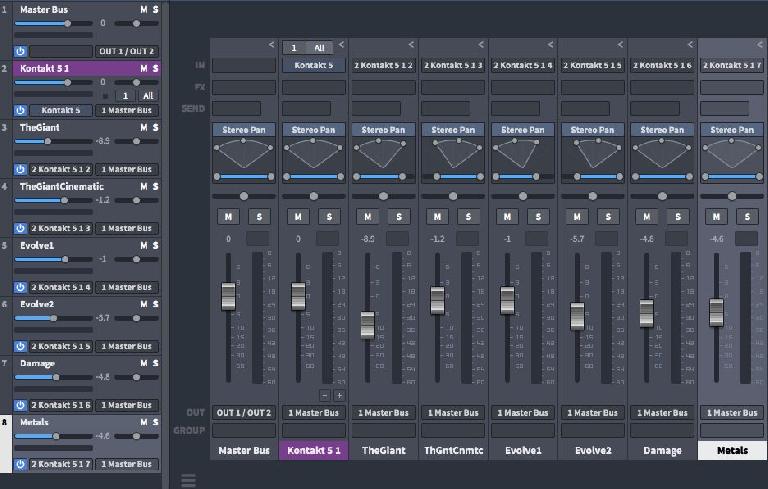 The grander scheme of things is that VEPro enables you to connect multiple computers together and then distribute your processing amongst these machines. We all know the feeling of when our CPU starts taking strain with too many instruments and plugins. But with VEPro you can simply connect your computers via Ethernet cables and then connect to instruments on other computers to distribute the processing amongst them. Even just running VEPro on a single machine manages your instruments and effects more efficiently than hosting them in your DAW.
How It Works
So how it works is there is a server application that you run on either your single machine or on another computer, also known as a slave machine. In this server application, you create instances, and in these instances, you add your instruments and effects. For example, you could create one instance for your violins, and then another for your percussion.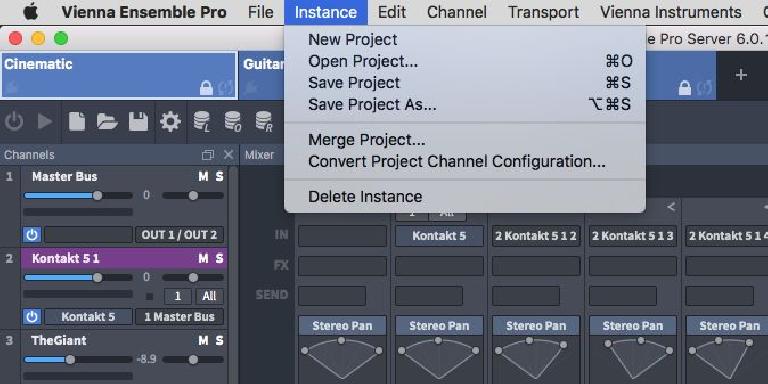 In your DAW you load up the plugin version of VEPro on an instrument track, and then you can choose to connect to an instance on the server. This will see any instances on your local machine (normally with the IP address 127.0.0.0) or the slave networked machine (this will have another IP address like 192.168.2.1). This setup works great as it takes the load off your DAW. Plus what's even better is that you can create amazing big and broad templates in VEPro. You can then leave these templates open and switch quickly, easily jumping between different DAW projects. So it reduces the amount of time you spend waiting for big projects to open up. Now let's look at the new features with version 6.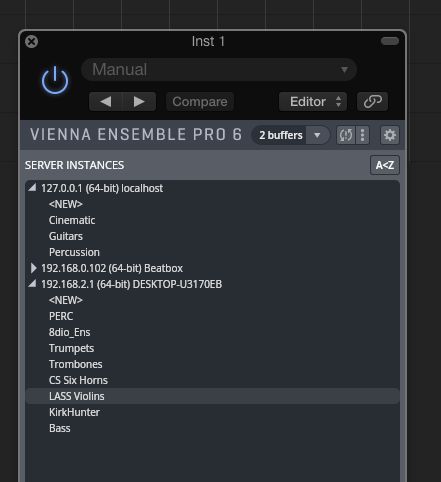 New GUI and CPU Performance
If you've used VEPro before, the first thing you'll notice is the redesigned User Interface. It's a lot more modern and slick now. The code base has also been updated, and VSL claims that there is about 70% less CPU usage from this code upgrade. This is quite impressive because it handled the CPU usage well even before this new boost. Previously you had the server window and then the instance window, now these have been combined into one so there's a lot less clutter.
Track Management
The new version allows you to create tabbed instances. Now you can clearly see the different instances you have in your server project listed at the top. These tabs can also be moved around.

Plus VCA folders have now been added. So you can group particular tracks into a folder and control their VCA volume level. Plus you can also send tracks to a group channel and choose parameters that are grouped like volume and pan. So if you move the volume on one of the grouped tracks they all move—a nice way of managing your instances if you have a lot of tracks in them.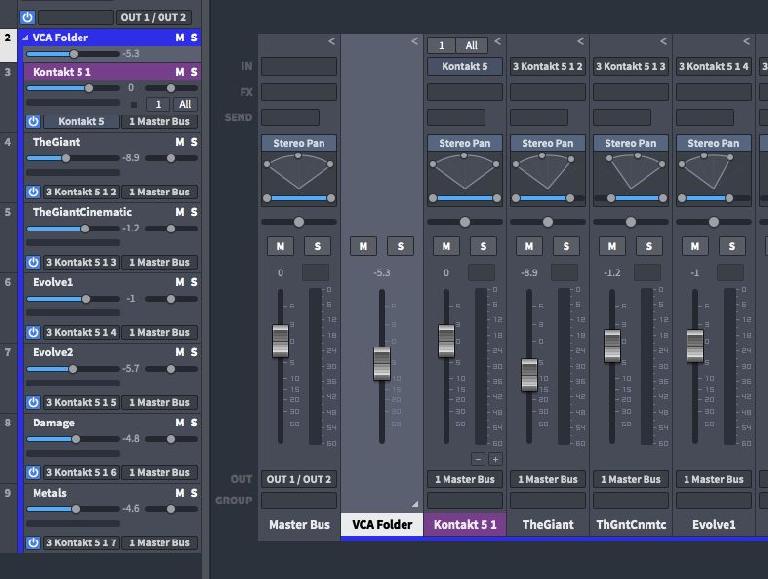 Another new feature—when you use the VEPro plugin in your DAW, you can click on the Raise/Focus on the instance in a server. This will jump to the related instance on the VEPro server. This worked exceptionally well on my master-slave configuration. I could click on this and the instance on my Mac Master, and it would appear in VEPro on my slave PC. A great way to manage your instances, especially if you're working between multiple computers.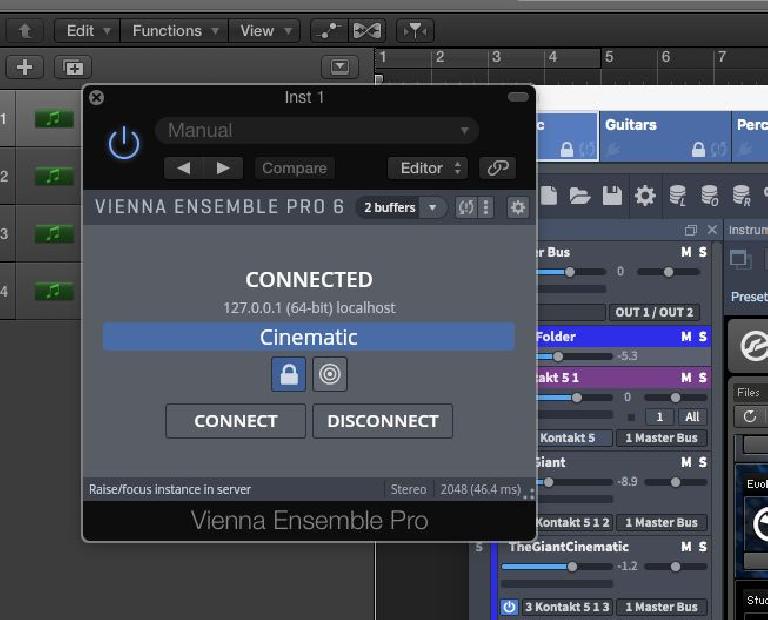 VST on Mac
On the Mac side, you can now add VST plugins. Before it was only AU versions. This made it difficult if you had built a template on a PC using the VST format but when you tried to move it to the Mac side, it wouldn't work as the template would need AU plugins. Ultimately you'd have to recreate your whole template with AU versions of the instrument and effects. Missions! Now you can easily move your VEPro templates between PC and Mac with the VST format which is great news!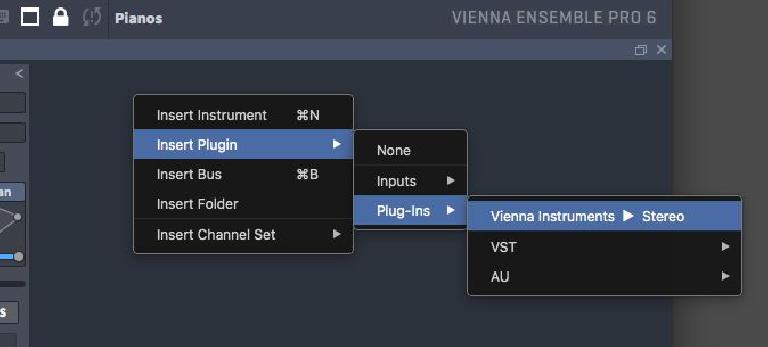 Disable Channels
You'll find that when you start building up big templates in VEPro, it can eat into your memory and CPU. A nice new feature is an option to Disable Channels/Plugins. This bypasses these instruments and effects plus their allocated memory. It'll still keep the channel intact so that when you enable it again it retains your instrument and plug settings you had on it. If you're working with a DAW like Logic, which doesn't currently allow you to disable tracks, then this feature of VEPro is super handy. Cubase does allow you to disable tracks, but it's still a neat feature in the new VEPro.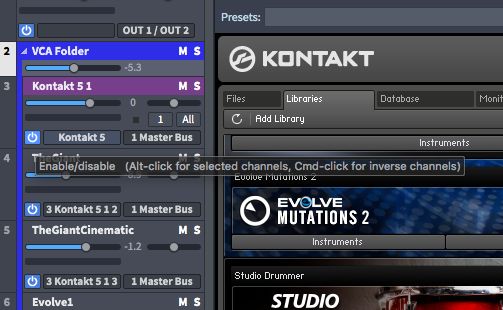 As a side note, if you're using VEPro with Logic, I'd look into using an application like SkiSwitcher to handle the articulation switching between instruments. This is a super handy app! If you want to find out more about SkiSwitcher check out this article here:
https://ask.audio/articles/review-skiswitcher-2-for-logic-pro-x
With Cubase, you can use the VST Expression Maps and VEPro supports VST3. Here's how Expression Maps work:
https://ask.audio/articles/using-expression-maps-in-cubase
3 Licenses and Epic Orchestra
Another thing to mention—and this isn't new to VEPro 6—is that you get 3 x licenses. So you can use this on 3 x slave computers, or one on your master and 2 x slave computers. Plus you also get the 9 GB Epic Orchestra sample library. This includes a selection of Vienna's most popular instruments. So if you don't own any orchestral sample libraries, this is a great addition to the software that will help you get into it. I didn't fiddle a lot with this library as I was engrossed with VEPro new features but what I can say is that VSL instruments are superb. I am a fan of dry sample libraries, and this is what VSL is known for. The samples are super clean and very playable and you can always add on your own room reverbs to give them a sense of space, or use the bundle algorithmic reverb in the Vienna Instruments.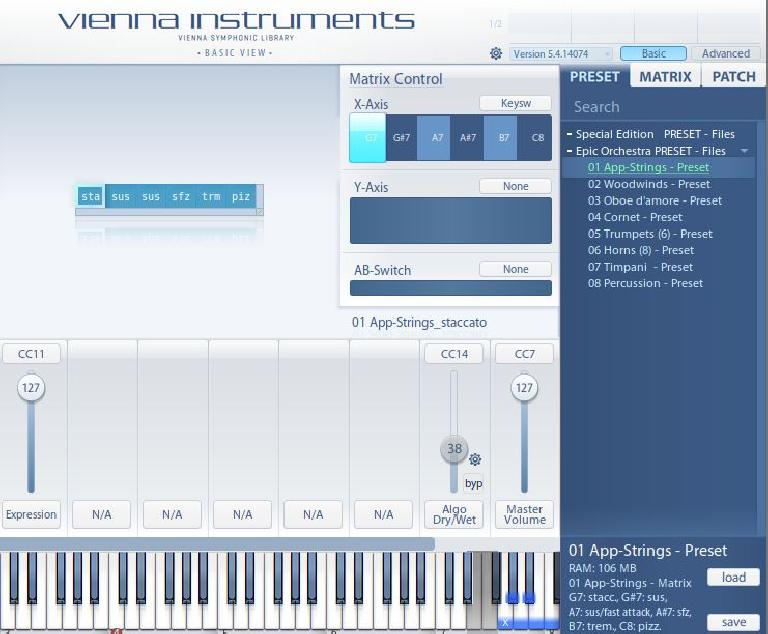 Conclusion
So that's what's new in VEPro 6 and we took a look at how these features can be used to improve how you work with the application. It really is an amazing piece of software. I'm impressed with how well it syncs up with a DAW, especially via Ethernet with multiple computers. And even on a single machine, you get CPU-saving benefits. So definitely take a look into this version.
Price: EUR 285. Factor in another EUR24 for the Vienna Key. But you can also use an eLicensor key as well.
Pros: Excellent Hosting Environment. Handles CPU better than DAWs. Great new routing and folder management features. Plus comes with the 9 GB Epic Orchestra VSL sample library.
Cons: Requires a Vienna/eLicensor Dongle. Does require a few extra steps to get everything setup and routed.
Web: https://vsl.co.at/en/Vienna_Software_Package/Vienna_Ensemble_PRO