If you haven't heard of them, Vermona is an amazing, German company that has been silently moving along, over many, many years, making some beautiful, hand-assembled synthesizers, drum modules, and much, much more. I recently got the amazing opportunity to be able to review a new offering from Vermona, the Lancet '15. Let me tell you about how the experience unfolded.
No Assembly Required, Whatsoever
It's nice to see some things have not changed. Years ago, I got a Vermona DRM-1 MkII for a Christmas present. When I opened it, part of my fascination upon initial discovery was how amazing the packing was. Thick box, a big Vermona on the outside. It was, and is classy still. As, I open the same size box, with the same name on the outside, years later... It's hard not to think I'm in a time warp.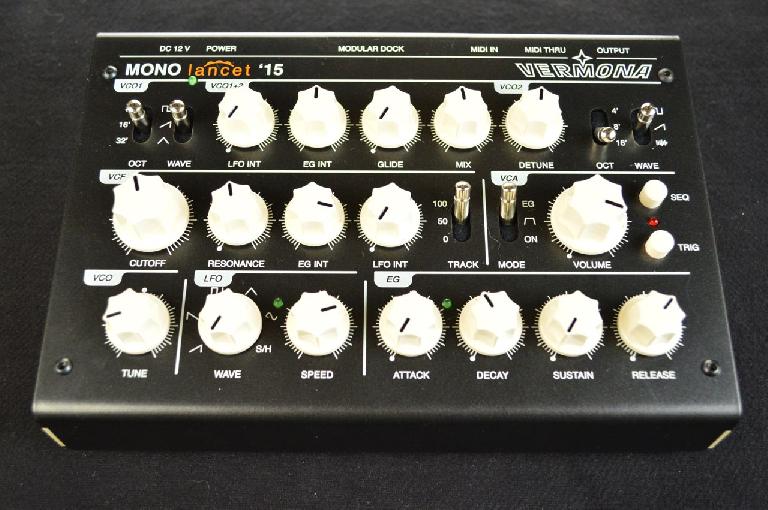 That Stops When I Get the Box Open
What emerges from the interior box is something else, at least from what I was expecting. The bottom portion of the mini synth has almost a military, brutal feel. Where the upper chassis is the paint-polished exterior that I'm used to. But, even still, the knobs feel more attached, if that's even possible. Every Vermona I've laid my hands on in the past has felt like a tank. This one feels even more like a tank. Maybe a submarine. All I can tell you is that you can take it anywhere.
The knobs and switches also feel less like the mass manufactured pieces I'm used to playing with. Every movement feels precise, in place. It feels like a piece of gear that will last you for a long time.
The back panel is more than just a little interesting. One giant 25 pin port dominates attention, and is labeled Modular Dock. Vermona actually does make a very cool Modular, Eurorack dock, which greatly expands modulation possibilities for the Mono Lancet '15, as well as other devices from the Lancet line. A line that currently consists of the Mono Lancet and Mono Lancet '15. Hopefully, we'll get to review one in the future, and see how the Mono Lancet '15 is with the Modular dock.
In addition, there is also a USB port. Which, sadly, is only there for software upgrades.
There is also a dedicated power button, a single Mono Out, a MIDI In, and thankfully, a MIDI Thru, for those of us who do have other MIDI devices we're trying to work into our live rig. And I am happy to report there are even optional wooden side panels... Didn't get to see them. But I really bet they look pretty.
On the Road
Once you fire the Mono Lancet '15 up, you'll quickly find yourself (if you haven't touched a hard synth, in a while) remembering why real analog is still number one. The Square and Sawtooth (especially the triangle) waveforms sound thick, and juicy. And, octave switches allow you to modify, on the fly, the base octaves of either VCO, so you can easily get separation when you need it, between VCOs 1 and 2. I also love that both VCOs, each, have additional waveforms that are different from the other. VCO 1 has a Triangle, where VCO 2 has white noise. Thankfully, both VCOs share the Sawtooth and Pulse, for some nasty detuned basses. Yeah!
I set a pattern in Ableton that I liked, and just let go for a while, on my first day with the Lancet '15. It purred like a tiger, especially tweaking that filter knob, while my computer thumped out some C1 range, dirty basses that would rock some clubs. While jamming, I really liked being able to slowly bring in some Glide action on to my melody, while raising the release at the same time. I was even able to activate Legato Mode, through CC 90, giving me some additional control options.
The VCF extremely fun when it comes to the White noise waveform available on VCO2. You get from 0, 50, to 100 percent key tracking, making it very possible to make tuned noise, and various melodic percussive sounds. And you can also modulate the VCF with the LFO, allowing you to generate some great wobbles. There's also EG modulation for the Filter, too. It really is classy.
I was a little bummed to find out that there's no way to sync the LFO through MIDI. I would really love to really dial in the Sawtooth waveform on the LFO to add a little more personality to my bass synths. You can get some cool rhythms with the LFO, it just takes a while to lock the in the timing, and, of course, it's going to drift.
More than Meets the Eye, Optimus
In addition to being able to enable Legato mode, through MIDI CCs, it's also possible to enable and disable Aftertouch, Velocity, Modulation Wheel, Pitch Bender, even an Auto-Glide mode. And that's one of the things I really like about the Lancet '15. As simple as it appears, and looks, you can always find something new in terms of either nuance, or functionality when performing with it, either at home. Or, out and about.
And, in the low end, I have to tell you the Lancet '15 is big. The sound is thick and has a very large personality, especially with the Detuning knob creating tension between the two VCOs.
In terms of what kind of patches the Mono Lancet '15 is good for, I'd have to say bass, lead, and drum synthesis. It really could be a gold mine for someone who likes to make and sample their own basses, and percussive sounds. It's also a killer bass synth for live performance.
Conclusion
I had a great time with the Mono Lancet '15. It's an extremely warm and expressive synth that is also built like a tank and feels like military grade reliability when you tweak, touch and man-handle the little box made in Germany. If you're looking for something unique, that is as reliable as it is powerful, and compact, you really want to check out the Mono Lancet '15. And, while you're there, check out those drum synthesizers they make! They are incredible!!