I got to spend some time with UVI's new Thorus VST before its official release and I am impressed. Thorus is a polyphase modulation effect, or what you might call a chorus effect. There are a number of features that I really liked almost immediately once I began to experiment.
Exploring The Interface
First, the interface is pleasing to look at. It isn't cluttered. The adjustable parameters are clear and the layout is intuitive. Another great thing is the visual feedback of the visualizer.
Minus the Dry/Wet and Trim parameters everything you adjust or move coincides with changes in the main visualizer. What is even cooler is that you can click and drag in the visualizer itself to set some of the main parameters, for example, the low and high pass filters' gains and cutoff points and the "edge" color; more on that in a bit.
Thorus Controls
My favorite thing about Thorus is its built-in two-band filtering system. I usually have to make one myself in Ableton Live in order to keep things clean so this feature saves me time and the hassle.
Another great feature of this particular chorus plug-in is that it has the ability to control the number of voices. "Thorus has a variable 8-voice architecture provides an extremely clear and detailed effect capable of generating a wide range of modulations from a typical 2 or 4-voice chorus up to a thick and immersive 8-voice configuration."
It might be neat if you could control each of the voices independently and also have them interact with one another. Something similar to Ableton Live's chorus effect. However, that might only really work or be useful when dealing with a small number of delay lines.
The Edge
For the ultra-detail oriented there is also the Edge parameter.
"Edge Control the color of the chorus Around the nominal value 0. The algorithm blends a specific amount of feedback to avoid holes in the spectrum for a rich chorus effect. When edge is turned to -1, the effect of time-varying notches become more pronounced. On the other end, when edge is turned to +1, the increased feedback results in noticeable time-varying resonant peaks"
The only thing that I was a bit underwhelmed by was the number of presets. There are 34 in total which are split into 6 main categories: Bass, FX, Guitar, Keys, Synth and Voice. I found the categorization helpful though. To be honest maybe 34 presets is enough for this type of Plug as there are so few adjustable parameters.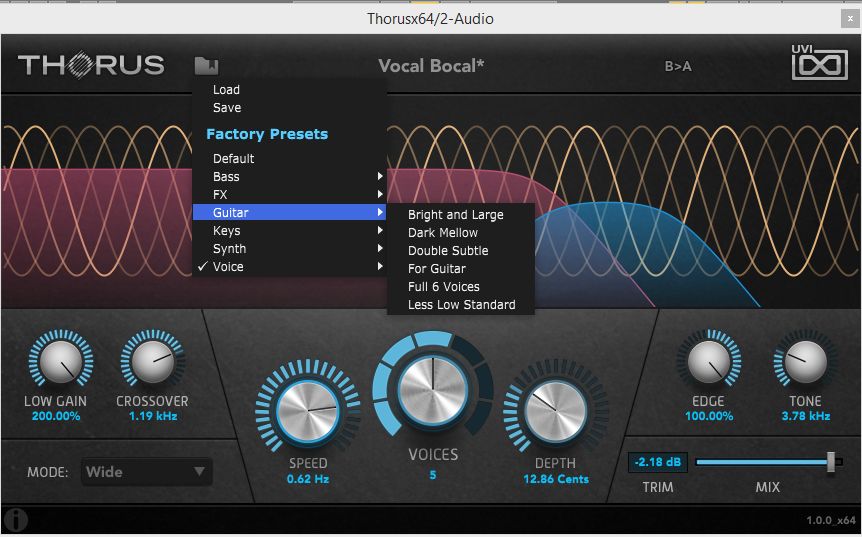 Conclusion
Overall I am satisfied with the plug. I can see myself using it in future projects quite regularly. Whether it be to get slight movement or an extremely wide stereo image. Thorus has the tools and filtering system that are great for a detail oriented producer like myself!
Price: $49 / 49€ / £39 at uvi.net ($79 / 79€ / £60 after July 3rd, 2016)
Pros: Detail oriented parameters perfect for sculpting the perfect sound
Cons: Could be more presets
Web: http://www.uvi.net/