77 classic synthesizers, 20,395 samples, and 2,518 different presets. All of that jam packed into 8.2GB of lossless encoded sonic goodness. That's what you get when you pick up UVI's Synth Anthology 2. There's quite a lot to like about UVI's latest offering for synth-heads, and it's kind of nice to pick up a virtual instrument that doesn't try to reinvent the wheel, but refine it into a slick, high performing software package.

The Sounds
I went into UVI's Synth Anthology 2 blindly, without looking at the master spec list. This turned out to be quite enjoyable, because I had a real chuckle every time I stumbled upon a synth that I had owned, but hadn't thought of in years. There's a lot of virtual instruments out there that will provide you with patches from a Minimoog or DX7, but I found myself elated to stumble upon presets from keyboards like the Alesis Fusion, Clavia Nord Lead, and Ensoniq ESQ-M.
One of the cooler aspects of Synth Anthology 2 is that it includes some presets from more modern and recently produced keyboards like the Moog Sub37 and Korg minilogue. Whether you are a child of the '70s or a child of the (gulp) '90s, there is something for you here for sure.
The Interface
Synth Anthology 2 is wrapped up in a UFS package, which means you'll need to either download the free UVI Workstation to run it or open it up inside of the mighty Falcon instrument. I've got Falcon, so I tested it there. In terms of the interface, it would be fairly identical as the scripting and sample set all reside within the UFS itself.
The unified interface makes it easier to tweak the sounds of each individual synth without having to learn a separate UI for each one. You've got access to the standard gamut of oscillator controls, envelope settings, filter settings, and the like. There's even a sub oscillator available to instantly pair up with any preset, giving it a little more 'beef' than the original if desired. You can quickly map your mod wheel to various elements of the sound, and editing the pitched/voice elements of a sound is a snap.
The Upgrades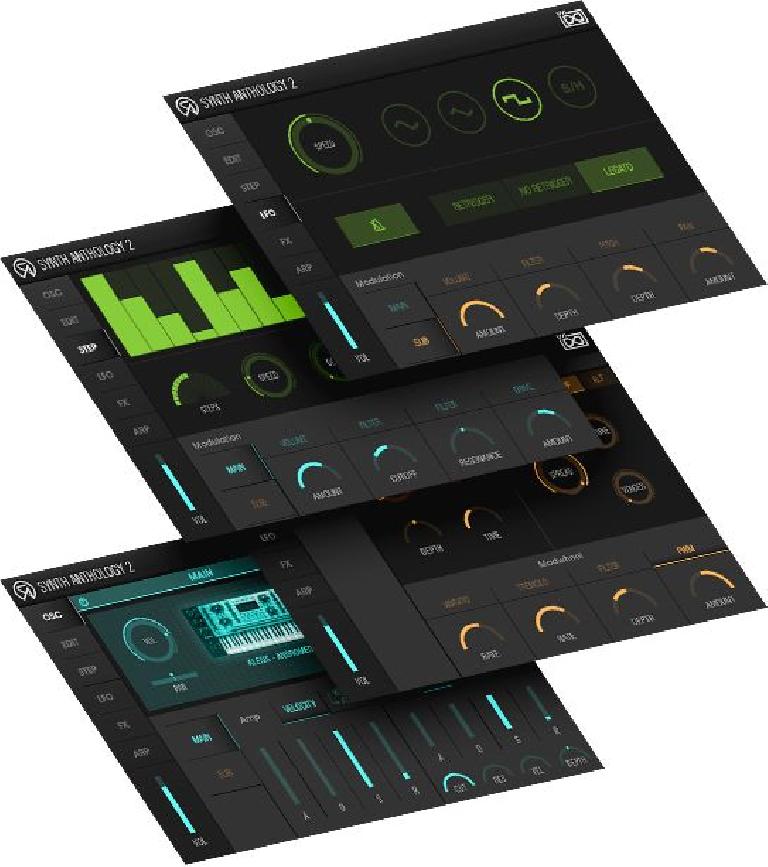 Once again, unification steps in here and brings a lot of these classic synths into the modern age. A powerful modern step sequencer, LFO system, and arpeggiator can give you more flexibility than many of these synths had when they were originally released. The FX system is really spectacular, including the 'fan favorite' Sparkverb to round out the available effects to choose from for each synth.
The Kicker
My favorite and most unexpected feature of the bunch is the efficiency of the engine and scripting. No matter what preset I called up, Synth Anthology 2 was a lean and mean sonic machine. My memory usage remained incredibly light (well under 100 MB) the entire time, and my CPU usage was not only reasonable, but extremely consistent. There were no spikes that are commonplace for less 'tightly coded' instruments. Finally, you get 3 activations and they don't have to be tied to a physical iLok (woo hoo!). UVI Synth Anthology 2 is a win on all fronts.
Price: $104 (sale price, usually $149)
Pros: Clever and fun choice of synths, reasonably sized library, excellent sounds, unified interface, incredibly efficient.
Cons: None at all. A huge collection of synths for around a hundred bucks. What more could you want?
Web: http://www.uvi.net/en/synth-sound-design/synth-anthology-ii.html