To say I was excited when I heard that I would be reviewing Rotary from UVI is an absolute understatement. I've been looking for a simplistic approach to getting a good rotary speaker sound for something other than Vintage B3 for a long time. My hopes were high, my expectations (somewhat) unreasonable, and my fingers were crossed that UVI would make something really special here. I was not disappointed.
Outside the Box
Rotary speaker emulation is nothing particularly new. Keyboardists have been chasing the perfect setup for years, and in many cases, we've had some great offerings on hardware keyboards from Hammond, Nord, Korg, and Yamaha available to us for a while now. Inside the box, however, is a very different story. As a tour consultant, I spend a lot of time helping some amazingly talented keyboard players from some very well known acts get their virtual rigs up and running and I can say, unequivocally, that I spend a significant amount of time helping folks get their virtual Leslie on. Everyone seems to have their own personal taste, sometimes even more so than picking out a piano sound!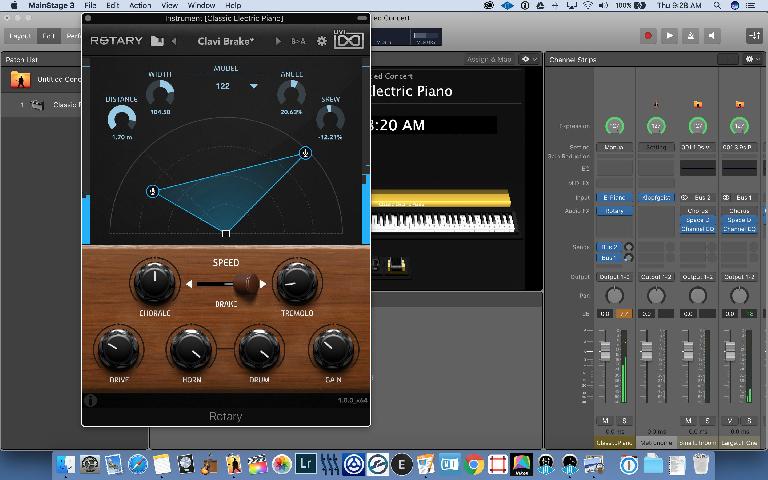 Rotary is a speaker emulation plugin that is not 'attached' to any particular virtual instrument. It lives on its own, and you can run it in your plugin chain after both virtual and physical instruments. It has extremely modest CPU requirements, and after many hours of considerable use I never saw it utilize more than 5% of a single core of CPU. I found Rotary to be rock solid, extremely stable, and felt no apprehension about adding it to even the largest of plugin chains.
Sounding Board
There are 7 different models to choose from with Rotary, and they are all subtly different from each other. From screaming B3 sounds to lush and 'warbly' guitar tones, Rotary provided the gamut of speaker emulation that I was looking for. Adjusting the mic placement with Rotary was absolutely fantastic. There were none of the typical audio 'artifacts' or 'zipper noises' that can happen when adjusting something as significant as mic placement, it actually sounded like someone just moved the mic around in the studio. The 'angle' and 'skew' controls are actually a nice touch, and help you tweak your mic'd cabinet sound so that it fits just right in the mix.
The drive stage and separate gain staging of the horn / drum parts worked as expected, but the real gem in this release is the presets. Oh, the presets! There are so many great presets already configured for rhodes, clav, guitar, vocals, you name it! My favorite element is how appropriate and subtle those presets are. One of my biggest pet peeves of running an organ sim plug as an 'effect' for a guitar is the nagging feeling in the back of my mind that this isn't the way it was intended to run, and I'm always wondering what this B3 instrument is doing to my guitar sound.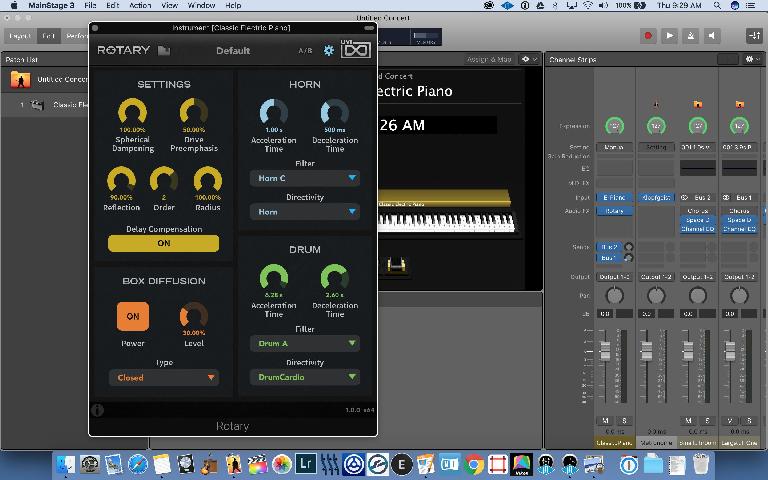 With Rotary, those worries were nonexistent. The more subtle presets allowed for the full range of my guitar and rhodes to really sparkle, and I didn't have any of the 'tone suck' that is sometimes inherent in running other sound sources through a signal chain developed squarely for an organist. Rotary absolutely sparkles on keyboards, guitars, vocals, and even drums!
Conclusion
Rotary is an absolute no-brainer if you are a keyboardist or guitarist, and worth investigating for everybody else! It sounds fantastic, it's CPU drain is almost nil, and it's absolutely rock solid reliable. Two very large thumbs up.
Price: $49 (normally $79)
Pros: Fantastic sound, minimal CPU drain, very reliable, phenomenal bank of presets, wonderful interface, easy to read and use.
Cons: No 'in-plugin' MIDI assignment or learn for AU version (there is for the VST). However all parameters show up properly in MainStage when using AU version for live use, and it's easy to route it there.
Web: www.uvi.net