Delay plugins are quickly evolving in our modern DAW world into some truly creative tools for shaping your sound. It's not just about adding echo anymore! UVI's Relayer is a fun and unique delay plugin that is a great addition to any studio. This plugin will truly make you re-think delay and how you can shape your sound with a little imaginative editing work.
The Lowdown
At its heart, Relayer is a delay plugin with a variable multi-tap setup. You can have up to 32 lines of shapable delay, each with its own editor to adjust time, gain, pan, and 2 separate multi-effects. I found both the breadth of options and the precision in which you are offered control over them to be just remarkable. If you want the fourth tap in your delay to be panned left, gained higher, colored differently, and run through a wah pedal—it's no problem for Relayer!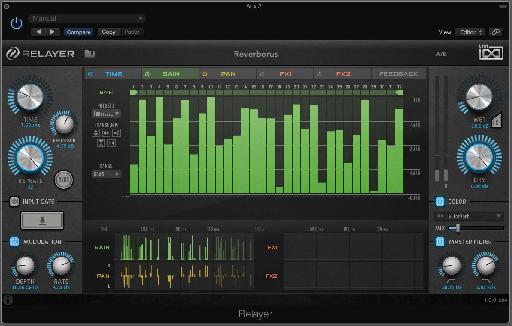 There are a number of convenient features that after using them I found I just couldn't go back to doing without. The input gate that allows you to quickly be selective about when the effect kicks in is something that would be useful on just about any plugin. Just about every parameter you can adjust in Relayer is reflected in a visualizer that gives you real-time feedback of just what you're doing to your sound.
The Sound
Here's a quick clip of a synth part that I used on a recent production. It's fairly percussive and mallet-like, and I was really interested to see what I could do with Relayer to alter it dramatically. Check out the original:
It's a fun little part, but I was hoping to have it 'wash out' into a pad-like sound. Normally, I'd dive back into the synth and spend a ton of time redesigning the sound, adding other layers to it and the like. I slapped Relayer on, added some effects to the taps and went a little nuts with the feedback control:
It's like a completely new sound! I'm not exaggerating when I tell you I nearly scrapped the whole track and just used my Relayer enhanced synth as a standalone piece of music. I get really excited when I find a tool that will 'breathe new life' into some of my instruments that I already own, so Relayer has quickly jumped up to the top of my 'favorites' list in my plugin chain.
Conclusion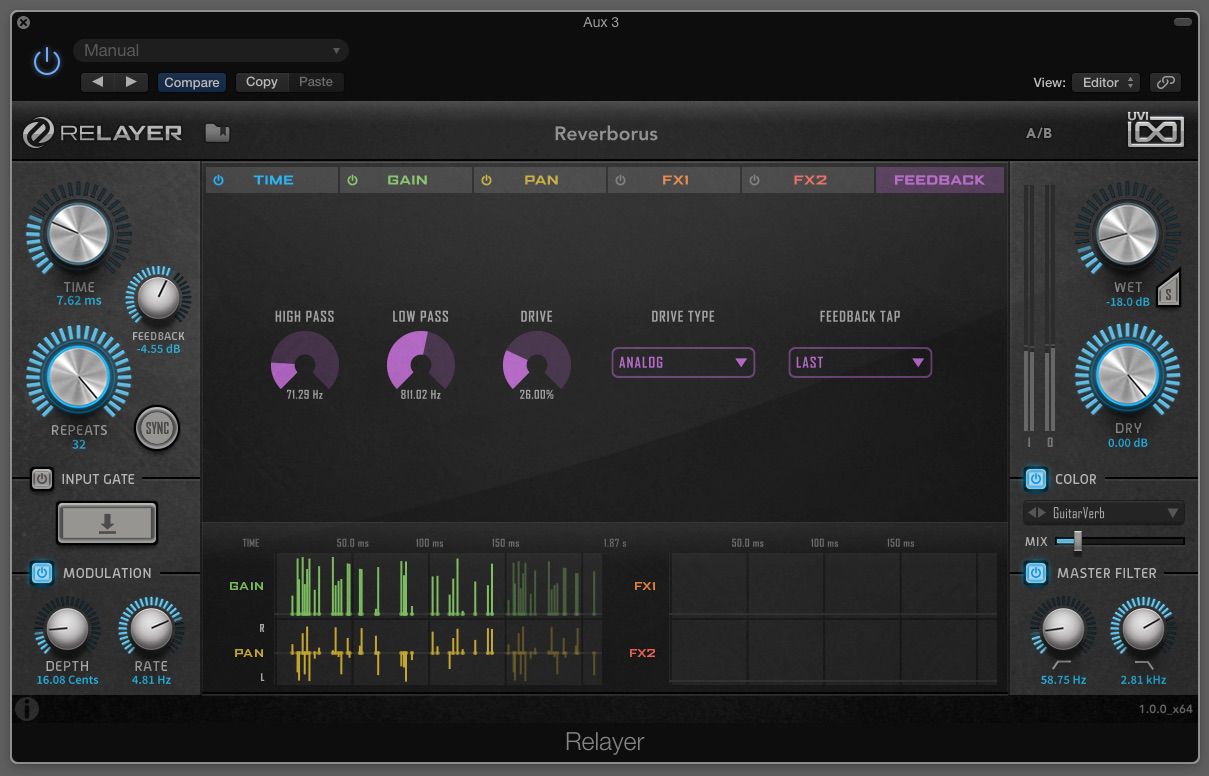 There is quite a lot to love about Relayer from UVI. If you want to design some delay effects with a traditional 'tape sound' for your vocal tracks, they've got you totally covered. It has the capability of behaving like a traditional delay plugin and you can add in all the wow and flutter that your heart desires. However, I was truly impressed by the user interface and how quickly you can design some truly unique and 'out there' sounds.
Some of my favorite features include the ability to make mass adjustments to all taps in just about every way, the instant visual feedback of the visualizer, and the extremely well designed presets. I was thrown for a tiny loop when I first installed Relayer as the source track as to apparently be stereo, so if you want Relayer on a mono track in your DAW you'll have to bus the mono track to a stereo one. (Editor's Note: since Relayer version 1.03 the following features have been added which render the mono track to stereo issue a problem no longer! Here are the changes in 1.03:
Add Mono/Mono and Mono/Stereo (available only in specific host) audio configuration
AudioUnit version is now a Music Effect so you can send MIDI to it
Fix some preset with wrong Color settings
More logical L/R Pan settings display
Price: $79
Pros: Simple and intuitive user interface, complete control over each individual 'tap' of your delay, creative tools to make 'delay' mean something completely new and fresh, CPU efficient, extremely well designed presets.
Cons: Since the mono to stereo bus issue has been fixed in 1.03, there are no cons to speak of!