Review: UVI Quadra Traveller
France-based software developer UVI recently released Quadra Traveller, a new addition to their already massive collection of instruments. Let's see what it's all about!
Quadra Traveller makes the creation of complex and evolving sequences quick and easy, thanks to its powerful arpeggiator and varied sound sources. It's very similar to the other instruments in the Quadra series (Muted and Harmonics, and Metal and Wood), but it stands out by featuring an array of exotic instruments (187 to be exact) from different parts of the globe. With hundreds of ready-to use presets, Quadra Traveller gives instant musical inspiration, and it gets more powerful the deeper you dive in...
Installation
To install Quadra Traveller, you'll first need to download the UVI Portal software and register your serial number. Authorization is made through the iLok License Manager app, which is automatically installed with the UVI Portal. The whole process of installing the 4.33 GB download was painless, and we were able to get started quickly.

Like other UVI instruments, you access Quadra Traveller through the UVI Workstation plugin or standalone application. The default interface size is a bit small on a large display, but you can change the size to your liking with the UI Scaling option in the preferences.
The Main Page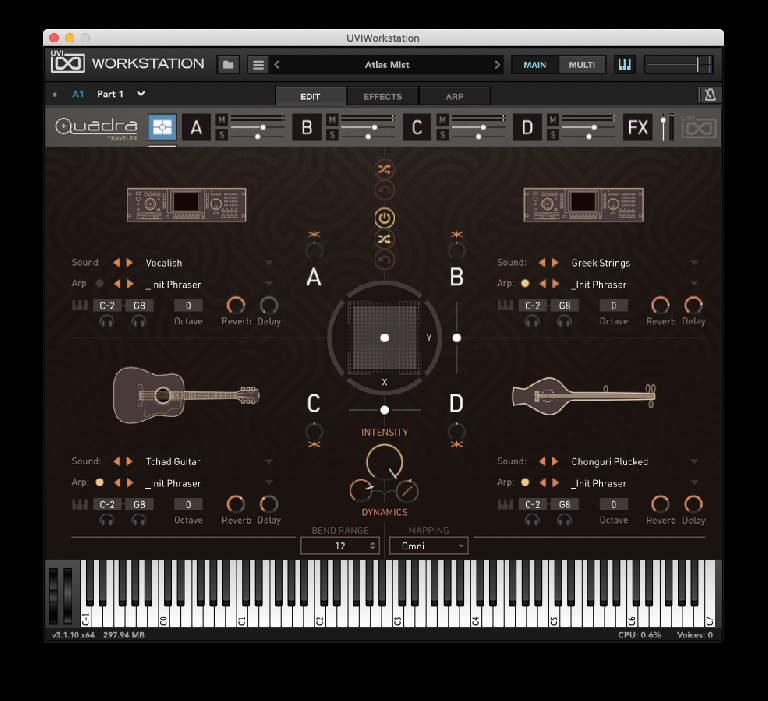 The main page is divided into 4 main layers (A, B, C, and D) with an XY pad in the center to morph between them. For each layer, you can adjust the sound source, arp style, range, octave, and FX sends. The range options are especially useful to split the keyboard in different zones. This way you can trigger arp sequences in the low register with your left hand, and play melodies in the higher register with your right hand, like in this short audio example:
The top of the UI features a global control section that lets you mute, solo, and adjust the level and pan of each layer. You can adjust the overall mix of your multi patch with these controls, and then use the XY pad for performance.

Above the XY Pad, you'll find controls to randomize the 4 sound sources and arpeggiators. If you don't like the results, there are undo buttons to revert to the previous settings—just keep in mind these are the only undo features on the instrument, so be careful when adjusting other parameters. There's also a button to deactivate all arpeggiator in this section.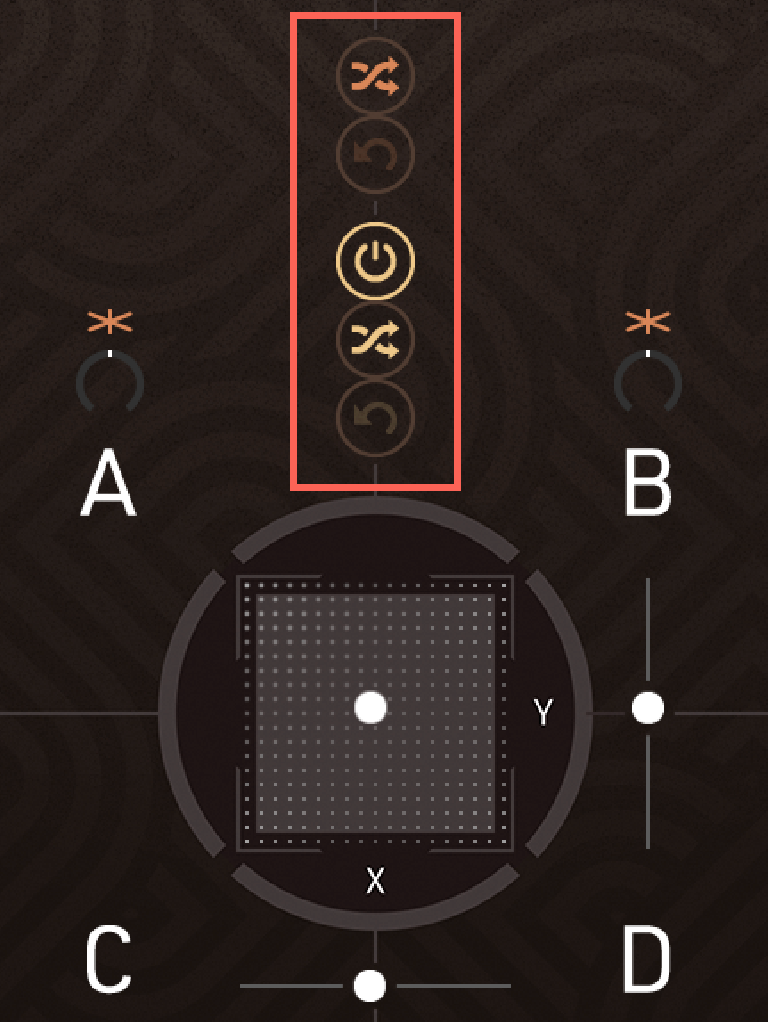 Diving Deeper
There's a lot you can do just on the main page, but dive into the Sound and Arp pages and you'll unlock the full potential of the instrument. The Sound page is where you can tweak the amplitude envelope, the filter (low-pass, high-pass and band-pass), create depth with unison and stereo spread, as well as add various per-layer effects, some of which you can control with the modwheel. Every parameter can be automated, but you'll first need to map them to your host with a right-click.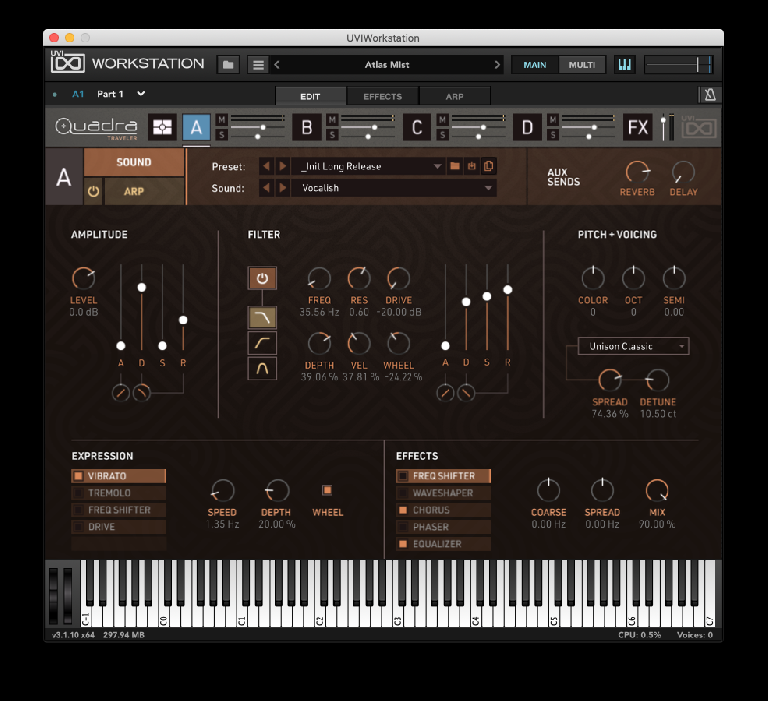 Click on the "Arp" button and you get access to the highly customizable arpeggiator. Truly the heart and soul of Quadra Traveller, this arpeggiator offers a rabbit hole of sequencing possibilities. It works in two modes: Arpeggiator or Phraser, and it can go up to 64-step divided into 4 pages. Every step can be harmonized or set to a chord type if you wish. The link button can be activated to duplicate an edit across all 4 pages, a great time saver. Just remember to turn it off when you want to make an edit to a single page.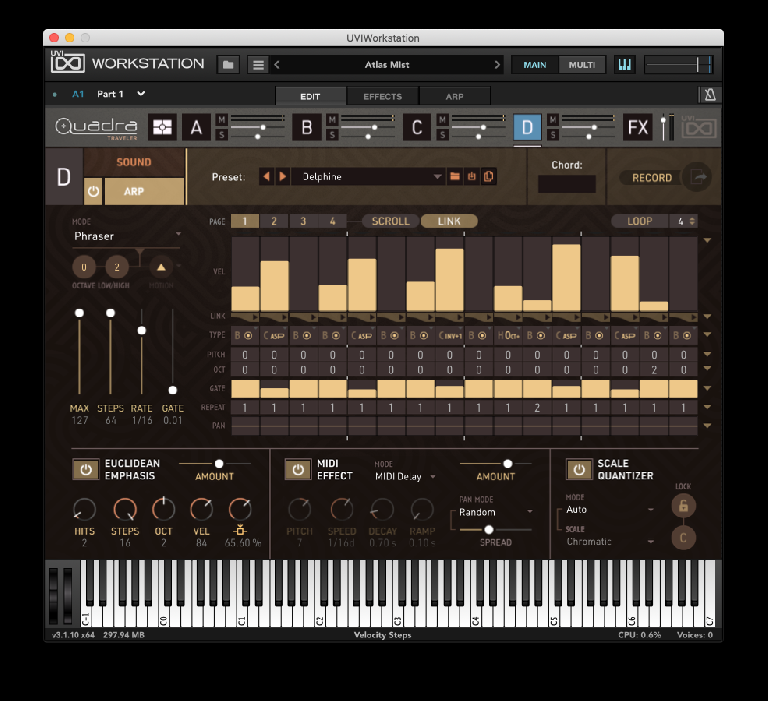 And if that wasn't enough, you can create more complex patterns using the Euclidean Emphasis and MIDI Effect features. There's also a Scale Quantizer that lets you choose from a variety of common and more exotic scales and modes. Since each layer has its own independent sequencer, so the possibilities are truly endless. We just wish there was an option to share the Scale Quantizer across all layers… using 4 different scales can get chaotic. Having access to a global Scale Quantizer would be faster than adjusting each layer independently.
Conclusion
With its wide range of fretted, wooden, keyboard, string, and wind instruments from around the world, as well as analog and digital synth sounds, Quadra Traveller is a great addition to any composer or producer toolkit. Add to this a super powerful arpeggiator, great sounding FX and expressive controls, and you have a very deep instrument made to inspire. Highly recommended!