I'm usually pretty aware of when UVI is working on something new and I have to admit, Quadra came out of nowhere. None of my usual sources talked about it before it dropped and it took me completely off guard. UVI's latest instrument and sequence designer is a bold new step for the fine folks of UVI and it was really nice to head into testing without any preconceptions. This instrument is really different from anything else in their stable.
What's it All About?
Quadra is a 4-part instrument that allows for a staggering level of control and complexity in sequence and audio design. Basically, you've got 4 different parts. Each part is a separate instrument (many of them curated from my favorite UVI libraries) with individual sound design, FX control, and arpeggiator settings. The main GUI is a 4 zone mixing / control surface that ties it all together. The sounds themselves are incredibly cinematic, and you can often design an entire sound cue with a single note.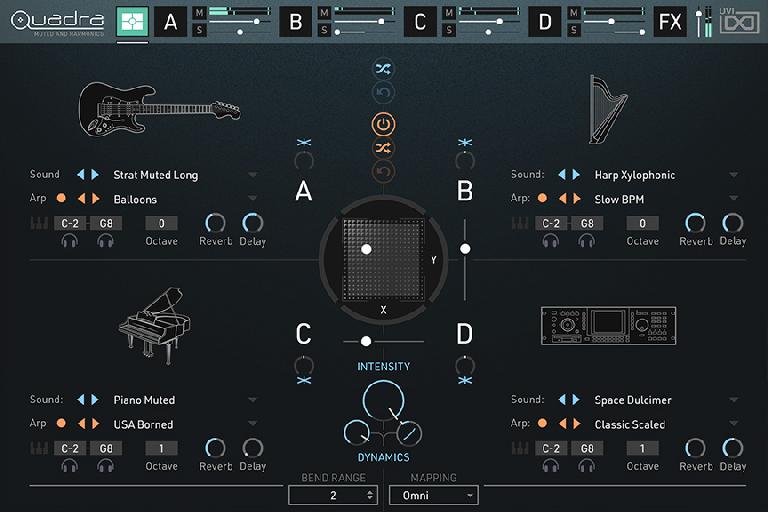 In the center of the GUI is a pad that allows for complete realtime X/Y control of all 4 instrument zones. You've got range/split settings available on the front panel, as well as the ability to rotate sounds for any zone, quickly pick a different arpeggiator setting, shift octaves, and basic reverb/delay sends. You can dive far deeper than the front panel controls, of course, but it's very convenient to have them all there.
Together, But Separate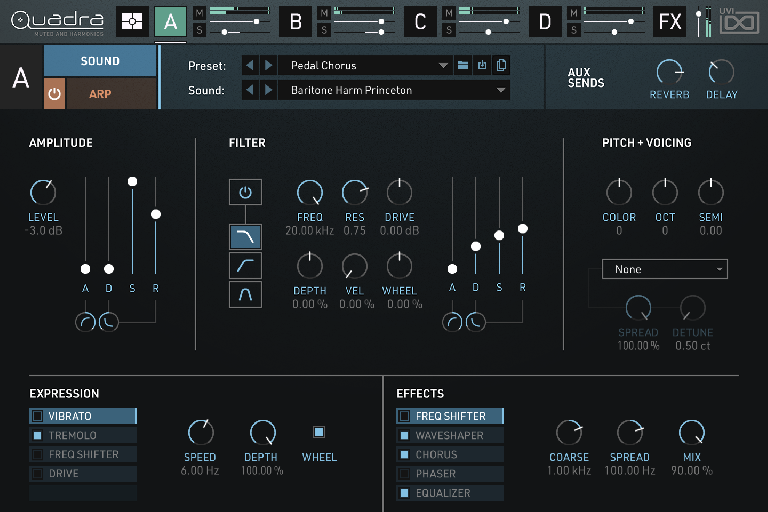 Clicking on any of the zone letters at the top of the GUI brings you to the individual editor for that zone. You can control the pitch/detuning settings, adjust the filter, craft an amplitude envelope, and even adjust what expression controls will modulate. There is also deeper access to the individual effect settings with a frequency shifter and wave shaper close at hand.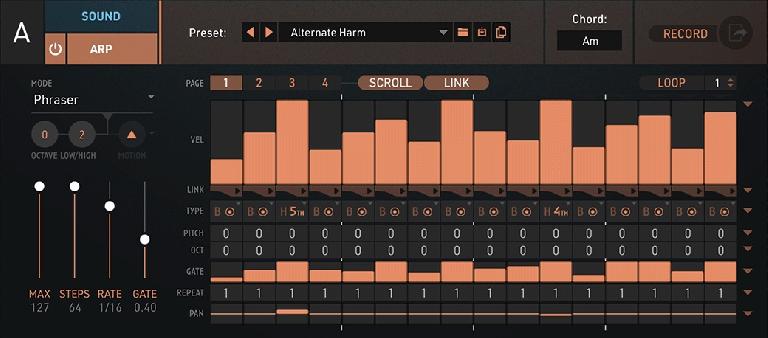 You can jump into the Arp editor from this screen as well, and it's in that area where things really start to 'come alive'. The sequence editor is robust and includes euclidean emphasis control, scale quantization, and MIDI effects. This allows you to really create some wild sequences that range from controlled chaos to absolute audio pandemonium. Multiply this by four and you've got 4 different tones that can act completely independently or absolutely in harmony. The control level is staggering and it results in some truly inspiring presets. Check out a few audio samples below:
If that weren't enough, you also have the ability right on the front panel to randomize the sounds. You can keep the sequence you've set up and hear it played back on an entirely different set of instruments and it is absolutely a blast.
Conclusion
I didn't know what to expect when dropping in to Quadra, but the end result was really something incredible. At just over 5gb, the sounds themselves don't hog up a ton of space on the SSD because it's the scripting and design itself that really makes Quadra shine. The effects are diverse, the sounds are wonderful, and the power to make some really complex landscapes is deep. Cinematic composers, sound designers, and producers everywhere will benefit from having Quadra in the sample library.
Price: $99 Introductory Price / $149 Regular
Pros: Vast library of presets, staggering amount of control, complex sounds, simple GUI design, low hard drive footprint
Cons: After using Quadra for a week, boy do I want this engine to access the rest of my UVI sample library sounds - I'm addicted now!
Web: www.uvi.net